Retail Gift Card Trends in the United States: 2013 in Review
Overview
Mercator Advisory Group's new Research Report, Retail Gift Card Trends in the United States: 2013 in Review, documents the dollars loaded in 2013 onto closed-loop prepaid cards or prepaid account access devices issued by retailers. In the past, the segments in this report were included in Mercator Advisory Group's closed-loop market assessments. While this segment has shown steady growth over the past decade, 2013 saw the market decline.
Retailers took advantage of new technologies in 2013 and loads on virtual and mobile cards began to grow after three years of relative quiet. Loads onto incentives cards reveal that the declines were not felt evenly across the industry.
This year, in order to deliver data in a more timely fashion, Mercator Advisory Group is writing reports on individual segments as data becomes available. For example, government data typically becomes available later in the year, while retailers have their data earlier in the year. Retailers have asked to receive surveys and the resulting reports earlier in the year to help them with benchmarking and planning. Mercator Advisory Group plans to develop estimates for all the market segments we have consistently followed over the past 10 years.
In the past, Mercator Advisory Group published distribution information for prepaid cards as a separate report. The report released today includes distribution information along with load information for retailer-issued cards. All the charts and tables in this report represent the average reported percentage of total loads, whether the cards were issued for direct-from-consumer loads or as incentives or other business-to-business purposes.
This report contains 22 pages and 14 exhibits.
Companies mentioned in this report include: Blackhawk Network, Cardpool, Coinstar, Dunkin Brands, Gift Card Rescue, Gyft, InComm, MCX, Plastic Jungle, Starbucks Coffee Co., Wrapp
Members of Mercator Advisory Group Prepaid Advisory Group have access to this report as well as the upcoming research for the year ahead, presentations, analyst access, and other membership benefits.
---
One of the exhibits included in this report: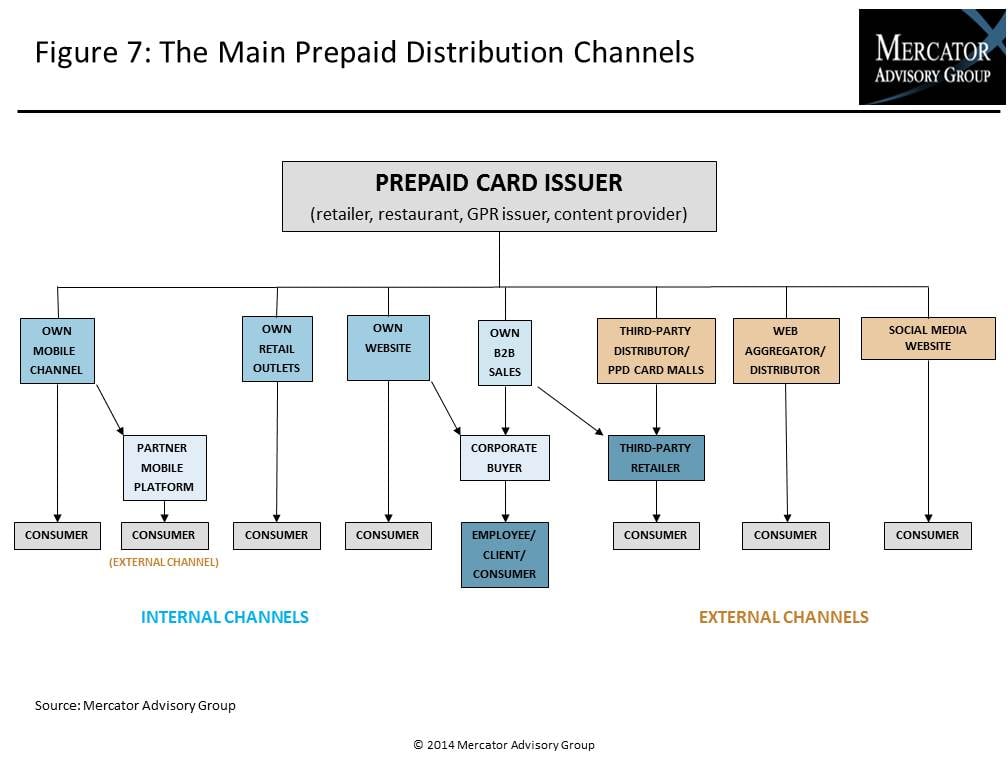 ---
Highlights of the Report include:
Decline of the closed-loop, In-Store gift segment in 2013 due to the underperformance of certain retail segments

 

Consistent performance of the incentives segments, indicating that not all retail segments suffered a decline

 

Information on the distribution channels used by issuers, with participating retailers continuing to report steady load volumes through card malls even as business-to-business and Internet loads fluctuate

 

Signs of growth of virtual card load volumes in 2013 after years of hovering around 2%

 

Mobile card loads are beginning to show up in Mercator Advisory Group's survey of gift card issuers in the United States. They remain small, but reported information suggests card buyers are becoming aware of mobile gift cards.

 

Reloads continuing as a percentage of total volume above 10% 
Interested In This Report