Restricted Authorization Networks: Winner Takes All
Author(s):
Mercator Research
Overview
Boston, MA
March 2008
RESTRICTED AUTHORIZATION NETWORKS:
WINNER TAKES ALL
NEW RESEARCH REPORT BY MERCATOR ADVISORY GROUP
Merchants today perceive open networks as the enemy responsible for driving up the cost of accepting payments. There are new solutions however that enable merchants to sponsor cards, participate in interchange, broaden the corporate brand and even extend category leadership. Using these solutions merchants will offer their customers new financial services that address the growing consumer demand for payment alternatives that put the consumer in control of their budget.
This consumer demand for greater control of their budget can be seen in the rapid growth of debit payment instruments. In 2002 to 2005 debit growth already exceeded credit growth by 4.8 billion transactions. Mercator Advisory Group estimates that this gap will jump to 10.2 billion more transactions on debit between 2005 and 2008 - and likely more that that given the current subprime mortgage crises.
This report shows how merchants and others can bring Prepaid Cards and Debit Cards to market, funded by Decoupled Debit and other mechanisms, to help consumers better manage their expenses and deliver meaningful savings - and therefore addressing this growing consumer demand. But most importantly, this report identifies how Restricted Authorization Networks can control how these cards are used in ways that were never before possible. This new level of control will be used to improve Merchant Funded Discount Networks and to introduce entirely new solutions where payment authorization is tied to cardholder actions within the payment environment or in activities unrelated to the payment network. This control is critical because it converts a passive payment instrument into a dynamic tool for monitoring and motivating the cardholder, making it the perfect instrument for merchants and manufacturers.
After considering the new business models that will spring from these technologies it then evaluates the impact these new business models are likely to have on twenty three different prepaid market segments. This section of the report provides a general guide to potential opportunities and threats for merchants, manufacturers, prepaid card program managers, processors, financial institutions, and card sponsors. In studying the 23 segments Mercator Advisory Group finds that the Consumer Incentive and Employee & Partner Incentive markets will face the most dramatic change. The first impact of this change is already being felt as merchants are increasingly asked to participate in merchant funded discount networks, such as the American Express Incentive Services DirectSpend program. Merchants and manufacturers must plan to take control of this development otherwise they risk losing control of their brand identity and control of prepaid card distribution and will be in a weaker position relative to controlling discounts.
Tim Sloane, Director of the Prepaid Advisory Service for Mercator Advisory Group and the author of the report indicates that merchants have the most to gain in adopting these solutions; "Merchants can create new payment solutions that fill the gap between credit card programs and basic Gift Card programs that offer consumers a range of debit and prepaid financial management services. But it is crystal clear that early adopters will have an extraordinary opportunity to win market share at the lowest cost per consumer while those who wait will discover a range of barriers to entry will rise quickly as consumers concentrate their spend on one program and as brands become consolidated by merchant funded discount networks implemented by brand and category market leaders."
One of the 6 Exhibits included in this report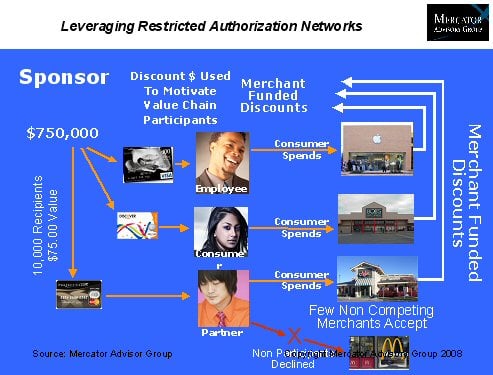 Figure 1: RAN Networks prevent acceptance at non-participating merchants.
The report is 29 pages long and contains 6 exhibits.
Members of Mercator Advisory Group have access to these reports, the spreadsheet that contains the base data, as well as the upcoming research for the year ahead, presentations, analyst access and other membership benefits. Please visit us online at www.mercatoradvisorygroup.com.
For more information call Mercator Advisory Group's main line: 781-419-1700 or send email to info@mercatoradvisorygroup.com
---
Interested In This Report