Real-Time Payment Systems: A Global Opportunity
Author(s):
Tristan Hugo-Webb
Overview
Boston, MA – December 20, 2013 – With the global payments landscape changing as more consumers and businesses move to electronic payments, countries around the world are implementing or considering implementing real-time payment clearing systems, which enable consumers, businesses, and financial institutions to send and receive payments virtually instantaneously. Mercator Advisory Group's latest report, Real-Time Payment Systems: A Global Opportunity, explores current state and future prospects for such systems in countries around the world.
Real-time payment systems clearing are already in place in South Africa, Mexico, Nigeria, and Poland though the United Kingdom's Faster Payments system gets the most attention from the press. Since its launch in 2008, Faster Payments volume and value of payments have surged. Successful new mobile payment apps are now operating within that system.
With the success of real-time payment clearing systems and with consumers and businesses around the world increasingly valuing the benefits of real-time payments and clearing, countries not yet operating such systems will begin to seriously consider implementing similar systems in their own markets. As a result, real-time clearing payment systems truly represent a global opportunity.
"The global payments landscape is changing. Consumers who once relied on cash as their primary payment instrument are increasingly adopting electronic payment methods like debit and credit cards as well as alternatives like mobile payments. Businesses, financial institutions, and other players in the international payments industry are not only adapting to these changing consumer trends but undergoing changes themselves. Businesses both large and small are looking for ways to cut costs and improve efficiencies, and financial institutions are constantly looking for the next technological advancement to bring to their customers. Real-time payment systems are one of the primary means of addressing the changing payment landscape," comments Tristan Hugo-Webb, Associate Director for the International Advisory Service at Mercator Advisory Group and the primary author of the report.
This report contains 22 pages and 8 exhibits.
Companies mentioned in this report include: Barclays, VocaLink
Members of Mercator Advisory Group's International Advisory Service have access to these reports as well as the upcoming research for the year ahead, presentations, analyst access, and other membership benefits.
---
One of the exhibits included in this report: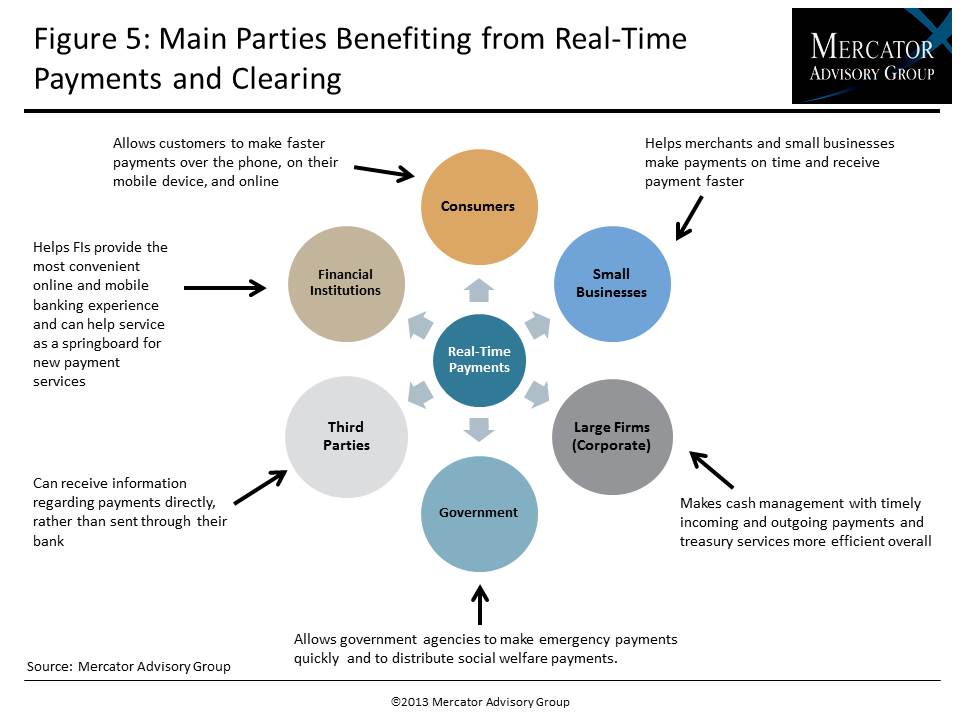 ---
Highlights of the report include:
An overview of global real-time payment systems


The implementation history of real-time payment systems around the world

 

A closer look at structure, performance, and recent developments of the Faster Payments Service in the United Kingdom

 

A review of the potential applications of real-time payment systems
Interested In This Report