Reaching Potential Wealth Management Customers Across the Wealth Spectrum
Overview
In a new research note, Reaching Potential Wealth Management Customers Across the Wealth Spectrum, Mercator Advisory Group reviews how banks and credit unions can leverage their banking channels to target, attract, and retain affluent and wealthy clients and serve them cost effectively.
"Expanded channels capabilities can be used to target and provide wealth management services to a broader range of clients than are served by private banks. Banks and credit unions can use analytics to reach near-affluent or mass-affluent customers in need of such services and can serve them using low-cost, light-touch interaction methods, comments Ed O'Brien, director of Mercator Advisory Group's Banking Channels Advisory Service and author of the research note.

This research note is 12 pages long and has 3 exhibits.
---
One of the exhibits included in this report: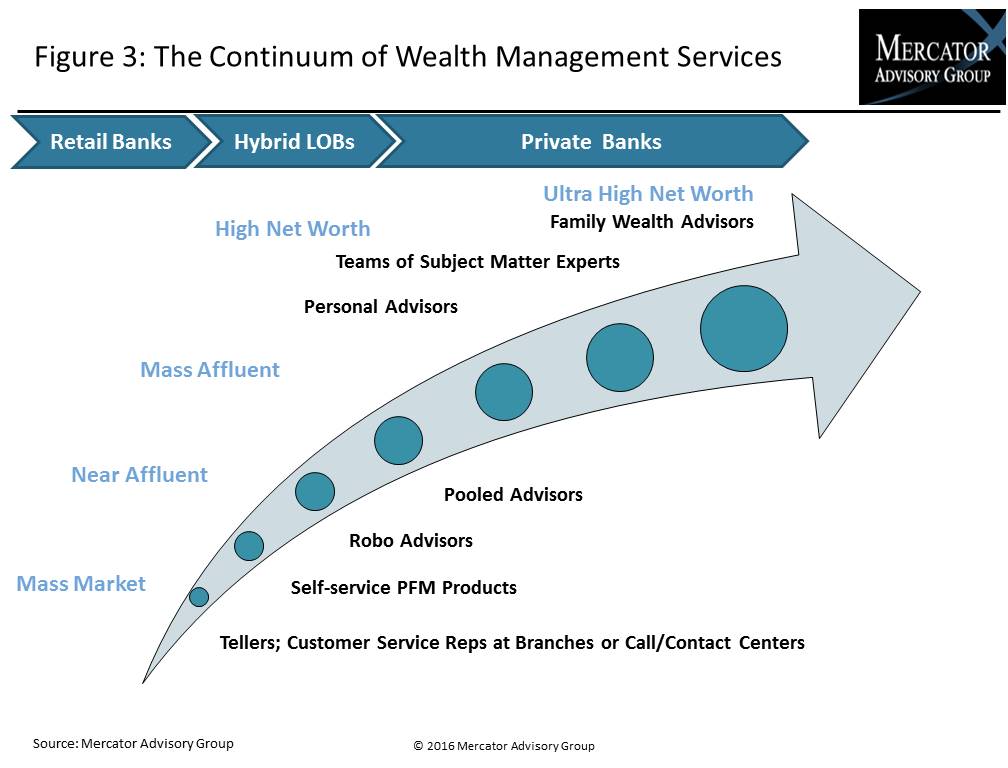 ---
Highlights of this research note include:
Wealth management prospects and clients are looking for new or expanded ways to save or to accelerate their savings efforts, as well as seeking ways to accumulate wealth in this challenging period of low interest rates.

 

Many banking customers are seeking advice, particularly those in the affluent and wealthy market segments.

 

Wealth management interaction and advice can be given in person or in some cases, via virtual video sessions, depending on the type of discussion.

 

Banks and credit unions are leveraging channels, particularly through reconfigured branches and digital banking, to more efficiently and effectively service customers' needs for wealth management with a combined strategy of self-, assisted-, and full-service offerings.
Interested In This Report