Overview
Boston, MA
June 2007
Purchasing Cards, Integrated Procurement Solutions, and the Commercial Card Market
A Credit Channel Re-Envisioned as Software-as-Service
NEW RESEARCH REPORT BY MERCATOR ADVISORY GROUP
This report examines new levels of sophistication in the domestic commercial credit space with respect to purchasing card programs, and supporting solutions such as Electronic Invoice Presentation and Payment (EIPP).  Of particular concern are programs and solutions being used at global and national corporations, governments, and institutions of higher learning and the types of spend in those sectors that issuers are attempting to penetrate.  Discussion of market influences, such as the United States government's impending transition to a new charge card program to be implemented at all federal agencies, is also featured in the report.  The market for p-card issuing in the university sector, the growing sophistication of the buyer enterprise and its end-users, and the opportunities for down-market expansion are all explored.  Special attention is also paid to recent acquisition activity impacting the purchasing card space.     
Highlights of this report include:





The field for purchasing card issuing has changed in the last decade to better accommodate end-user enterprises' technological and operational needs.






Recent acquisitions and investments by major issuers have brought enhanced solutions technology in-house as an added value to current and prospective customers.






The impending launch of the federal General Services Administration's SmartPay

?

2 charge card program will contribute to further product innovation.






The threshold between small businesses and corporations is losing definition as p-cards penetrate down-market.






The university segment offers both growth and development opportunities for p-card issuers.       
David Fish, Senior Analyst in Mercator Advisory Group's Credit Advisory Service and principal analyst on the report, comments, It's not just about the cards anymore.  In fact, it has been less about the cards and more about their potential for increased functionality when coupled with sophisticated resource planning technology for at least the last half-decade.  Purchasing cards, corporate cards, and the accounts in which they are issued, have even been transformed in recent years in top-tier environments into an extension of a bank's treasury services instead of the upper echelon of its credit issuing operation's customer base.  In almost all cases of large market issuers, regardless of the operational arm handling the account, institutions have begun providing state-of-the-art procurement solutions that offer the software necessary to link seamlessly to the customer's Enterprise Resource Planning application and general ledger for facilitated accountability and visibility.  For the banks' interests, these solutions potentially offer customer enterprises the necessary incentive to increase transaction volume on card-based programs."                                               
One of the 9 Exhibits included in this report: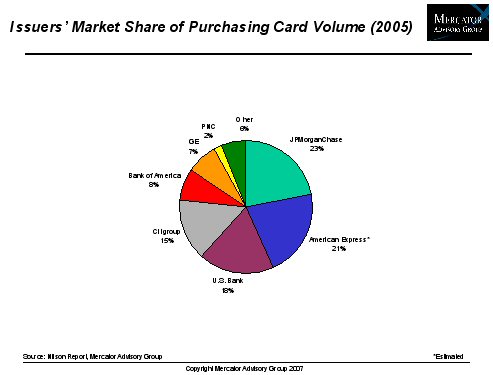 The report is 28 pages long and contains 9 exhibits
Members of Mercator Advisory Group have access to these reports as well as the upcoming research for the year ahead, presentations, analyst access and other membership benefits. Please visit us online at www.mercatoradvisorygroup.com.
---
Interested In This Report
Related content
The cobranded card market is a way to generate loyalty, scale your portfolio, and service the next generation of cardholders.
The Credit Card Data Book is a two-part annual publication that covers the internal and external factors affecting the U.S. credit card market. The first part focuses on environmen...
The U.S. credit market continued its path toward stabilization in 2022 but faced several hurdles, including rising interest rates, strained household budgets, and a highly competit...