Processor Value Added Services
Author(s):
Mercator Research
Overview
Boston, MA
August 2005
PROCESSOR VALUE ADDED SERVICES
What Should Issuers Outsource and What Can Processors Provide Most Effectively?
NEW RESEARCH REPORT BY MERCATOR ADVISORY GROUP
Both the card issuing and transaction processor industries are consolidating at a rapid rate, and this activity has created a growing demand for processor value added services.  For issuers, slowing portfolio growth is putting pressure on earnings growth.  To meet their aggressive goals, issuers are searching for ways to make their current account base more profitable through increased transaction volumes, better cross-sell marketing and tighter expense controls (especially credit losses).
Processors have similar growth problems.  The two largest processors have now acquired almost all of the third party processing business, so there is little market share left to grab.  At the same time, the number of active accounts has been flat for several years, so processors are finding few new accounts to process.  The result is a concerted effort to expand their revenue sources as far beyond core processing as possible.  Figure 2 shows the breakdown of issuers expenses in 2004, and demonstrates why processors would like to expand beyond simply core processing.
One of seven exhibits included in this report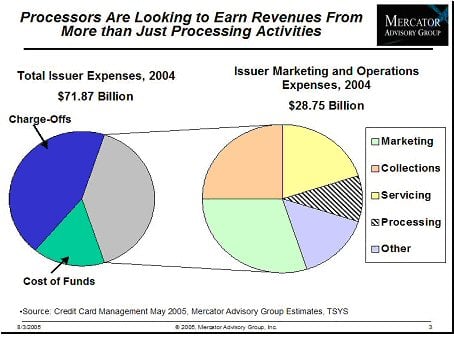 Figure 2: Processing represents only 4.5% of total issuer spending 
The report contains 29 pages and 7 exhibits.
The result has been an increase in the market for value added processor services.  Issuers need help driving profitability, and processors are in a position to use their scale and transactional expertise, as well as their key position in the card industry value chain, to assist them.  Processors have increased their efforts to provide a broad spectrum of new services, from pure cost reduction programs (like data warehousing and implementation of association compliance mandates) to complex data analytics services on top of the core processing activities (like risk prediction, fraud detection, loyalty and marketing programs).
The report seeks to answer several key questions:
* How should we define process value added services?
* Which services are issuers currently outsourcing, and why?
*  How much do issuers currently spend, and how are these spending habits   changing?
* What services are most likely to be outsourced to processors in the future and why?
Members of Mercator Advisory Group have access to these reports as well as the upcoming research for the year ahead, presentations, analyst access and other membership benefits. Please visit us online at www.mercatoradvisorygroup.com.
For more information call Mercator Advisory Group's main line: 781-419-1700 or send email to info@mercatoradvisorygroup.com.
---
Interested In This Report
Related content
Private-label credit cards are an essential part of the U.S. card market, but they are a product in slow decline and face several threats, including instant point-of-sale financing...
The cobranded card market is a way to generate loyalty, scale your portfolio, and service the next generation of cardholders.
The Credit Card Data Book is a two-part annual publication that covers the internal and external factors affecting the U.S. credit card market. The first part focuses on environmen...