Overview
The data breaches that occurred during the 2013 holiday season set the context for 2014 product strategy in many areas of the payments industry. However, no decisions have been affected more than those relating to EMV. Industry participants have spent 2014 defining, and in some cases implementing, their migration strategies. A completely operational EMV environment is likely several years away, but progress is being made.
Mercator Advisory Group projects that 58% of credit cards and 26% of point-of-sale (POS) terminals will be EMV-compliant by the end of 2015.
The company's research note, Preparing for 2015: The Year of the Liability Shift, explains Mercator Advisory Group's outlook for credit card EMV issuance and POS reterminalization in the United States. It also discusses several EMV-related issues such as chip and PIN, contactless and private-label issuance, as well as the potential impact of card network liability shifts.
"Issuers and merchants both appear to be taking EMV migration in stride, which is to say that they are incorporating it into routine card and terminal refresh cycles," comments Michael Misasi, Senior Analyst, Credit Advisory Service at Mercator Advisory Group and the primary author of the research note. "Looming regulatory issues and rumors that liability shifts would be extended have prevented merchants from getting the head start necessary to match financial institutions' EMV reissuance. Both groups will be ramping up their EMV efforts around the same time."
Mercator Advisory Group's estimates and projections in this document are based on: interviews with several issuer and acquirer processors and card manufacturers, data published by leading terminal manufacturers, results from Mercator Advisory Group's CustomerMonitor Survey Series, and our frequent conversations with merchants and card issuers.
Factors considered as influencing EMV credit card issuance include: 
Issuers' willingness to stray from typical credit card refresh cycles

 

Potential EMV card supply constraints

 

Previously announced issuer migration plans

 

Timeline for BIN certification and EMV pilots before general issuance

 

Card network liability shifts

 

Incremental costs associated with PIN and/or contactless support

 

Competitive forces in the industry

 

Increased customer service issues

 

Future regulatory action

 

Past and future data breaches
Factors considered as influencing EMV acceptance include:
Merchants' willingness to will stray from typical POS terminal refresh cycles

 

Number of inactive EMV terminals already in the market

 

EMV certification and testing timelines

 

Previously announced merchant migration plans

 

Possible expansion of the addressable market for consumer-facing terminals after EMV migration

 

Card network liability shifts

 

Number of terminals located at merchants that Mercator Advisory Group has identified as being particularly likely for prompt conversions

 

Need for co-brand credit card reissuance

 

Uncertainty around debit EMV issuance and acceptance procedures

 

Competitive forces in the industry

 

Future regulatory action

 
Disruption in checkout process

This report contains 10 pages and 4 figures.
Companies mentioned in this report include: American Express, Barclaycard, Discover, JPMorgan Chase, MasterCard, Target, Visa, Walmart
Members of Mercator Advisory Group's Credit Advisory Service have access to these reports as well as the upcoming research for the year ahead, presentations, analyst access, and other membership benefits.
---
One of the exhibits included in this report: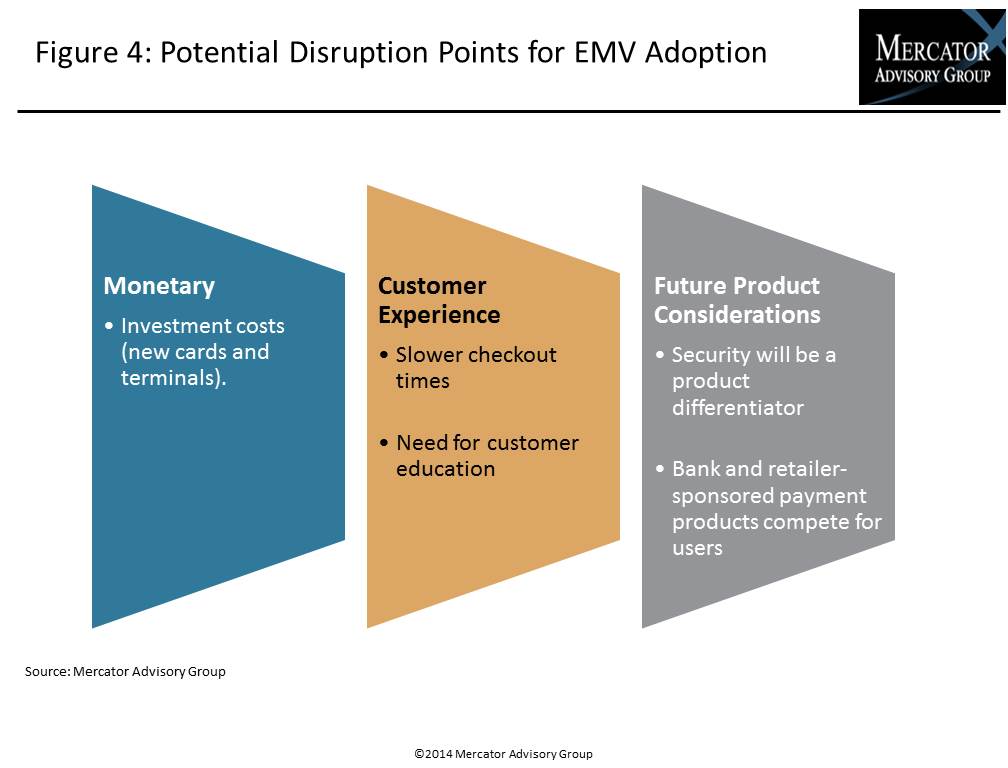 ---
Highlights of the research note include:

Projected EMV credit card issuance and POS reterminalization

 

Projected EMV compliant credit card transaction volume

 

Analysis of recent and forthcoming disruption related to the industry's EMV migration.

 

Discussion of trends related to credit issuance such as chip and PIN, contactless, private label

 

Analysis of how EMV production capacity could impact the reissuance process
Interested In This Report