Prepaid Market Forecasts
Author(s):
Mercator Research
Overview
Boston, MA
July 2005
LOAD VOLUME CARD FORECAST FOR 33 MARKETS (OPEN AND CLOSED)
NEW RESEARCH REPORT BY MERCATOR ADVISORY GROUP
Using data derived from the 2004 and 2005 prepaid market benchmarks that investigated both the Open and Closed prepaid markets, Mercator has produced the prepaid industry's first four year forecast predicting the total spend and the total number of cards issued for market segments identified by Mercator.  This report also delivers the first comparison of Open spending versus Closed spending for all relevant prepaid market segments - information critical to anyone planning a prepaid strategy since it identifies markets where Open Cards are gaining market share over Closed Solutions, where Closed Solutions remain dominant, and where the markets are expanding to embrace both solutions.
"While the recently released prepaid benchmark reports for Open and Closed solutions document underlying market dynamics, this report converts that information into a four year forecast of Open and Closed spending for all three markets," noted Tim Sloane, Director of Mercator Advisory Group's Debit Advisory Practice.  "This forecast offers the industry its first consolidated view of the industry measuring Open cards, Closed Cards and other closed systems that include Transit, Telecommunications, Digital Media and even Utilities."  Also included in this report is a total spend for each category in one consolidated table.  This enables readers to extract growth rates for each sector and for the total market from Open and Closed systems. 

One of the 33 Exhibits included in this report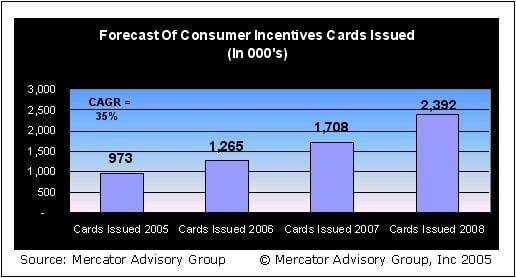 The report contains 24 pages and 33 Exhibits.
Members of Mercator Advisory Group have access to these reports as well as the upcoming research for the year ahead, presentations, analyst access and other membership benefits. Please visit us online at www.mercatoradvisorygroup.com.
For more information call Mercator Advisory Group's main line: 781-419-1700 or send email to info@mercatoradvisorygroup.com.
---
Interested In This Report