Prepaid Market Dynamics
Author(s):
Mercator Research
Overview
Boston, MA
March 2004
Prepaid Market Dynamics
NEW RESEARCH REPORT BY MERCATOR ADVISORY GROUP

Statements that proclaim, "the prepaid market will reach $240 Billion this year" are meaningless to anyone involved in a specific prepaid market segment because each prepaid market segment is unique.  Even more meaningless are statements that "the prepaid market will approach $760 Billion in 2007" because each market segment has its own total market size and growth rate.  The segments for prepaid solutions vary so greatly that any general characterization that claims to be universal must be questioned.  The market for a cash card is different that those for controlled cash cards, gift cards, proxy cards, mass transit, and telecommunications.  These different segments share a few characteristics other than consumers have paid in advance for a specific product or service.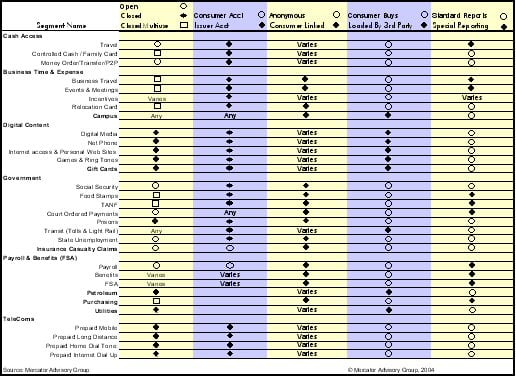 This report identifies the key attributes used to evaluate all prepaid solutions and the market requirements for each segment.  Any financial institutions entering a prepaid market segment that does not recognize and address these market requirements will find it difficult or impossible to keep pace with the market leaders.
The majority of prepaid solutions sold to financial institutions today claim to work across multiple market segments.  These solutions are in essence a prepaid toolbox that leading financial institutions use to develop a product suitable to a specific market segment.  But there is a glut of general purpose solutions available compared to the relatively small number of financial institutions that have the market penetration, brand identity, and sales and service organizations needed to succeed in creating a segment specific solution from scratch.  As a result, the number of general purpose prepaid solutions will shrink and the number of segment specific solutions will grow to meet the needs of the majority of financial institutions that require help in developing the technology, creating brand awareness, and delivering marketing collateral  and the service and support needed to win customers right out of the gate.
Closed solutions dominated the prepaid spending in 2003, and gift cards are the largest closed solution at $40 Billion.  These Gift Card solutions benefit merchants because the preapid card or certificate is locked to that merchant's business.  Research into consumer behavior indicates that the consumer has a strong preference for open prepaid solutions, but this desire is diametrically opposite the merchant's needs.  In theory, an open prepaid card from a major company should be able to restrict spending based on enforcement of merchant, merchant type and even the specific item that can be purchased using item data -- this report indicates why this effort has been extremely slow to develop.
Tim Sloane, Director of the Debit Advisory Service for Mercator Advisory Group, and the author of the report says that, "Point-of-Sale Activation (POSA) has helped the merchant incrementally open up its closed gift card solution for a wide spectrum of product types and merchants.  Using POSA, prepaid gift card providers can distribute their cards to selected merchants for sale.  The card has no intrinsic value until activated, and therefore has almost no inventory cost.  The low cost of inventory coupled with the fact that participating merchants earn 6 to 36 percent on each sale, has driven incredible interest in POSA and this accounts for the investments being made by AT&T and others in a POSA-based prepaid card distribution network."
This report contains 28 pages and 5 exhibits.
Members of Mercator Advisory Group have access to this report as well as the upcoming research for the year ahead, presentations, analyst access and other membership benefits. Please visit us online at www.mercatoradvisorygroup.com
For more information call Mercator Advisory Group's main line: 508-845-5400 or send email to info@mercatoradvisorygroup.com.
---
Learn More About This Report & Javelin