Prepaid Fraud and Risk: Between Cash and a Hard Place
Author(s):
Mercator Research
Overview
RESEARCH EXAMINES PREPAID CARD FRAUD
AND RISK MANAGEMENT
Prepaid Fraud and Risk: Between Cash
and a Hard Place

Risks associated with prepaid cards and strategies for prepaid risk management have been well documented in research published by numerous sources. But the majority of these sources focus regarding prepaid risk issues has centered on the role that prepaid cards can play in money laundering schemes, as well as the best practices for managing prepaid money laundering risk.
Published discussion of the anti-money laundering (AML) aspect of prepaid risk management is significant, as is that of data security, and Mercator provides some commentary surrounding both. However, the relative scarcity of information surrounding fraud in the prepaid space obliges us to focus the majority of this research document on the crucial aspect of fraud management.
Prepaid Fraud and Risk: Between Cash and a Hard Place presents examples of various schemes that help to illustrate each mode of prepaid fraud. At a very high level, the report explores the concerns surrounding prepaid cards and how they might be exploited by money launderers, as well as the initiatives the industry has taken to implement best practices for AML. Third, the report addresses the latest developments in how data security breaches are impacting the prepaid risk landscape. This report also examines systems that various prepaid market participants have deployed to combat fraudulent activity within their prepaid portfolios, and discusses the growing adoption over the last few years of risk management systems and services provided by processors. Finally, we will discuss the potential for AML technology and processes in use in the broader financial services industry to be efficiently merged with prepaid fraud management initiatives so that market participants might recognize greater value in their risk systems.
"The fraud schemes that involve prepaid cards, either at the point of activation or when they are reloaded with fraudulent funds, are certainly crafty in their ingenuity and no less pernicious than other types of fraudulent activity when it comes to that activitys social and cultural impacts, comments David Fish, Senior Analyst in Mercator Advisory Groups Prepaid Advisory Service and author of the report. The demand for collaborative systemic fraud controls has never been greater. Consortia and trade associations in the investigative and security areas have been a good place to start, initiating a general dialogue among institutions. However, systems should also talk to each other in such a way that the entire payments ecosystem is made more secure."
Report Highlights Include:
1. While much of the discussion has focused mostly on money laundering when it comes to prepaid cards and their use in criminal schemes, Mercator takes a deep dive into some of the fraud trends that are unique to Prepaid.
2. The host of fraud schemes involving prepaid cards is an ever-evolving beast, and Mercator presents several bleeding edge examples of how the bad guys are exploiting the system.
3. Market participants seem to have a handle on schemes that include elements of money laundering since prepaid issuers, processors, and program managers have incorporated AML best practices in their processes and products.
4. The recent rash of processor data breaches has included at least one big name in the prepaid space. The real world "Oceans Eleven" that ensued will have lasting repercussions on how prepaid cards are processed.
5. Systems for fraud management in credit and debit card portfolios are being adapted and deployed for use in prepaid programs. Once-manual workflow processes are seeing greater automation, but for issuers who take the risk on their prepaid products, does the cost of system deployment outweigh the benefit?
One of the 8 Exhibits included in this report: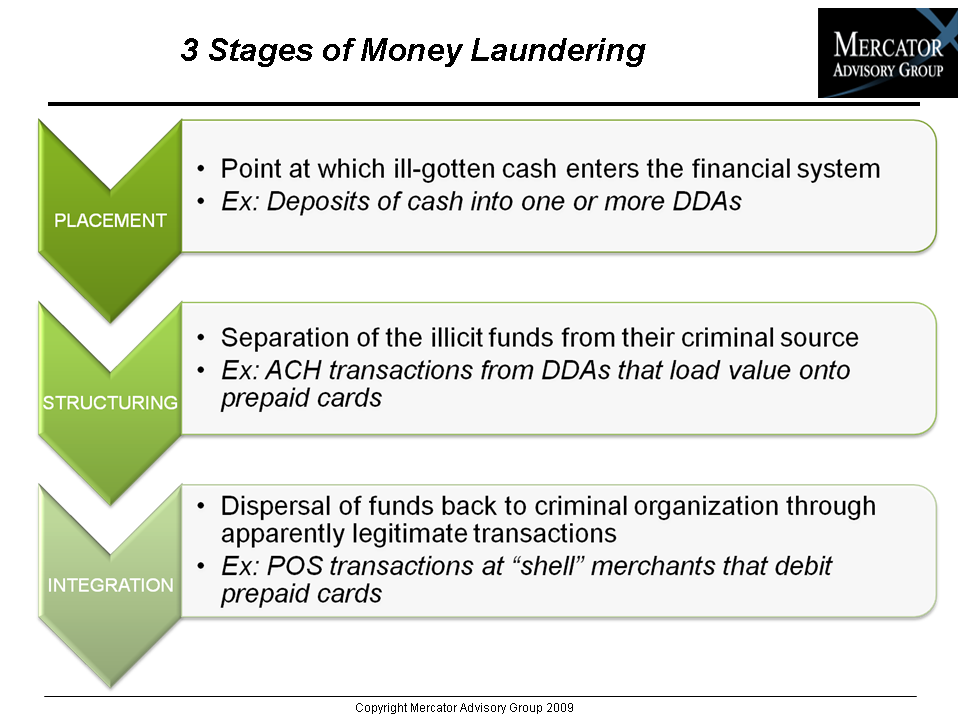 Companies Mentioned in This Report:
American Express, Blackhawk Network, Department of Justice, Dun & Bradstreet, FBI, Federal Reserve, FICO (nee Fair Isaac), Fidelity National Information Systems (FIS), FinCEN, First Data, Green Dot, InComm, MasterCard, Metavante, NBPCA, RBS WorldPay, TSYS, UBS, US Bank, Visa.
This report contains 27 pages and 8 exhibits
Members of Mercator Advisory Group have access to these reports as well as the upcoming research for the year ahead, presentations, analyst access, and other membership benefits. Please visit us online at www.mercatoradvisorygroup.com.
For more information and media inquiries, please call Mercator Advisory Group's main line: 781-419-1700 or send email to info@mercatoradvisorygroup.com.
Mercator Advisory Group is the leading, independent research and advisory services firm exclusively focused on the payments industry. We deliver pragmatic and timely research and advice designed to help our clients uncover the most lucrative opportunities to maximize revenue growth and contain costs. Our clients range from the world???s largest payment issuers, acquirers, processors, and associations to leading technology providers.

---
Learn More About This Report & Javelin