Overview
Boston, MA — December 30, 2013 — For prepaid card program managers, distribution is top priority. New research from Mercator Advisory Group, Prepaid Distribution Strategies in the United States, examines the methods available to prepaid card program managers as they look for new opportunities to get their cards in the hands of customers.
The report provides an overview of how prepaid card issuers and program managers can expand their reach by placing their cards in new locations and leveraging new technologies. The report also discusses the volume of dollars loaded onto prepaid cards in both direct-to-consumer and business-to-business channels.
Distribution plans must include both business and technological facets, and this research covers the current state of the digital card market. While these cards and channels will become increasingly important, until now, adoption has been slow.
The prepaid card industry needs to study what business channels and technological channels will give them a competitive edge. It is not enough to simply be where your competitors are or to beat them to a market. The report also considers the actions issuers and program managers should take regarding mobile wallets.
"Due to thin margins, prepaid programs depend on volume for profitability. So, getting cards into many hands is critical to success," Ben Jackson, senior analyst, Mercator Advisory Group's Prepaid Advisory Service and author of the report comments. "Program managers, whether handling open-loop or closed-loop cards, have a variety of distribution options. Understanding those options requires a grasp of both business and technological considerations."
This report is 27 pages long and contains 10 exhibits.
Companies mentioned in this report include: 7-Eleven Inc., 500 Startups, A-Grade Investments, AccountNow Inc., Affinion, Aimia Group, American Eagle, American Express Co., Atomico, Bass Pro Shops, Best Buy Co., Inc., Bed Bath & Beyond Inc., Blakchawk Network Holdings Inc., CashStar Inc. Dillard's, Inc., Dimpledough Inc., Dunkin' Brands, epay, Euronet Worldwide Inc., Facebook, Founder Collective, Gap Inc., Giftango, Inc., Google Inc., Google Ventures, Graylock Partners, Green Dot Corp., Gyft, H&M, Hass Portman, InComm, InteliSpend Prepaid Solutions, Karlin Ventures, LevelUp (SCVNGR Inc.), Martiz, Merchant Customer Exchange (MCX), Monitise plc, National Retail Federation, Netspend Holdings Inc. (TSYS) Nordic Financial Services Group SEB, Qualcomm Ventures, Racetrac, RushCard (UNiRush LLC), Sephora, Social + Capital Partnership, Starbucks Coffee Co., Target Corp., Wal-Mart Stores, Inc. (Walmart), Wrapp
Members of Mercator Advisory Group's Prepaid Advisory Service have access to this report as well as the upcoming research for the year ahead, presentations, analyst access, and other membership benefits.
---
One of the exhibits included in this report: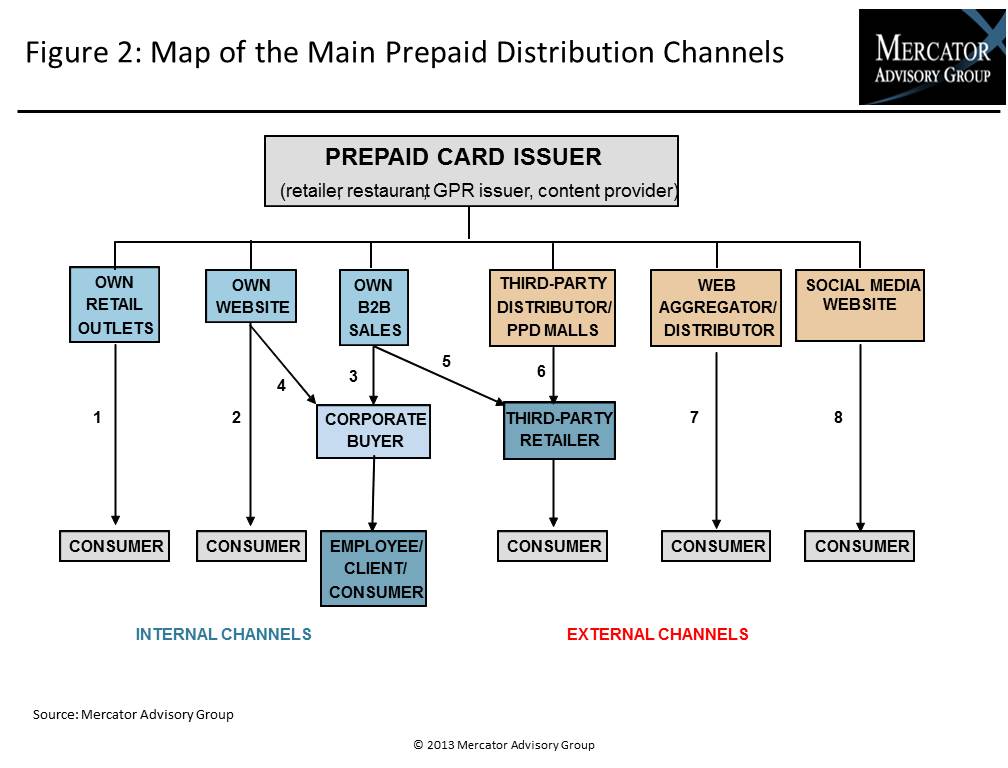 ---
Highlights of the report include:
Ingredients of a strong distribution strategy for most prepaid programs

 

Advances in technology that offer new ways to sell cards to customers

 

Hybrid approaches for selling general purpose reloadable (GPR) cards by using both online and in-store placements to get cards into the hands of customers

 

Business considerations that need to be included in distribution strategy such as channel choice, partners, cost of delivery, regulatory compliance, competition, and brand awareness

 

Technological considerations, such as new form factors for delivery, activation, and redemption 
Interested In This Report
Related content
Unused funds on prepaid products, such as gift cards, create liabilities for issuing organizations as use grows. The increasing use of such products highlights the opportunities fo...
The Prepaid Card Data Book ties together the most important metrics for the industry. Mercator Advisory Group's assessment of the prepaid card market covers market estimates for th...
This report covers Mercator Advisory Group research and expectations in the commercial prepaid market. Highlights include trends for both open-loop and closed-loop products.