Prepaid Card Market in China 2010
Overview
Prepaid Card Market in China 2010
Mercator Advisory Group research provides comprehensive and in-depth coverage of China's fast growing and lucrative prepaid card market
Boston, MA -- At a time when the US prepaid card market is experiencing healthy growth, but maturing quickly, international prepaid markets are quickly heating up and have become a major focus for the global payments industry. China is already the world's largest payment card market (based on the number of credit and debit cards in circulation). At the same time, China also has a tremendous prepaid card market that has been growing rapidly on its own without drawing a lot of attention from the global payments industry.
In 2009, prepaid cards across 11 categories recorded about CNY1, 370B (US$207.6B) in sales/loads in China. Since 2010, however, the market has been undergoing a major reshuffling due largely to the quickly growing market and the changing regulatory environment. As a result, the prepaid card market in China might offer significant opportunities for members of the global payments industry who have been waiting anxiously to get a bigger piece of the local market.
Mercator's latest research provides the most comprehensive overview of the prepaid card market in China. Both general-purpose (open- and semi-open) and private-label/closed- loop prepaid card markets are discussed, along with an analysis of seven major prepaid categories: Business Time & Expenses (Incentives), Campus Cards, Digital Content/Online Gaming, Government, Memberships (Fashion & Leisure Sports), Petroleum, and Prepaid Telecom. Market sizing estimations and forecasts are provided for select major categories.
"The market opportunities for prepaid cards in China are beyond many people's imagination," Terry Xie, Director of Mercator Advisory Group's International Advisory Service and principal analyst on the report, commented. "In 2009, China was already the world's second largest prepaid card market with over US$200 billion sales, surpassed only by the US. And the market is still growing rapidly today. At the same time, the prepaid market in China shows distinct differences from many other prepaid markets around the world, such as US, UK, Italy, and India, among others. A full understanding of the dynamics in the market - as well as the underlying economic, social, and regulatory factors - is required for succeeding in China, especially for international players and investors looking to enter the market."
In addition, the Prepaid Card Market in China 2010 report provides an in-depth analysis of the prepaid business ecosytem in China, the current industry landscape, profiles of key players, existing business models, and merchant acquiring models.
The report also discusses the key opportunities and challenges in China's prepaid card markets, including banks involvement and role in the prepaid card market, China union Pay's (CUP) ambition and plans regarding prepaid cards, the impact of pending regulations on prepaid , and possible directions for the industry, amongst others.
Findings from the Prepaid Card Market in China 2010 report include:


Total 2009 sales/loads for prepaid cards across 11 categories.


Closed and open-loop outlooks and percentages of the market.


Prepaid card companies that are actively competing in China as well as other cities around the country.


The largest prepaid categories in China.


Sales/loads for closed-loop prepaid cards.


Challenges, particularly regulatory uncertainties, and opportunities for domestic and international players.
One of 10 exhibits included in the Prepaid Card Market in China 2010 report: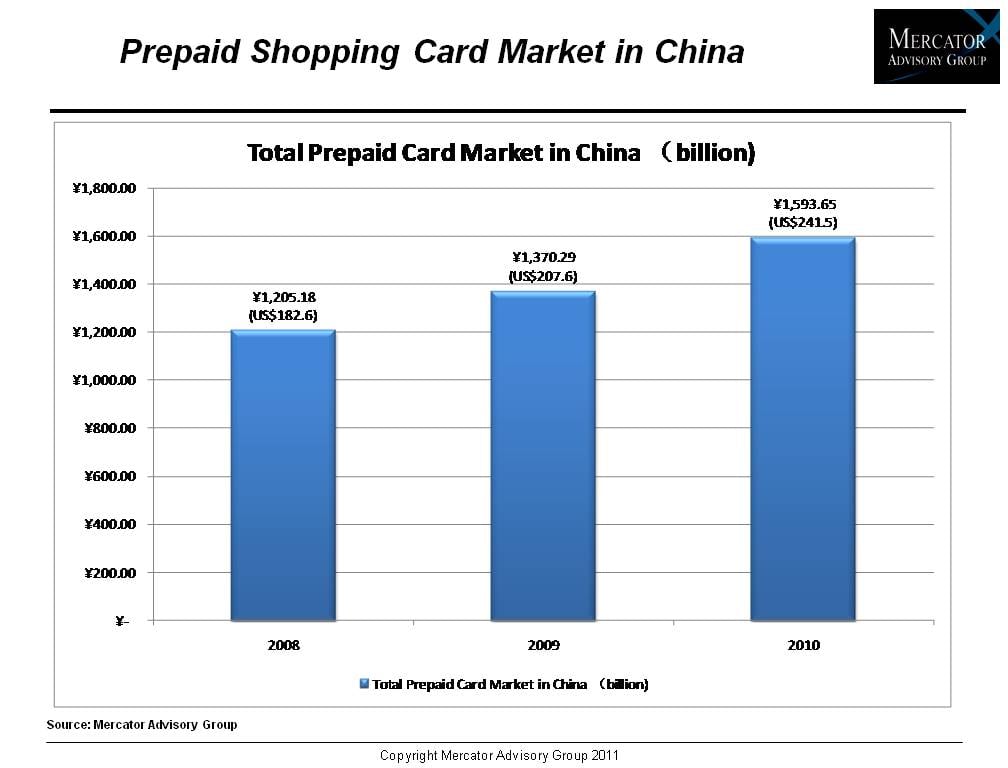 This report contains 46 pages and 10 exhibits.
To help members of the industry evaluate overseas market opportunities and expand internationally, Mercator Advisory Group has significantly increased its industry-leading prepaid coverage to include global prepaid markets in the last two years. Beginning in 2011, Mercator will provide country-level comprehensive and in-depth coverage of major prepaid markets around the world. This report on China is the first in the series, and future reports on prepaid markets will include UK, Mexico, India, and Brazil.
Companies mentioned in the report include: Accor Services China (Ederen), All In Pay, Allscore, Bailian (Lianhua OK), Bank of China, Bank of Communications, BoC ExpressPay, Carrefour, China UnionPay, China Union Loyalty, China UnionPay Merchant Services (CUMS), CNPC, Digital China Network (DCN), Guangzhou Smartlink Pay FuKa, Ka-Ka-Tong, SandPay, Sherble Department Store, Sinopec, SmartPass, Sodexo China, Walmart, Wumei Shopping Mall, Yacol, Yin-Ying-Tong (Easy Bonus Card), and Zi-He-Xin, among others.
Members of Mercator Advisory Group have access to this report as well as the upcoming research for the year ahead, presentations, analyst access and other membership benefits.
Please visit us online at www.mercatoradvisorygroup.com.
For more information and media inquiries, please call Mercator Advisory Group's main line: (781) 419-1700, send E-mail to info@mercatoradvisorygroup.com.
Follow us on Twitter @ http://twitter.com/MercatorAdvisor.
About Mercator Advisory Group
Mercator Advisory Group is the leading, independent research and advisory services firm exclusively focused on the payments and banking industries. We deliver pragmatic and timely research and advice designed to help our clients uncover the most lucrative opportunities to maximize revenue growth and contain costs. Our clients range from the world's largest payment issuers, acquirers, processors, merchants and associations to leading technology providers and investors.
---
Learn More About This Report & Javelin