Premium Credit Cards: How to Hit a Small, Moving Target
Overview
Credit card issuers' interest in mass affluent and high-net-worth cardholders has not waned in the wake of the recession. Indeed, leading premium card issuers have redoubled their efforts to acquire these consumers as a source of high-volume, low-risk credit card spend.
Mercator Advisory Group's report, Premium Credit Cards: How to Hit a Small, Moving Target, updates key statistics on affluent and high-net-worth consumers. It analyzes statistics that are fundamental to card product development in the U.S. market such as market growth, product ownership, and monthly and yearly card spending by cardholder segment. The report also reviews recent developments in the major card networks' product platforms and provides an update on new features and benefits of leading issuers' superpremium offerings.
"Growth in the overall number of high-net-worth and mass affluent households has remained modest," comments Alex Johnson, Director of Mercator Advisory Group's Credit Advisory Service and author of the report. "The biggest area of growth, in terms of card spend, is occurring in the lowest tier of the mass affluent segment, and this is motivating issuers to invest in the features and rewards of cards targeted at that segment."
This report contains 27 pages and 14 exhibits.
Companies mentioned in this report include: American Express, Citibank, City National Bank, Discover, Facebook, JPMorgan Chase, MasterCard, and Visa.
---
One of the exhibits included in this report: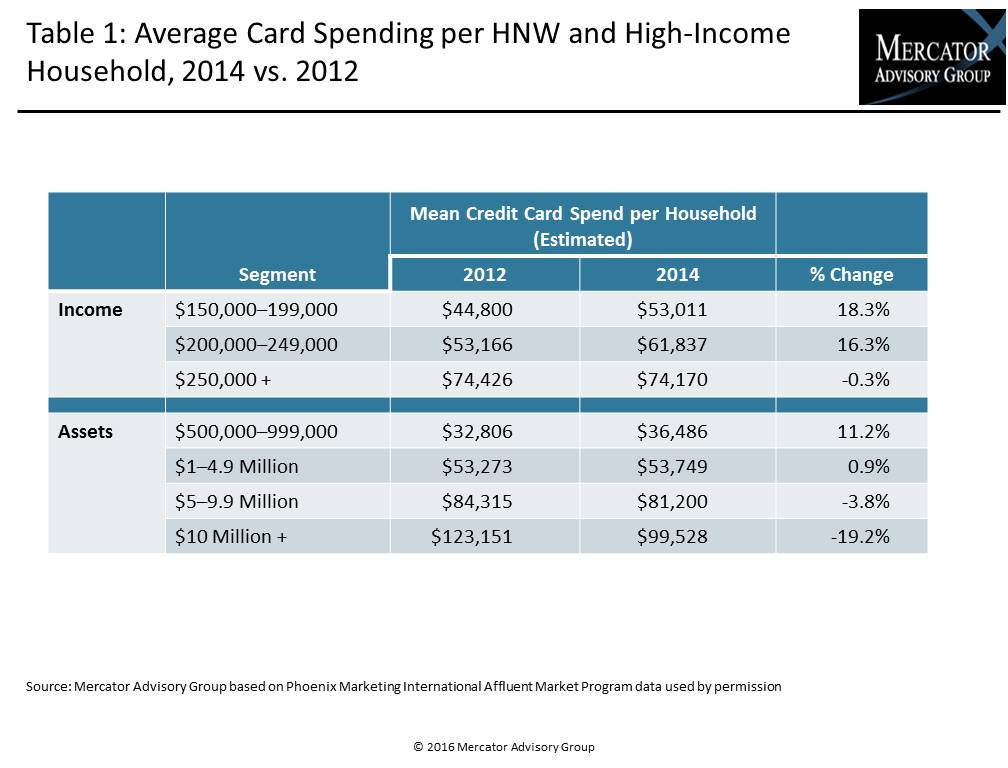 ---
Highlights of the report include:
Estimates, trends, and penetration rates in premium credit card spending

 

Tactics that leading issuers have employed to differentiate premium card brands and products

 

An overview of premium product platforms offered at the network level

 

Comparison grids of the features/benefits of the most popular premium card offerings

 

Strategic considerations for premium card issuers
Interested In This Report