Premium Credit Cards 2011: Chasing The Affluent Consumer Post-Recession
Overview
Premium Credit Cards 2011: Chasing The Affluent
Consumer Post-Recession
Boston, MA -- With more card issuer interest and focus on pursuing affluent and high net worth (HNW) consumers with excellent credit histories, the credit card industry has responded by expanding or enhancing the perks offered to wealthy cardholders.
Mercator's newest report, Premium Credit Cards 2011: Chasing The Affluent Consumer Post-Recession, highlights developments in credit card usage and products among the wealthiest consumers in the U.S. This report first examines the current market opportunity by updating key affluent and HNW consumer statistics that are fundamental to card product development in the affluent space, and addresses questions such as: Is this market growing? Is it saturated with card products? Has card spending increased among affluent cardholders since our last measurement in 2007? Next, the report reviews the growth of the major card product platforms, provides an update on new features and benefits of the leading super premium offerings, and profiles some new entrants in this space.
Highlights of the report include:
Estimations, trends, and penetration rates in premium credit card spending over the last three years.

Tactics leading issuers have employed to differentiate proprietary premium card brands as the main premium card network product platforms have grown in market penetration.

The primary means of differentiating primary cards, along with features of the products.

Comparison grids of the features/benefits of the most popular premium card offerings.

 
Ken Paterson, VP for Research Operations at Mercator Advisory Group and Director of the Credit Advisory Service, the author of the report comments; "All things considered, the marketing of premium credit cards must be considered as success, and the fact that it has been achieved in difficult economic times is both remarkable and logical. Affluent and high net worth consumers are clearly finding value in the products, and are showing a notable willingness to pay for them."
One of the 16 exhibits included in this report: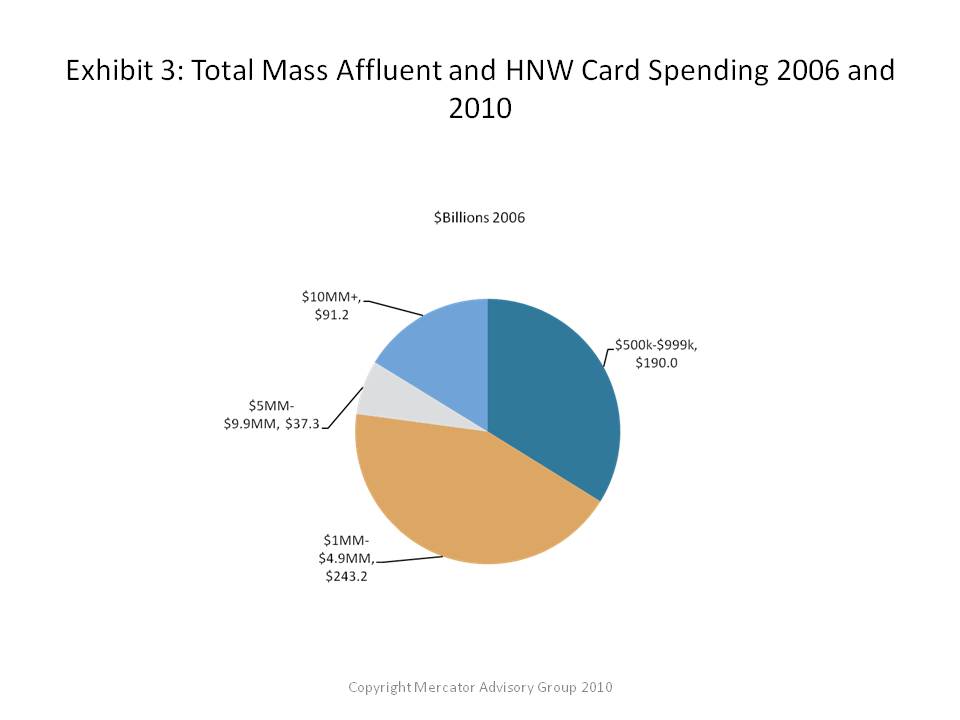 The report is 32 pages long and contains 16 exhibits.
Members of Mercator Advisory Group have access to this report as well as the upcoming research for the year ahead, presentations, analyst access and other membership benefits.
Please visit us online at www.mercatoradvisorygroup.com.
For more information and media inquiries, please call Mercator Advisory Group's main line: (781) 419-1700, send E-mail to info@mercatoradvisorygroup.com.
For free industry news, opinions, research, company information and more visit us at www.PaymentsJournal.com.
Follow us on Twitter @ http://twitter.com/MercatorAdvisor.
About Mercator Advisory Group
Mercator Advisory Group is the leading, independent research and advisory services firm exclusively focused on the payments and banking industries. We deliver pragmatic and timely research and advice designed to help our clients uncover the most lucrative opportunities to maximize revenue growth and contain costs. Our clients range from the world's largest payment issuers, acquirers, processors, merchants and associations to leading technology providers and investors. Mercator Advisory Group is also the publisher of the online payments and banking news and information portal PaymentsJournal.com.
---
Interested In This Report
Related content
Private-label credit cards are an essential part of the U.S. card market, but they are a product in slow decline and face several threats, including instant point-of-sale financing...
The cobranded card market is a way to generate loyalty, scale your portfolio, and service the next generation of cardholders.
The Credit Card Data Book is a two-part annual publication that covers the internal and external factors affecting the U.S. credit card market. The first part focuses on environmen...