Overview
Boston, MA
June 2004
POSsibilities: Issues and Technologies at the
Consumer Payments Hub
NEW RESEARCH REPORT BY MERCATOR ADVISORY GROUP
Many initiatives that are driving growth and change in the payments industry such as contactless payments, smart cards, mobile payment inititiatives and biometrics are all augmentations to the basic payment concept: that a cardholder presents a token to a merchant to perform a payment transaction.  The token identifies the cardholder to the network and allows the merchant to accept payment from them for goods or services.  It seems obvious, but is probably worth stating -- the POS terminal connects the consumer and merchant, a pivotal role.
Nick Holland, Director of the Emerging Technologies Advisory Service at Mercator Advisory Group and the report's co-author states:
"A quiet revolution is going on at the Point of Sale... with IP enablement and the plethora of technologies that are now affordable and robust enough to include in POS terminals, the lowly black box at the checkout is going through a metamorphosis.  Originally designed from the perspective of the merchant who would be swiping the cards and plugging the numbers, the focus has shifted to the customer and ways in which the POS terminal can enhance their retail experience..."
One of Nineteen Exhibits included in this report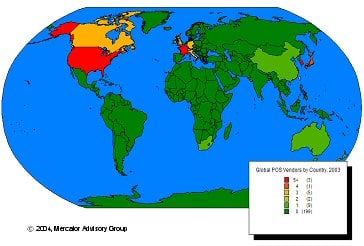 The report covers the issues facing the POS industry; the technologies and innovations such as Internet Protocol, Contactless Cards, and RFID tagging that are playing a central role in shaping the evolution of the card payment.  The report also provides a macro view of the global POS industry and the key players.  A companion report provides further analysis of the regions and the vendors themselves.
The report contains 19 exhibits and is 29 pages.
Members of Mercator Advisory Group have access to these reports as well as the upcoming research for the year ahead, presentations, analyst access and other membership benefits. Please visit us online at www.mercatoradvisorygroup.com.
For more information call Mercator Advisory Group's main line: 508-845-5400 or send email to info@mercatoradvisorygroup.com.
---
Interested In This Report
Related content
With investment capital tighter in 2023, there's less interest in untested, unproven fintech startups and more of an emphasis on coming out of the chute with products that are read...
Wallet-based digital ID will create a wedge between universal wallets and payment apps, as embedded finance product offerings converge on feature parity over time.
For more than a decade, fintech startups and products have captured outsized attention and investment. In many ways, these companies have set the agenda for driving consumer expect...