Payroll Cards in the United States: A Balancing Act for Providers
Overview
The report titled Payroll Cards in the United States: A Balancing Act for Providers provides an analysis of the payroll card market that includes its size, descriptions of industry players, and discussions of the stakeholders.
Mercator Advisory Group's forecast report identifies demographics of payroll card users, and explores how they are not as homogenous as they might seem. Users include both the cardholders and the employers. The report includes the results of interviews with payroll card buyers to show what they look for when considering a payroll card program.
This report reviews providers who have carved out specific niches for themselves in the payroll market. While it does not include an exhaustive list of providers, it looks at players who have found market opportunities to show the ways in which providers can find their own way in the market and customers can find programs that fit their needs.
Additionally, the report looks at the ever-changing regulatory environment for payroll cards. While some controls are necessary, payroll programs face risks at both the state and federal level.
"The payroll card is a unique produce that can save its users money in a way that makes money for providers, which means that it can help a large number of people, including some of the most financially vulnerable" Ben Jackson, director of Mercator Advisory Group's Prepaid Advisory Service, and author of the report, comments.
This research report has 21 pages and 6 exhibits.
Companies mentioned in the report include: Careington International, Coca-Cola, Comdata, FSV Payment Systems, netSpend, PayPerks, STAR Systems, Visa
---
One of the exhibits included in this report: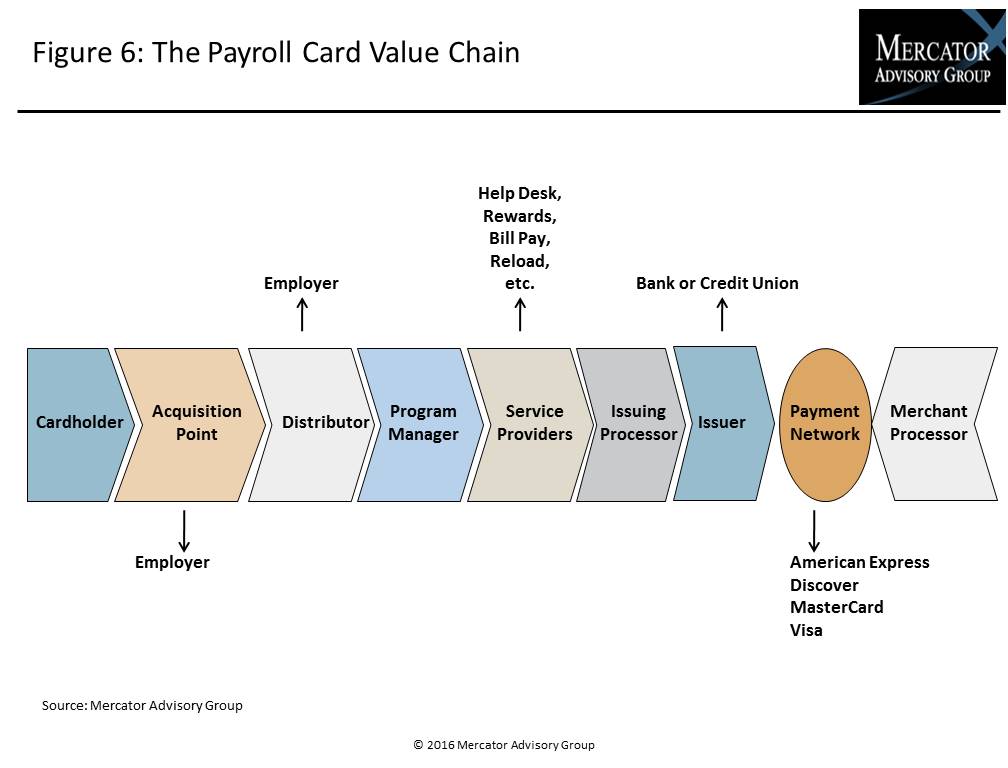 ---
Highlights of the report include:
History and current status of payroll cards

 

A chart showing the steady growth in loads in the Payroll segment of U.S. open-loop prepaid cards market, with growth forecasted to continue through 2018 unless it is derailed by outside interference

 

Mercator Advisory Group's survey findings on payroll card users, with breakdown by age, ownership of other card types, and mobile payment experience

 

Discussion of the benefits of payroll card use for employers and employees

 

Description of the various types payroll providers, which run the gamut from specialty providers focused on specific industries to generalists who use payroll to supplement their general purpose prepaid card portfolios

 

The likely negative consequences of anticipated regulation at both the state and federal level for payroll card programs and the people the regulations are intended to protect. 
Learn More About This Report & Javelin