Payments Industry M&A Report - Q4 2007
Author(s):
Mercator Research
Overview
Boston, MA,
April 2008
Payments Industry M&A Report - Q4 2007
NEW RESEARCH REPORT BY MERCATOR ADVISORY GROUP

There were 16 M&A transactions and 2 Venture Capital financing deals in the payments industry during the fourth quarter of 2007. During Q4, M&A activity dropped by 54% from a year earlier. Announced value of deals still active at the end of the quarter was $610.4 million. The breakdown of the 18 deals announced in the first quarter is as follows:
Issuer 0
Processors & Acquirers 4
Remittance 3
VC 2
Vendor 9
Total Deals 18
There were 2 Venture Capital financing deals in the payments industry in the fourth quarter. Announced deal size dropped to $ 17 million from the prior quarter's $51.5 million rate. Security and online payments drew VC attention during the quarter.
Q4 saw the growing impact of tighter private equity and credit conditions affect Payments M&A activity. The torrid pace of 2006 cooled back to 2005 levels but for very different reasons. Replacing investor interest and natural consolidation, the second half of 2007 cooled due to growing concerns over credit, its rising cost and unavailability.
The Mercator Advisory Group's Payments Industry M&A Report - Q4 2007 assembles into a single resource a summary of M&A and VC activity along with information on each of the payments industry related M&A deals, contact person(s) related to each deal (when available), and an M&A activity table that summarizes the highlights of the quarter. All activities are accessible via easy to scan tables listing and summarizing M&A activity. Each press release announcing the activity is included in its entirety.
Exhibit 1: M&A Deals By Type, Q4 2006 vs. Q4 2007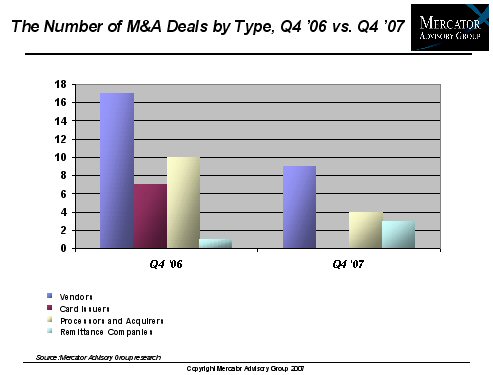 This report contains 53 pages, 2 exhibits and 6 tables.
Members of Mercator Advisory Group have access to these reports as well as the upcoming research for the year ahead, presentations, analyst access and other membership benefits. Please visit us online at www.mercatoradvisorygroup.com
For more information call Mercator Advisory Group's main line: 781-419-1700 or send email to info@mercatoradvisorygroup.com.
---
Interested In This Report