Payments Industry M&A Report - Q4 2006
Author(s):
Mercator Research
Overview
Boston, MA
March  2007

Mercator Advisory Group
Payments Industry M&A Report - Q4 -2006
NEW RESEARCH REPORT BY MERCATOR ADVISORY GROUP
Fourth quarter M&A activity dropped somewhat from the Q3 pace to 34 M&A transactions and 12 Venture Capital financing deals in the payments industry.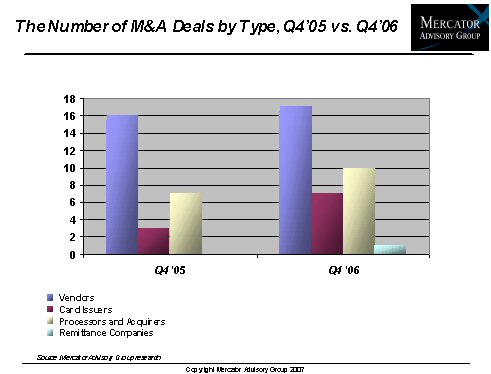 "Activity in the vendor community slowed during the last quarter of the year," comments George Peabody, Director, Mercator Advisory Group.  "Venture Capital activity increased sharply, however, not with a surprising focus on mobile payments and remittance companies."
The breakdown of the 34 deals announced in the fourth quarter are as follows (Exhibit 3 & 4):
*  Vendors - 17 deals
*  Card Issuers - 7 deals
*  Processors and Acquirers - 10 deals
*  Remittance Companies and Check Cashers - 1 deal
*  Venture Capital financing - 12 deals
The Payments Industry M&A Report - Q4 2006 assembles into a single resource a summary of M&A and VC activity along with information on each of the payments industry related M&A deals, contact person(s) related to each deal, and an M&A activity table that summarizes the highlights of the quarter.
This report contains 58 pages and 8 exhibits.

Members of Mercator Advisory Group have access to these reports as well as the upcoming research for the year ahead, presentations, analyst access and other membership benefits. Please visit us online at www.mercatoradvisorygroup.com.
For more information call Mercator Advisory Group's main line: 781-419-1700 or send email to info@mercatoradvisorygroup.com.
---
Interested In This Report