Payments Industry M&A Report - Q3 2007
Author(s):
Mercator Research
Overview
Boston, MA
December 2007
Mercator Advisory Group
Payments Industry M&A Report - Q3 2007
NEW RESEARCH REPORT BY MERCATOR ADVISORY GROUP
In the third quarter, M&A activity in the payments industry went through a sudden, if not unexpected, deceleration. ith strains on capital availability increasing from the still growing sub-prime meltdown and signs of slowing global economic activity, the friction of sharply more expensive money and an increasing unwillingness to provide credit appears to have put many deals on hold or scotched them outright.
While this slowdown in M&A activity was hardly confined to the payment industry - with over $720 Billion committed through Q3, 2007 is destined to break all records for global M&A activity, the torrid pace has simply slowed. Activity did not cease of course. Deals long in the works with commitments in hand were announced during Q3. Fiserv's acquisition of CheckFree was a significant event amid the slowdown.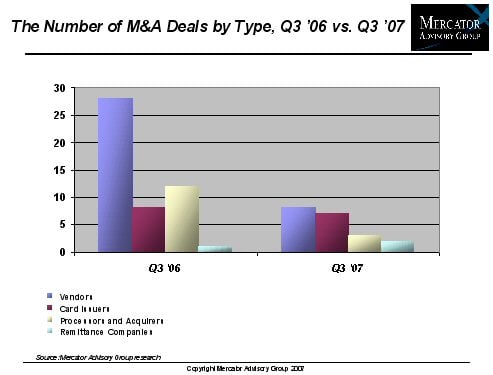 Consummating large private equity deals did get harder over the quarter. KKR's acquisition of First Data proved more challenging to complete. Backers who had lined up earlier in the year to provide funding looked over at their subprime-backed portfolios, shuddered and demanded to renegotiate the cost of their debt offering to KKR.
"While the payments industry remains an attractive area given its preference for transaction-based revenue and monthly recurring revenue streams, tighter credit markets have put a break on M&A activity particularly by small and mid-size firms," comments George Peabody, Director, Mercator Advisory Group. "Even the largest deals, KKR's First Data acquisition among them, took more time and cost more money to complete."
There were??20 M&A transactions and 3 Venture Capital financing deals in the payments industry during the second quarter of 2007. During Q3, M&A activity dropped by 37.5%, and VC activity dropped by 50%.
The breakdown of the 23 deals announced in the first quarter is as follows:
* Vendors - 8 deals
* Card Issuers - 7 deals
* Processors and Acquirers - 3 deals
* Remittance Companies and Check Cashers - 2 deals
* Venture Capital investments -3 deals
The Payments Industry M&A Report - Q3 2007 assembles into a single resource a summary of M&A and VC activity along with information on each of the payments industry related M&A deals, contact person(s) related to each deal, and an M&A activity table that summarizes the highlights of the quarter. All activities are accessible via easy to scan tables listing and summarizing M&A activity. The entirety of each press release is also included.
This report contains 68 pages, 2 exhibits, and 6 tables.

Members of Mercator Advisory Group have access to these reports as well as the upcoming research for the year ahead, presentations, analyst access and other membership benefits. Please visit us online at http://www.mercatoradvisorygroup.com/.
For more information call Mercator Advisory Group's main line: 781-419-1700 or send email to info@mercatoradvisorygroup.com.
---
Learn More About This Report & Javelin