Payments Industry M&A Report - Q2 2007
Author(s):
Mercator Research
Overview
Boston, MA
September 2007

Mercator Advisory Group
Payments Industry M&A Report - Q2 2007
NEW RESEARCH REPORT BY MERCATOR ADVISORY GROUP
First quarter 2007 M&A activity fell slightly from the Q1 pace to 32 transactions.  Venture Capital financing deals rose slightly from 4 to 6 for activity in the payment industry during the same period.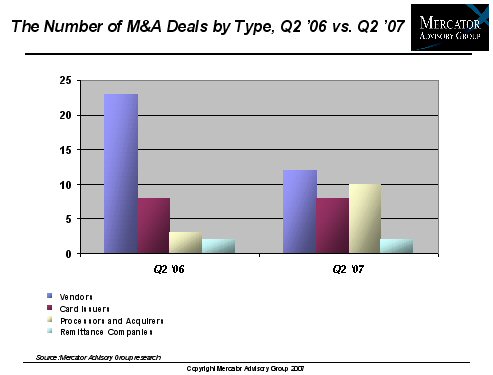 This was a quarter of blockbuster-scale M&A deals.  While absolute number of deals declined 14% from the prior quarter and was 11% lower than the prior year, the size of the major deals was astounding.  The quarter's deals represented an announced value of $43.7 Billion.  Leading the way was KKR's private equity bid to take processing giant First Data private.  Affecting its payment volumes, Bank of America moved to increase its account holder base through its proposed acquisition of LaSalle Bank.  At $7.8 Billion, Alliance Data's acquisition by private equity specialist the Blackstone Group further affirmed the market's perception that payments in general and processing in particular is a good business ripe for value extraction.
"Activity in the vendor community slowed yet again during the second quarter of the year," comments George Peabody, Director, Mercator Advisory Group.  "But the real story was in the blockbuster-scale deals made by private equity investors and the largest FIs."     
There were 32 M&A transactions and 4 Venture Capital financing deals in the payments industry during the first quarter of 2007.  During Q1, Vendor M&A activity dropped from the prior quarter by 16%.  VC activity cooled considerably.    
The breakdown of the 32 deals announced in the first quarter is as follows:
*  Vendors - 12 deals
*  Card Issuers - 8 deals
*  Processors and Acquirers - 10 deals
*  Remittance Companies and Check Cashers - 2 deals
*  Venture Capital investments - 6 deals
The Payments Industry M&A Report - Q2 2007 assembles into a single resource a summary of M&A and VC activity along with information on each of the payments industry related M&A deals, contact person(s) related to each deal, and an M&A activity table that summarizes the highlights of the quarter.  All activities are accessible via easy to scan tables listing and summarizing M&A activity.  The entirety of each press release is also included.
This report contains 102 pages, 2 exhibits, and 7 tables, and multiple deal summaries formatted to assist the reader in understanding each deal quickly.

Members of Mercator Advisory Group have access to these reports as well as the upcoming research for the year ahead, presentations, analyst access and other membership benefits. Please visit us online at www.mercatoradvisorygroup.com.
For more information call Mercator Advisory Group's main line: 781-419-1700 or send email to info@mercatoradvisorygroup.com.
---
Interested In This Report