Payments Industry M&A Report - Q1 2006
Author(s):
Mercator Research
Overview
Boston, MA
May 2006
Payments Industry M&A Report - Q1, 2006
NEW RESEARCH REPORT BY MERCATOR ADVISORY GROUP

2006 started off strong with 44 M&A transactions and 8 Venture Capital financing deals in the payments industry.  The number of payments industry M&A deals tracked by Mercator Advisory Group increased by 42% in Q1 of 2006 from a year earlier.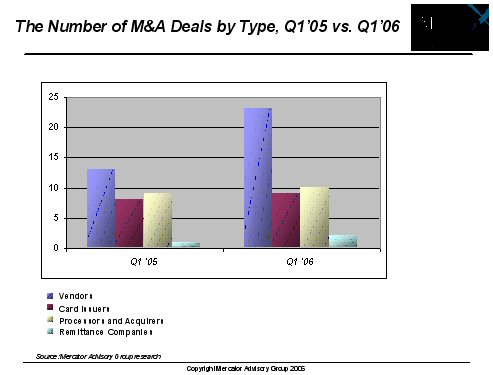 "The increased M&A activity within the vendor community played an important role in this change", comments Evren Bayri, Director of Mercator Advisory Group's International Payments Advisory Service (IPAS).  "Vendors continue to acquire products that compliment product mix in an effort to better serve consolidating customers and to expand into new segments.  We also anticipate increased M&A activity in overseas markets."
The breakdown of the transactions announced in the first quarter is as follows:
*  Vendors - 23 deals
* Card Issuers - 9 deals
* Processors and Acquirers - 10 deals
*  Money Remittance Companies - 2 deals
*  Venture Capital financing - 8 deals
The Payments Industry M&A Report - Q1/06 provides comments and analysis on major M&A and Venture Capital financing deals announced within the first quarter of 2006.  It also provides information on the payments industry related M&A deals, contact person(s) related to each deal, and an M&A activity table that summarizes the highlights of the quarter.
This report contains 71 pages and 8 exhibits. 
Members of Mercator Advisory Group have access to this report as well as the upcoming research for the year ahead, presentations, analyst access and other membership benefits.  Please visit us online at www.mercatoradvisorygroup.com.

For more information call Mercator Advisory Group's main line: 781-419-1700 or send email to info@mercatoradvisorygroup.com.
---
Learn More About This Report & Javelin