Payments, ATMs, and Prepaid: How Payments Align with Experience
Overview
Mercator Advisory Group's latest Primary Data report, Payments, ATMs, and Prepaid: How Payments Align with Experience, is based on the company's new consumer survey, the Customer Merchant Experience Survey. The online survey of 3,002 U.S. adult consumers, which was conducted in February 2018, explores consumers' merchant experiences as they shop in-store, online, and via mixed channels. The survey was designed with the goal of defining and highlighting consumer expectations for optimal experiences with merchants.
This second report builds on the overall experiential analysis of the first and puts shopper's payments experiences into the broader context of what consumers value most in their merchant interactions.
Ken Paterson, VP, Special Projects, Mercator Advisory Group, the author of this report comments: "In our first report, we defined consumer expectations for optimal experiences with merchants. Within this context, this new analysis explores five broad drivers of shopper experience related to payments: payments choice, ability to use cash, payments security, transaction speed, and availability of gift cards/digital cards."
This report is has 64 pages (in slide format) with 34 exhibits.
Companies and product brands mentioned are: Affirm, Android Pay/Google Pay, Apple Pay, Klarna, MasterPass, Siri, PayPal, Samsung Pay, Starbucks, Uber and other major retailer brands.
---
One of the exhibits included in this report: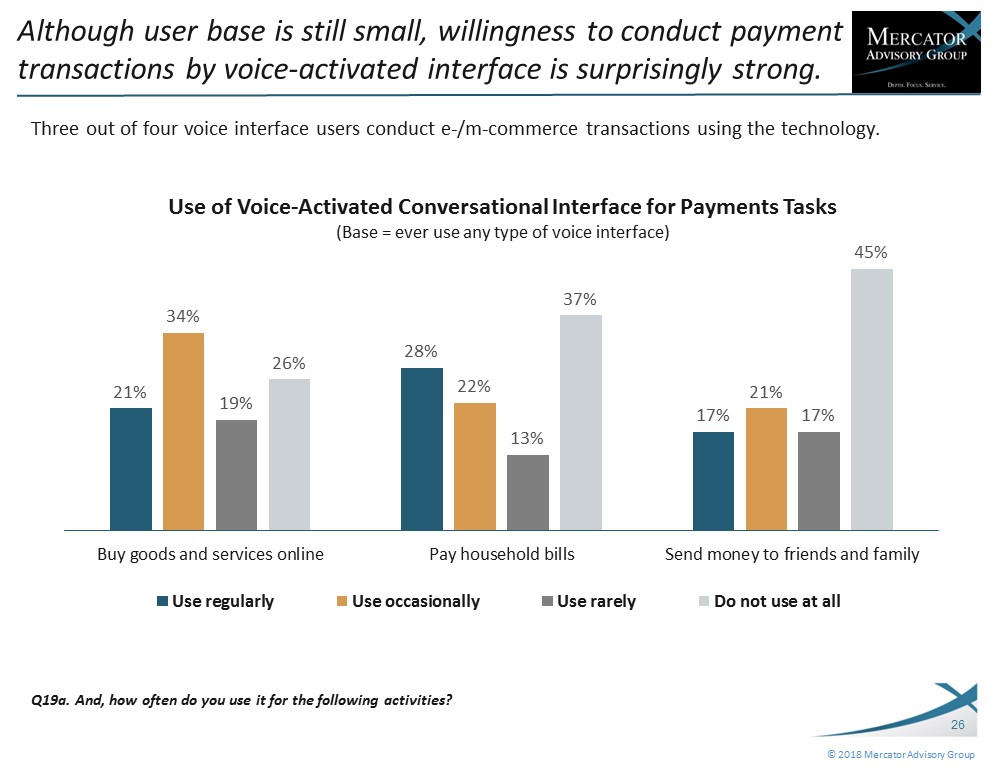 ---
Among the findings highlighted in this survey report:

Payment choice and specifically the ability to use cash in-store are of broad concern for customers in the U.S.
Consumers choose specific payment methods by merchant vertical, perceived security, and ease of use online.
New payment technologies are changing the ways in which customers transact with merchants, including open mobile wallets, voice-activated conversational interfaces, and instant financing at online or in-store checkout.
Both prepaid gift cards and in-store ATMs offer opportunities to merchants beyond any fee revenues; they encourage some shoppers to spend more in-store or to visit more often.
Topics explored in this report include:
Payment preferences, technologies, and behaviors
Prepaid buyer behavior, merchant channels, and incremental spending
In-store ATMs: addressing cash preferences of customers and incremental spending
Payments behavior alignment with Mercator's Shopper Segments
Interested In This Report
Related content
Even as interest in cash slides there is still a place for in-store ATMs, with more than half of consumers using one in the past year.
Mercator Advisory Group's most recent consumer survey report from its annual Buyer PaymentsInsights series, examines U.S. consumers' current shopping habits for goods and services ...
Mercator Advisory Group's most recent consumer survey report from our annual Buyer PaymentsInsights series examines significant consumer buying habits.