Payments, ATMs, and Prepaid: Cash Still Has Its Place
Overview
Mercator Advisory Group's latest Primary Data report, Payments, ATMs, and Prepaid: Cash Still Has Its Place, is the based on the company's 2019 Customer Merchant Experience Survey. The online survey of 3,000 U.S. adult consumers, which was conducted in March 2019, explores consumers' merchant experiences as they shop in-store, online, and via mixed channels. The survey was designed with the goal of defining and highlighting consumer expectations for optimal experiences with merchants.
This second of three reports on the survey's findings looks more specifically at the emerging behavior patterns of customers as they shop in-store, online, via mobile. The report's analysis of the findings offers insights on payment behavior with traditional and newer methods, the use of mobile wallets and conversational commerce, gift card purchasing and usage, and the impact of in-store ATMs on spending and store visits.
Pete Reville, Director, Primary Research Services, Mercator Advisory Group, the author of this report comments, "When it comes to payments, U.S. consumers choose from a number of options and they have a specific option in mind when they walk into a merchant's store. Often, ticket size can be the primary determinant. Cash is still used extensively for smaller-ticket purchases. Another interesting insight from the survey results is the decrease in the use of conversational agents (e.g., Siri, Alexa, in car voice solutions) since last year's survey, which suggests that, for some consumers, payment via conversational interface it hasn't lived up to expectations."
Companies mentioned are: Affirm, Android/Google, Apple, Klarna, PayPal and Samsung.
---
One of the exhibits included in this report: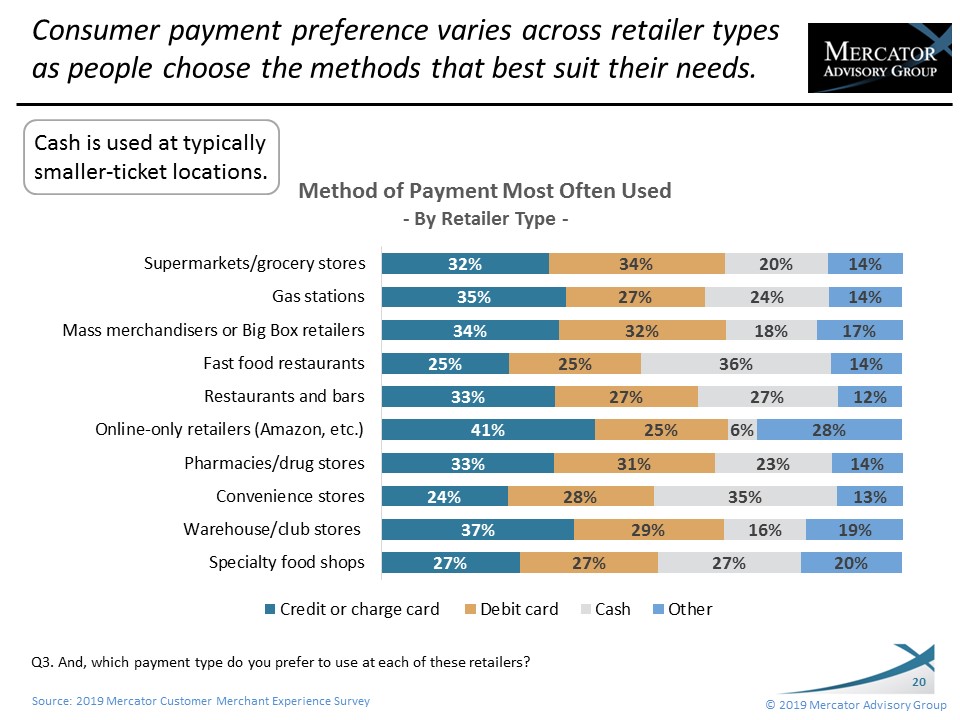 ---
Highlights of this report include:

Four in 10 U.S. consumers currently use a mobile wallet.
Credit cards are often the most method of payment, followed closely by debit cards
Among those who have used an ATM in a store, the majority report that they use of withdrawal at the ATM to purchase more and visit the store more often.
Security and/or anonymity compel consumers to prefer to login as guest and enter their card information when shopping online.
Consumers are more likely to buy reloadable GP (GPR) cards and e-gift cards for themselves and GP gift cards and retailer gift cards as gifts.
Interested In This Report
Related content
Even as interest in cash slides there is still a place for in-store ATMs, with more than half of consumers using one in the past year.
Mercator Advisory Group's most recent consumer survey report from its annual Buyer PaymentsInsights series, examines U.S. consumers' current shopping habits for goods and services ...
Mercator Advisory Group's most recent consumer survey report from our annual Buyer PaymentsInsights series examines significant consumer buying habits.