Overview
Payment Card Market in China 2010
Boston, MA -- Even though most card markets around the world struggled with global economic downturns, the payment card market in China continued to grow fast thanks to the rapidly increasing consumer spending and the adoption of electronic payment cards among mass consumers. At the end of June 2010, there were 2.27 billion payments cards in China, including 207 million credit cards and 2.06 billion debit cards. In the first half of 2010, CNY4.52 trillion purchase payments were made using these cards, up 62% from the same period a year earlier, far faster than all major developed card markets and most developing markets.
However, despite the impressive growth, China's payment card market is facing major challenges forward. These challenges include but are not limited to the following: China's economy might reverse its impressive growth and slow down significantly as the government's CNY four trillion economic stimulus package coming to an end; Card penetration in urban areas especially large cities are quickly approaching saturation, making future rapid growth much more difficult in less ready markets; credit card business remains at loss for the majority of the banks including four of the top five credit card issuers.
Mercator Advisory Group's Payment Card Market in China 2010 report reviews the current macro-economic environment in China and discusses its impact on the card industry in China in 2010 and beyond. The report provides latest market sizing data on issuing and acquiring is provided for the year of 2009 and the first half of 2010, as well as forecasts for the whole year 2010.
The study also surveys the latest profitability status of the credit card issuing market in China. Strategic developments such as EMV/PBOC smart payment card migration, bad card debt clean up, and new credit card regulations are also covered. The impacts of changing market conditions on revenue sources, as well as options for credit card issuers to increase revenues, are discussed. In addition, this report provides an overview of the current status, recent developments, and future trends of foreign players in China's payment card market.
Highlights of the report include:
China's CNY4 trillion economic stimulus package has worked to prevent the economy from getting into a depression, but the prospects after the stimulus package expires are less encouraging.

At the end of 2009, there were 2.06 billion credit and debit cards in China, almost twice the size of the U.S. market. About CNY6.8 trillion (USD1 trillion) purchases were made using these cards that year, roughly a third of the U.S. card spending.

But growth has been slowing as the debit card market approaches saturation and credit card issuers shift their focus to quality of their user bases and portfolios. The rapid growth era might come to an end.

Issuers are still seeking profits by changing their sales practices, product mix, and pricing. Interest income and card usage fees are increasingly important.

Foreign-funded banks remain marginal in the local card market due to lack of information and distribution networks. International networks are still trying to get access to the local market.
"From this point forward, China's card issuers might find themselves in an unfamiliar situation, where rapid growth is replaced by stagnation, aggressive market expansion strategies replaced by portfolio optimization, and merchant-fee-centric business models replaced by diversified revenue sources with more reliance on revenues from cardholders such as interests and usage fees." Terry Xie, Director of Mercator Advisory Group's International Advisory Service and principal analyst on the report comments. "It is a challenge for every issuer in China. And those who could quickly adapt their strategies and practices to the new game would prevail in an increasingly competitive and fast evolving market."
One of the 12 Exhibits included in this report: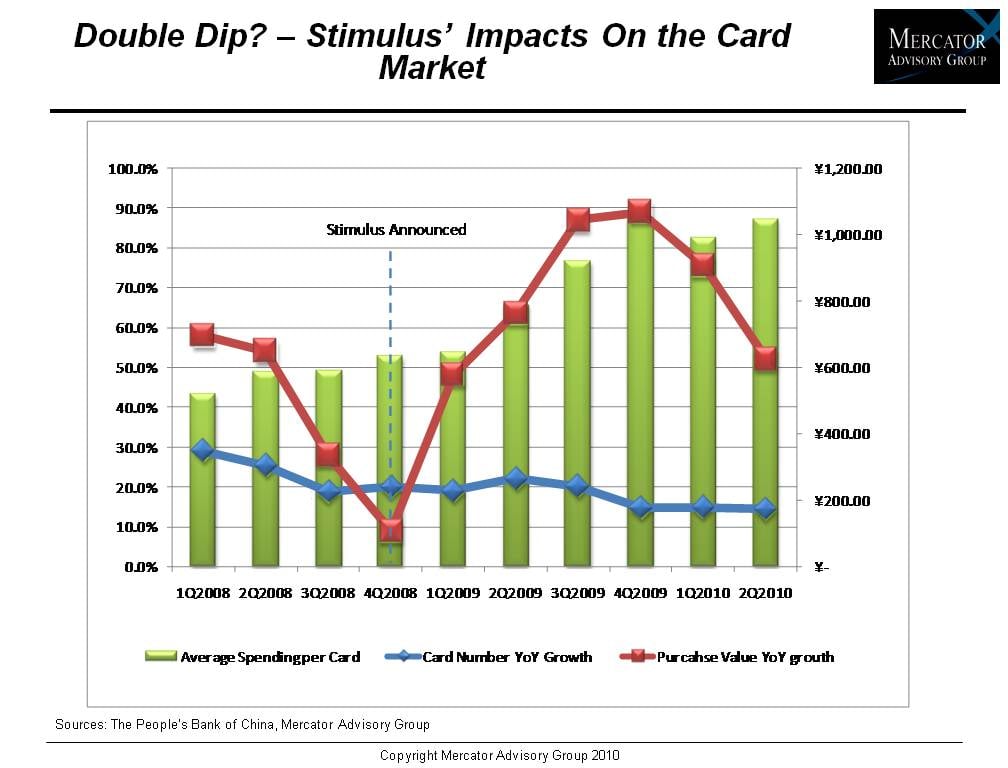 This report contains 32 pages and 12 exhibits.
Members of Mercator Advisory Group have access to this report as well as the upcoming research for the year ahead, presentations, analyst access and other membership benefits.
Please visit us online at www.mercatoradvisorygroup.com.
For more information and media inquiries, please call Mercator Advisory Group's main line: (781) 419-1700 or send E-mail to info@mercatoradvisorygroup.com.
About Mercator Advisory Group
Mercator Advisory Group is the leading, independent research and advisory services firm exclusively focused on the payments and banking industries. We deliver pragmatic and timely research and advice designed to help our clients uncover the most lucrative opportunities to maximize revenue growth and contain costs. Our clients range from the world's largest payment issuers, acquirers, processors, merchants and associations to leading technology providers and investors.
---
Interested In This Report