Overview
Payment Acquiring and Merchant Services in Canada
Research examines market dynamics and opportunities
Boston, MA --The proximity and cultural similarities between the United States and Canada have made the Canadian market one of the first expansion opportunities for that singular American creation: the credit card. After developing a mature payment card market over the past half century, Canada is witnessing a new influx of interest from payments industry players from outside its borders.
These players are drawn by a variety of reasons including Canada's relatively stable and well-regulated financial system, solid long-term economic performance even through the recent global recession, low business bankruptcy rates, and a populace relatively skilled at managing its debt. Others have sought market entry because of the current phase of transition in technical standards within the payments system.
Mercator Advisory Group's new report, Payment Acquiring and Merchant Services in Canada, gives those seeking initial or expanded access to the Canadian market a view into the current dynamics at play. It also provides established operators with a summary of points on which they must compete to maintain and grow market share within the broader payments space, and specifically in the merchant services and payment acquiring sectors.
"Canada's migration to EMV is creating shifts in business activity within the payments space, as a slew of vendors have rushed in from Europe and other markets that have already moved to chip cards," David Fish, senior analyst at Mercator Advisory Group and author of the report comments. "The nexus of EMV and e-commerce trends has another stable of providers moving to expand their scope of services and customers -- fraud solutions vendors. As EMV cards become more mainstream, fraudsters will be forced to abandon card counterfeiting and turn increasingly to card-not-present fraud. As e-commerce gateway providers and payment security vendors also pursue global expansion, Canada and other markets migrating to EMV will be vitally important."

Highlights of this report include:

Market sizing and landscape review for payments in Canada
Examination of the merchant market, merchant payment method acceptance preferences, and segments of opportunity
Major acquirer market share and target industries
Discussion of the merchant acquiring value chain in Canada and how various entities engage with the market
A review of the broad trends affecting the payments industry in Canada
One of 13 exhibits in this report: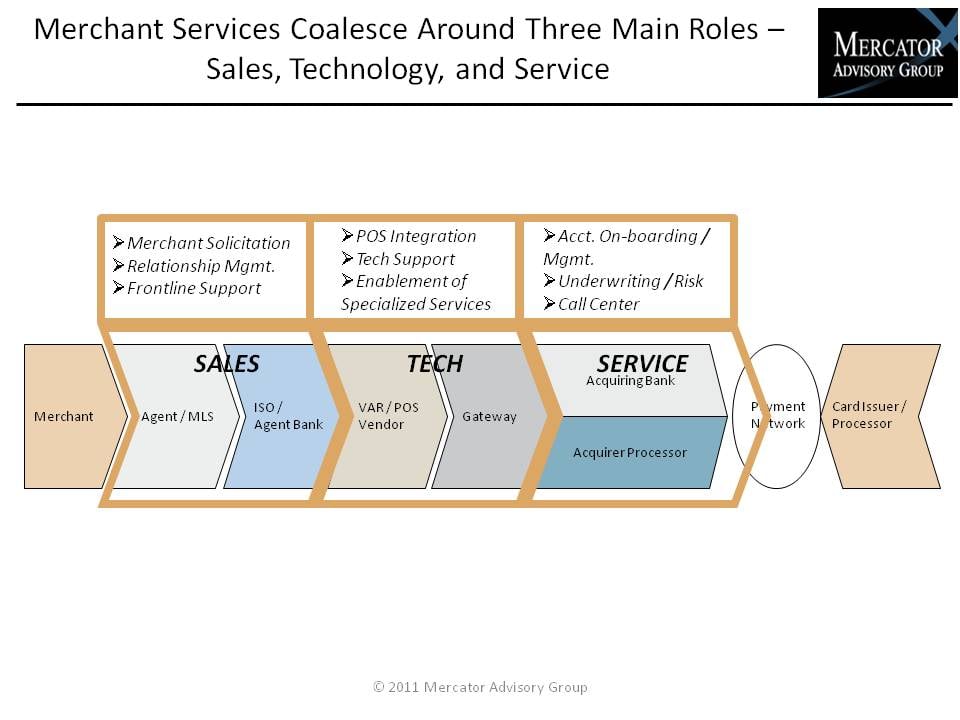 This report is 24 pages long and has 13 exhibits.
Companies mentioned in this report include: American Express, Bank of Montreal, Beanstream, Caledon Card Services, Canadian Imperial Bank of Commerce, Canadian Payments Association, CardWorks, Chase Paymentech, China Union Pay, Citibank, Collective POS, Collis, Costco, Desjardins, Diners Club, Discover, Elavon, Emeris (TELUS), eWise, First Data, Gemalto, Giesecke & Devrient, Global Payments, Heartland Payment Systems, Home Trust, HSBC, Ingenico, Interac, JCB, MasterCard, Merrick Bank, Moneris, Monex, National Bank of Canada, NXGEN, Optimal Payments, Payment Processing Inc. (PPI), PayPal, Peoples Trust, Pivotal Payments, Precidia, PSiGate, Royal Bank of Canada, Scotiabank, Squirrel, Toronto Dominion, VersaPay, and Visa.
Members of Mercator Advisory Group's Credit and International Advisory Services have access to this report as well as the upcoming research for the year ahead, presentations, analyst access and other membership benefits.
Please visit us online at www.mercatoradvisorygroup.com.
For more information and media inquiries, please call Mercator Advisory Group's main line: (781) 419-1700, send E-mail to info@mercatoradvisorygroup.com.
For free industry news, opinions, research, company information and more visit us at www.PaymentsJournal.com.
Follow us on Twitter @ http://twitter.com/MercatorAdvisor.
About Mercator Advisory Group
Mercator Advisory Group is the leading, independent research and advisory services firm exclusively focused on the payments and banking industries. We deliver pragmatic and timely research and advice designed to help our clients uncover the most lucrative opportunities to maximize revenue growth and contain costs. Our clients range from the world's largest payment issuers, acquirers, processors, merchants and associations to leading technology providers and investors. Mercator Advisory Group is also the publisher of the online payments and banking news and information portal PaymentsJournal.com.
---
Interested In This Report
Related content
The cobranded card market is a way to generate loyalty, scale your portfolio, and service the next generation of cardholders.
The Credit Card Data Book is a two-part annual publication that covers the internal and external factors affecting the U.S. credit card market. The first part focuses on environmen...
The U.S. credit market continued its path toward stabilization in 2022 but faced several hurdles, including rising interest rates, strained household budgets, and a highly competit...