Payment Acceptance – The Payments Shift
Overview
Mercator Advisory Group's new Insight Summary Report, 2020 Small Business PaymentsInsights, Payment Acceptance - The Payments Shift, reveals that U.S. small businesses are starting to see a shifting payments environment among their customers. The report is the second of three from Mercator's annual Small Business PaymentsInsights Survey Series, a part of Mercator's Primary Data Service. It is based on findings from Mercator Advisory Group's online survey of 2,000 U.S. small businesses fielded in March and April 2020.
The report is a detailed look at the way small businesses in the U.S. accept payments. Topics covered include; sales channels, payments accepted, and the payment vendor relationship.
"Small businesses are adapting to the changing consumer payments payment behaviors. As consumers increase their usage of card payments, small businesses are modifying their acceptance to include options such as mobile wallets and contactless technologies," states the author of the report, Pete Reville, Director of Primary Data Services including Small Business PaymentsInsights Survey Series at Mercator Advisory Group.
The report is 65 pages in length.
Companies mentioned in the report include: Alibaba, American Express, Apple, Chase , UnionPay, Clover, Discover, Fiserv, Google, LevelUp, Mastercard, PayPal, Revel, Samsung, Shopify, Shopkeep, Square, Stripe, Verifone, Visa, WeChat
---
One of the exhibits included in this report: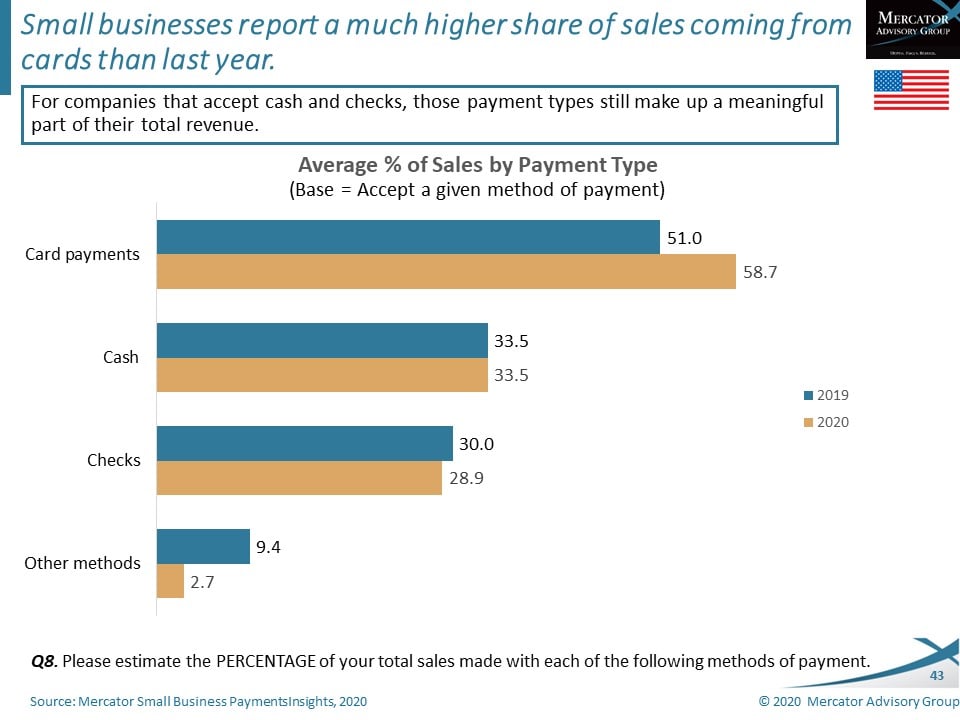 ---
Highlights of this report include:
Since 2018, fewer respondent have a physical store, while mobile apps as a sales channel are increasing and the use of field sales reps is decreasing.
With regard to the online sales channel, more small businesses are relying on third party web sellers, such as Amazon and eBay, than they were last year.
Small business satisfaction with their primary payment services provider is quite high (82%) although it has decreased from 88% in 2018.
EMV acceptance seems to have plateaued at around 70% for the last three years.
More firms are offering a discount for the use of cash than last year (33% vs. 25%).
Interested In This Report