Payment Acceptance as Digital Channels Expand
Author(s):
Karen Augustine
Overview
Mercator Advisory Group's most recent Insight Summary Report, Payment Acceptance as Digital Channels Expand, based on the company's annual Small Business Payments and Banking Survey conducted in 2018, reveals that 46% of U.S. small businesses that accept payment cards consider acquiring or merchant banks as their primary payment processing provider compared to 42% who consider any other third-party supplier (excluding Square or PayPal) to be a primary provider. Acquiring banks collectively are a clear leader compared to the next most common types of primary provider—a point-of-sale terminal provider (considered primary by 16% of respondents) and card processor such as First Data or Vantiv, now WorldPay (considered primary by 12%). But when the responses are aggregated, more card-accepting small businesses surveyed consider any type of third-party card processing provider (54%) to be primary than consider an acquiring/merchant bank to be their primary payment processing provider (42%), and more say so than last year.
The survey findings show that 1 in 5 small businesses that accept payment cards switched primary card processing providers within the previous two years. Lower cost was the primary reason for the switch, but better reporting, ease and speed of setup, and better service are the next most common reasons for those who switched providers.
Many third-party providers offer smaller merchants ancillary services they need aside from core processing services and many businesses are migrating to third-party providers for online and mobile services, often designed for their business verticals.
Payment Acceptance as Digital Channels Expand is the first of three reports summarizing the results of the 2018 Small Business Payments and Banking Survey, the third annual survey of small businesses fielded by Mercator Advisory Group. This was a web-based survey of 2,047 U.S. small businesses (between $500,000 and $10 million annual sales) regarding their use of payments and banking services.
The survey contained questions on current business sentiment, payment acceptance services, business-to-business (B2B) payments, and banking depository and loan services. Forthcoming companion reports summarize the survey's findings on business-to-business payments and business banking services.
"Small businesses are expanding their use of digital and mobile channels and are increasingly looking for best-of-breed solutions for their businesses that may extend beyond their merchant bank's capabilities as they try to compete with larger businesses for consumers' attention," notes the author of this report, Karen Augustine, Senior Manager, Primary Data Services at Mercator Advisory Group.
This report contains 64 pages (in slide format) and 34 exhibits.
Companies mentioned are: American Express, Discover, Mastercard, PayPal, Square, and Visa.
---
One of the exhibits included in this report: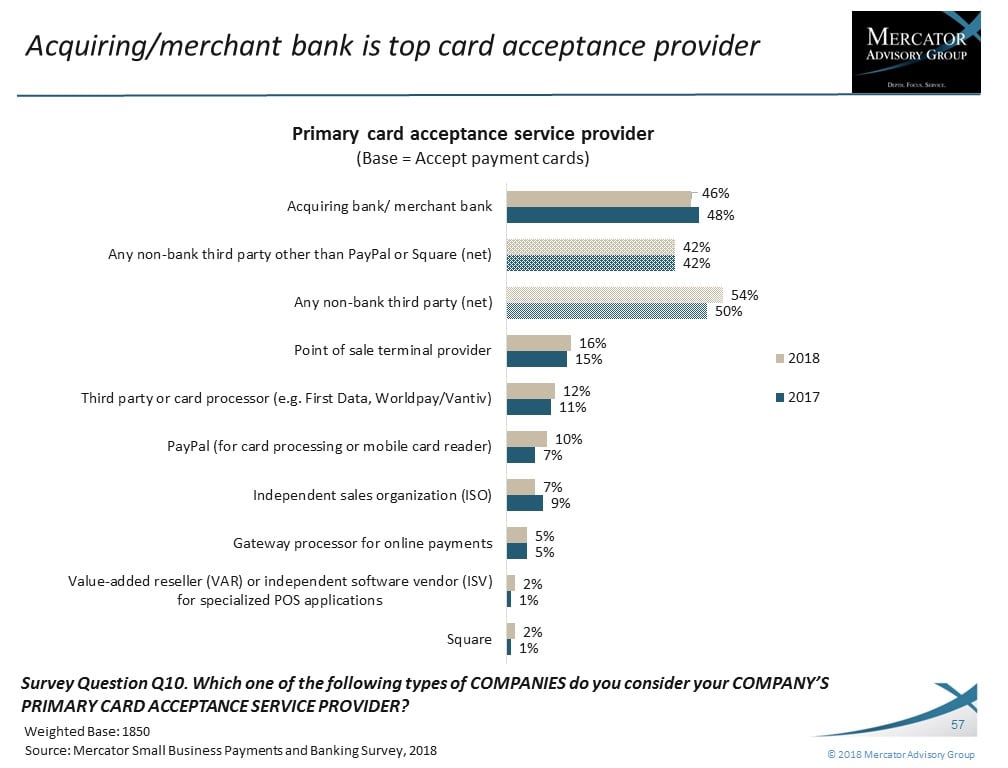 ---
Highlights of this Insight Summary Report include:
U.S. small businesses' most common sales channels by sales volume
The most common methods of payment accepted by sales volume and expectations to add new payment types
Merchants' vs. consumers' payment preferences
Types of merchant services used by type of provider
Rate of and reasons for switching primary card processing providers
Extent of adoption of omnichannel strategies
Acceptance of mobile payments, merchants' own gift cards, and other emerging payment types
Prevalence of "steering" of customers to merchants' preferred payment types
Extent of use of acquiring/merchant banks
Most common pain points
Service and pricing issues
Interested In This Report