Payment Acceptance in a Complex Environment: Banks, Watch Out
Author(s):
Karen Augustine
Overview
Mercator Advisory Group's most recent Insight Summary Report, Payment Acceptance in a Complex Environment: Banks, Watch Out, based on the company's annual Small Business Payments and Banking Survey for 2017, reveals that 59% of card-accepting merchants in the United States use acquiring or merchant banks for their payment processing services. Acquiring banks collectively are a clear leader compared to the next most common types of provider—a point-of-sale terminal provider (used by 35% of respondents) and PayPal (used by 30%). But, when the responses are aggregated, more merchants surveyed use any type of third-party card processor (76%) than use a merchant bank for payment processing services.
The survey findings show that small businesses have complex needs and take advantage of many of the same payment services required by larger merchants, such as mobile apps for couponing and receipting or mobile wallets for e-commerce. Many third-party providers offer smaller merchants ancillary services they need aside from core processing services. Respondents who claim their small businesses use merchant acquiring banks are more likely than those who use third-party providers to consider the acquiring bank their primary bank. However, that could change if banks don't keep abreast of small business needs and concerns.
Payment Acceptance in a Complex Environment: Banks, Watch Out is the first of three reports summarizing the results of the 2017 Small Business Payments and Banking Survey, the second annual survey that Mercator Advisory Group fielded using a web-based survey of 1,600 U.S. small businesses (between $500,000 and $5 million annual sales) regarding their use of payments and banking services.
The survey contained questions on today's business sentiment, payment acceptance services, business-to-business (B2B) payments, and banking depository and loan services. Forthcoming companion reports summarize the survey's findings on business-to-business payments and business banking services. A copy of the survey questionnaire, developed by Mercator Advisory Group in consultation with our clients, can be found in the report's appendix.
"Small businesses are more complicated and diverse than you may imagine as they try to compete with larger businesses for consumers' attention," notes the author of this report, Karen Augustine, Senior Manager, Primary Data Services at Mercator Advisory Group. "With the wide range of services offered, merchants are looking beyond their banks for card processing services, often finding alternative suppliers of expertise and services that address their increasingly complex and specialized payments acceptance needs."
This report contains 67 pages and 39 exhibits.
Companies mentioned are: Visa, Mastercard, Discover, American Express, PayPal, Square
---
One of the exhibits included in this report: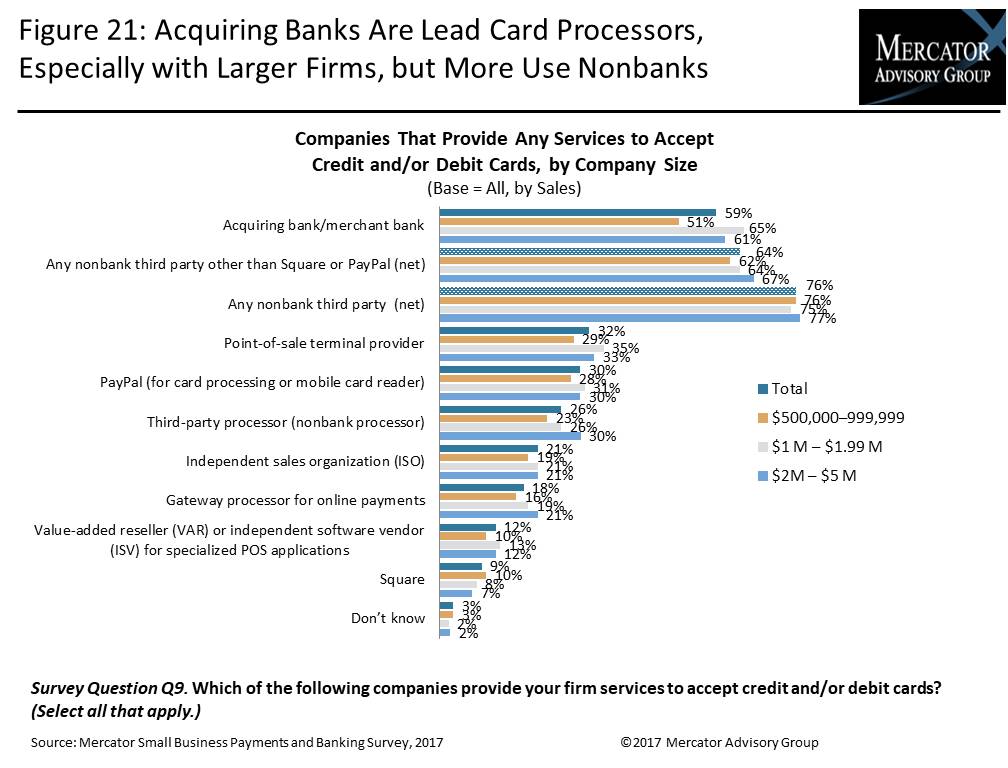 ---
Highlights of this Insight Summary Report include:
U.S. small businesses' most common sales channels by sales volume
The most common methods of payment accepted by sales volume
Types of merchant services used by type of provider
Rate of switching primary card processing providers and reasons for doing so
Extent of adoption of omnichannel strategies
Acceptance of mobile payments, virtual terminals, merchants' own gift cards, and other emerging payment types
Prevalence of "steering" of customers to preferred payments
Extent of use of acquiring/merchant banks
Most common pain points
Prevalence of on-site ATMs, either owned or hosted
Interested In This Report