Payment Acceptance in a Complex Environment
Overview
In March 2016, Mercator Advisory Group fielded a web-based survey of U.S. small businesses (between $500 thousand and $5 million annual sales) regarding their use of banking and payments service. Payment Acceptance in a Complex Environment is the first of three reports summarizing the results of the 2016 Small Business Payments and Banking Survey.
The survey contained questions on today's business sentiment, payment acceptance services, business-to-business (B2B) payments, and banking depository and loan services. Forthcoming companion reports summarize the survey's findings on business-to-business payments and business banking services. A copy of the survey questionnaire, developed by Mercator Advisory group in consultation with our clients, can be found in the report's appendix.
"What emerges from our survey data is a picture that is both reassuring and threatening to providers of payment services," notes Ken Paterson, Mercator Advisory Group's Vice President of Research Operations, the author of this report. "On one hand, small businesses deal primarily with one payments provider On the other hand, ancillary payment service providers are joining the mix, offering businesses an alternative source of expertise and service that address their increasingly complex and specialized payments needs."
In total, over 1,600 qualified responses were obtained from decision makers at revenue-qualified small businesses that accept credit and/or debit cards for payment. The sample included a geographically dispersed quota of 500 responses from businesses with annual sales of $2–5 million and the remainder from businesses with annual sales of $500,000–$1.99 million.
This report contains 60 pages and 57 exhibits.
---
One of the exhibits included in this report: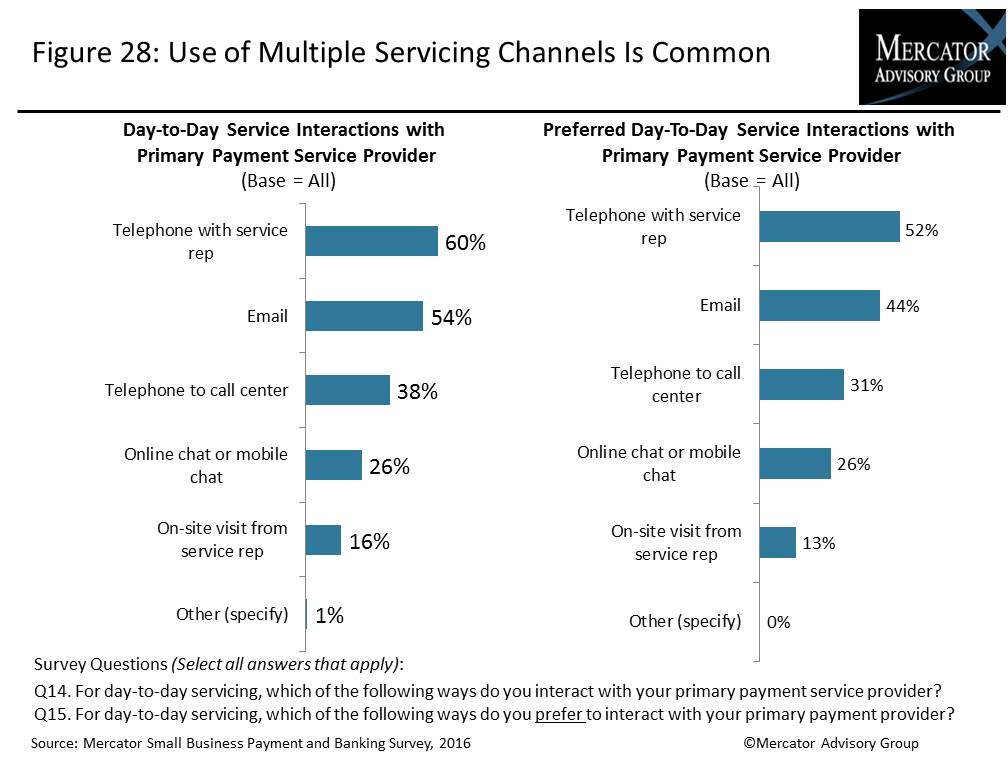 ---
Highlights of this Insight Summary Report include:

Most common sales channels by sales volume
Most common methods of payment by sales volume
Extent of adoption of omnichannel strategies
Acceptance of Bitcoin and other cryptocurrencies
Prevalence of "steering" of customers to cash payment
Extent of use of acquiring/merchant banks
Most common pain points
Prevalence of on-site ATMs, owned or hosted
Interested In This Report