Overview
Boston, MA
June 2005
Open Prepaid Market Performance: Spend, Growth and Opportunity
NEW RESEARCH REPORT BY MERCATOR ADVISORY GROUP

This latest report, the first of three reports that will thoroughly benchmark everything prepaid, reviews all 12 categories and 33 market segments and then benchmarks the spending, growth, opportunity and the number of cards issued in 2004 for all Open Prepaid Solutions.
The report finds that the total spending across all 33 prepaid market segments, including all Open and Closed Solutions, grew by almost 21 percent from $110.7 billion in 2003 to $133.9 billion in 2004.  Closed Solutions loaded $124.8 billion while Open Solutions loaded only $9.04 billion.  While Open segments are much smaller in total dollars spent, the small size enabled impressive growth rates.  The entire Open market grew by 91.6 percent while four of the six segments that grew by 100 percent or faster are all Open Solutions.

Tim Sloane, Director of the Debit Advisory Service for Mercator Advisory Group and the author of the report indicates that these growth rates can be deceiving:

"For example, while the State Unemployment Segment grew at an impressive 350 percent, the fastest growth rate of any segment, the percentage was established with an increase in spending of only $14 million when the state of Utah moved to full deployment.  While the Money & Open Gift Card Segment posted an impressive growth rate of 255 percent, moving from the $400 million in 2003 to $1.42 billion in 2004.  This segment suffers instability derived from high risk associated with Federal and State legislation combined with low margins inherent to the product.  The most stable and profitable Open segments are the Payroll, Benefits, Employee & Partner Incentives, and Consumer Incentive markets.  Our research documents the powerful benefits that both the cardholder and the business  derive.  It is clear that businesses are ready to ramp up deployment in these areas." 
Figure 1: Total Spending In Payroll and Benefits Segment - Open and Closed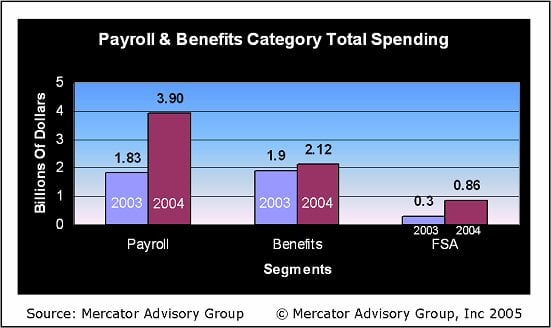 Figure 2: Open Only Spending In Payroll and Benefits Segment
The report is 35 pages and contains 24 exhibits.
Members of Mercator Advisory Group have access to this report as well as the upcoming research for the year ahead, presentations, analyst access and other membership benefits. Please visit us online at www.mercatoradvisorygroup.com
For more information call Mercator Advisory Group's main line: 781-419-1700 or send email to info@mercatoradvisorygroup.com.
---
Interested In This Report
Related content
Unused funds on prepaid products, such as gift cards, create liabilities for issuing organizations as use grows. The increasing use of such products highlights the opportunities fo...
The Prepaid Card Data Book ties together the most important metrics for the industry. Mercator Advisory Group's assessment of the prepaid card market covers market estimates for th...
This report covers Mercator Advisory Group research and expectations in the commercial prepaid market. Highlights include trends for both open-loop and closed-loop products.