Overview
A new report from Mercator Advisory Group titled Open Banking and Its APIs Debut in Europe and the U.K. . . . and Next? provides an analysis of the state of play of open banking in the European Union (driven by Payment Services Directive 2, or PSD2) and the U.K. (driven by the Competition and Markets Authority, or CMA, Open Banking mandate), with particular emphasis on the business models and end-user outcomes that may arise in this new competitive and IT environment.
In both the EU and the U.K, open banking mandates are regulatory interventions intent on an array of market reforms. These reforms include encouraging entry of new banking and payments competitors in markets perceived to be competitively stagnant, driving more competitive pricing and product innovation to account holders, and improving account holders' data access and data portability to drive wider use of account aggregation services and easier account switching while improving data security.
With these regulatory interventions, these markets are setting up a series of grand experiments whose impact will take years to evaluate. However, the concept of open banking implemented via common application programming interfaces (APIs), based on an account holder's ability to control his/her own financial data streams, has captured imaginations beyond compliance both within Europe and in the U.S.
"These concepts will have far broader impacts than market-specific regulatory mandates. As we watch the early days of these experiments unfold, we will get an idea where the real value of open banking concepts and their API strategies lie for institutions and their customers," commented the author of the report, Ken Paterson, VP, Special Projects, and Director of Mercator Advisory Group's Customer Interaction Advisory Service.
This report is 23 pages long and has 8 exhibits.
Companies mentioned include: ACI, BBVA, Fidor, Fiserv, iDeal, NACHA, Railsbank, Solaris, Trustly, and Yodlee.
---
One of the exhibits included in this report: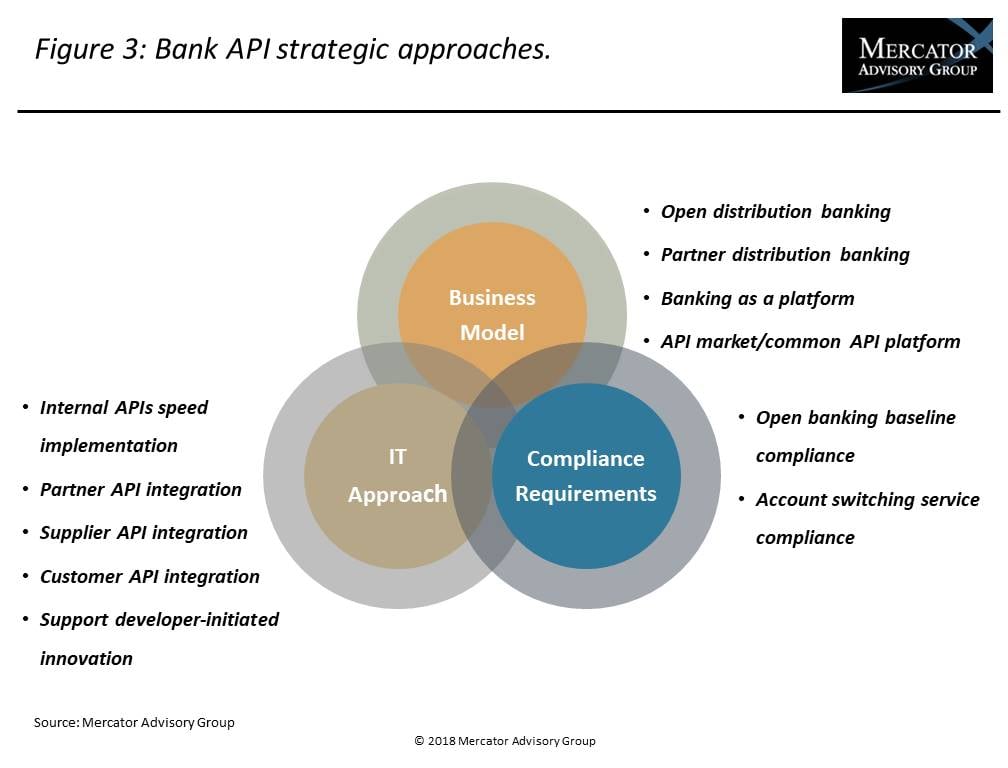 ---
Highlights of the report include:

With the formal launch of open banking in Europe (under Payment Services Directive 2, or PSD2) and the U.K. (under the Competition and Markets Authority, or CMA, Open Banking mandate) in January 2018, those markets are embarking on ambitious API-enabled market experiments that will likely have effects beyond their compliance objectives.
Consumer expectations for benefits of open banking are modest, and open banking-enabled end-user products commonly noted as in-market in the EU and the U.K. today indicate a predominance of personal financial management (PFM) applications, which are typically without direct revenues to banks.
EU and U.K. outcomes are likely to be dominated by compliance for the next two years, with some emphasis on PFM/aggregation use cases. Less visible to end users, but perhaps more important, will be innovations in customer experience and new institutional business models enabled by open banking APIs over the next five years.
The U.S. market, without the burden or motivation of open banking compliance, is likely to pick up open banking concepts. But like European banks and providers, U.S. banks and providers have yet to create a "killer app" that generates significant end-user benefits or institutional revenues. These are likely to emerge in one of several areas noted in the analysis.
Interested In This Report