Omnichannel and Branch Banking: Remember and Reward Your Customers
Author(s):
Karen Augustine
Overview
Mercator Advisory Group's most recent Insight Summary Report, Omnichannel and Branch Banking: Remember and Reward Your Customers, reveals that U.S. consumers want their financial institution to offer them better rates and rewards. The report from the Banking and Channels Survey in the bi-annual CustomerMonitor Survey Series, a part of Mercator's Primary Data Service. It is based findings from Mercator Advisory Group's CustomerMonitor Survey Series online panel of 3,000 U.S. adult consumers surveyed in November 2016.
The survey suggests that 15% of U.S. adults switch primary financial institutions, and at least 1 in 4 young adults and high-income earners do so. Better rewards or offers (28%) and better rates for savings accounts or checking and deposit accounts (26%) are the top reasons for this switch. Moving out of the area and more convenient bank branches are also top reasons for switching banks.
Convenient bank branches were rarely considered a reason for switching banks in 2015, but more consumers recognize the importance of branch locations in 2016, though it may not be for purely transactional reasons. Better customer service, more robust online and mobile banking, superior financial management tools, and knowing the customer better are increasingly important factors that attract new customers.
The report, Omnichannel and Branch Banking: Remember and Reward Your Customers, shows that consumers often use multiple financial institutions, but increasingly choose institutions that provide them the best offers or rewards for them and offers, if they are relevant and useful are one of the personalized bank services of most interest to survey respondents. Yet, they don't want to be bombarded with offers that they have already declined or in which they have no interest.
This study examines the demographic shifts, types of financial institutions where U.S. consumers have accounts, use of bank branches compared to other banking channels, and frequency of branch visits. The survey data reported identifies trends in consumers' methods of communicating with their bank and frequency of contact, perceptions of an ideal branch, interest in in-branch videoconferencing, and mobile-based personalization. The report discusses opportunities for cross-selling and opportunities for improving the banking customers' omnichannel experience.
"Consumers want their financial institutions to know them, remember what they told them, help them to make better financial decisions, and reward them with better offers," states Karen Augustine, manager of Primary Data Services including CustomerMonitor Survey Series at Mercator Advisory Group and author of the report.

The report is 78 pages long and contains 32 exhibits
Companies mentioned in the report include: Amazon, American Express, Apple, Discover, Google, PayPal, Target, Walmart, Walgreen's.
---
One of the exhibits included in this report: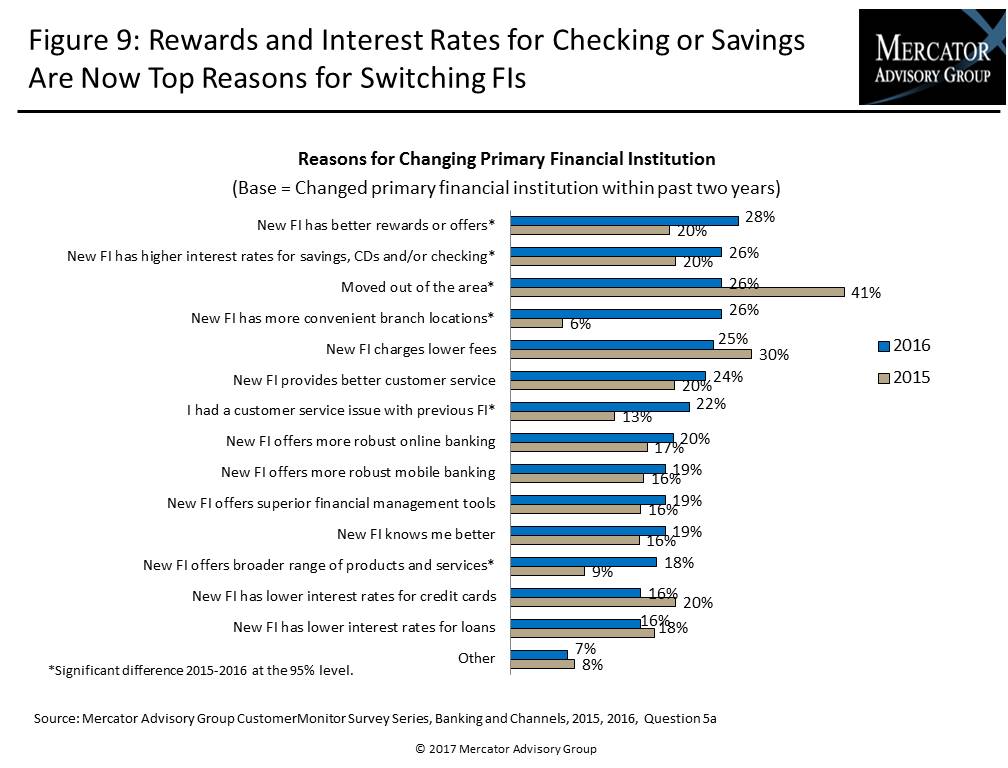 ---
Highlights of this report include:
Year-over-year trending of the number/types of financial institutions used by U.S. consumers, the institutions they consider their primary FI, and usage of the primary institution's credit card
Shifts in communication methods with FIs and satisfaction with those methods
Consumers' reasons for switching primary financial institution and factors most important to them in selecting new financial institution
New account openings by type of account by method, and experience with account opening
Reasons for branch usage, frequency of visits, and interaction with branch staff
Interest in becoming aware of relevant new financial products and services and preferred methods of learning about them
Interest in mobile-based personalization when visiting a bank branch or ATM
Frequency of cross-platform issues, delays or redundancies in information needed
Interested In This Report