Omnichannel and Branch Banking: Getting It Right
Author(s):
Karen Augustine
Overview
Mercator Advisory Group's most recent Insight Summary Report, Omnichannel and Branch Banking: Getting It Right, reveals that while U.S. consumers want their financial institution to offer them better rates and rewards, only 38% of U.S. adults say their financial institution offers them a relationship rewards program that allows customers to accrue points, discounts, free services, or cash back based on their account balances, new account openings, the types of accounts held at the bank, or type of transactions made (such as direct deposits or using mobile app or ATM deposits). And only 29% of those surveyed say they participate in the rewards program. Since not everyone qualifies for the rewards, this results in satisfaction with the program by just 71% of those who say their financial institution offers such a reward program. Participants in these programs are more likely to be satisfied with their bank or credit union's reward program (mentioned by 80% of participants), but there is certainly room for improvement.
Nevertheless, nearly 3 in 4 participants in their financial institution's relationship rewards programs are motivated to keep their accounts or expand their relationship with their financial institution. In fact, better rewards or offers at another institution is one of the top five reasons that consumers mentioned for switching banks. Improving these rewards can help promote deeper engagement and raise satisfaction and trust.
Our latest findings show that customer loyalty is improving as just 12% of consumers say they switched financial institutions within the previous two to three years, the lowest percentage seen in our surveys since 2012.
This report is the fifth in a series of Insight reports from the CustomerMonitor Survey Series, a part of Mercator's Primary Data Service. It is based findings from Mercator Advisory Group's CustomerMonitor Survey Series online panel of 3,000 U.S. adult consumers who have at least one account at a financial institution surveyed in November 2017.
The report, Omnichannel and Branch Banking: Getting It Right, shows that U.S. consumers are using more financial institutions, but are more likely to have switched to financial institutions that provide more incentives to expand their relationship, put more of their deposits in the bank, and engage more digitally and at the branch to improve their financial health.
This study examines the demographic shifts, types of financial institutions where U.S. consumers have accounts, use of bank branches compared to other banking channels, and frequency of branch visits, activities performed at the branch and engagement not only with tellers but with product and service specialists. The survey data reported identifies trends in consumers' methods of communicating with their bank and frequency of contact, impact of branch closings, frustrations with delays or cross-platform issues, and interest in mobile-based personalization in the branch. The report discusses opportunities for cross-selling and opportunities for improving the banking customers' omnichannel experience.
"Consumers will be loyal to financial institutions that know them and provide value, rewarding them for loyalty and recognizing their banking relationship with better offers to improve their financial health," states Karen Augustine, manager of Primary Data Services including CustomerMonitor Survey Series at Mercator Advisory Group and author of the report.
The report is 86 pages long and contains 41 exhibits.
Companies mentioned in the report include: Ally Bank, Amazon, American Express, Apple, Charles Schwab, Discover, Google, PayPal, Target, Venmo, Walmart, Walgreens.
---
One of the exhibits included in this report: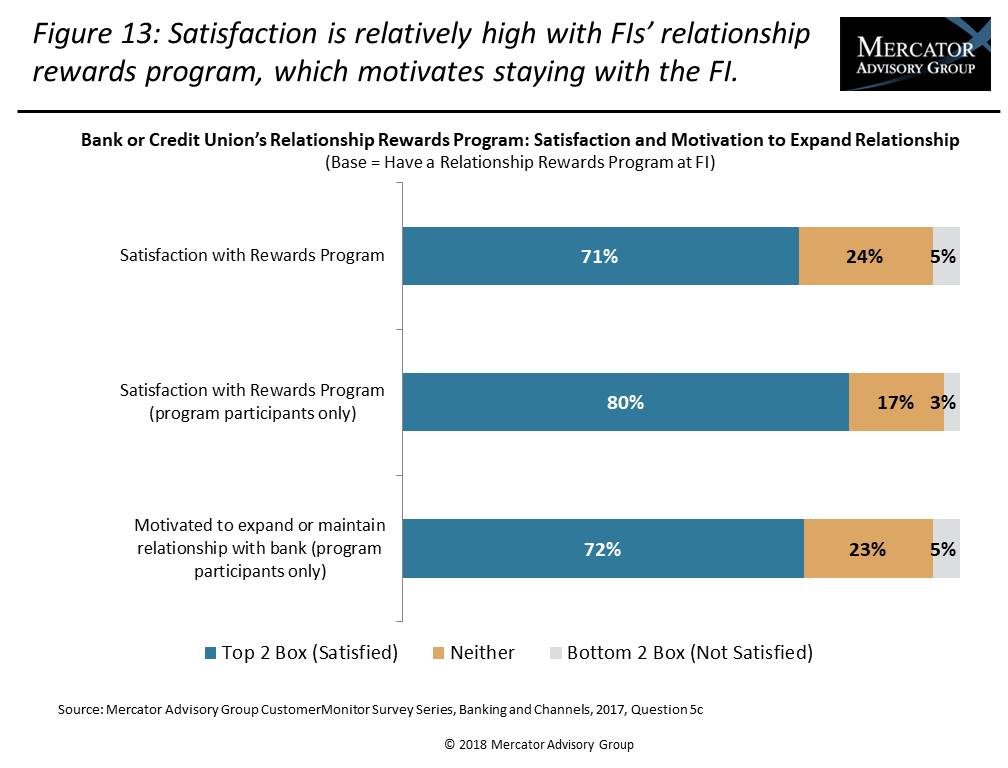 ---
Highlights of this report include:

Year-over-year trending of the number/types of financial institutions used by U.S. consumers, the institutions they consider their primary FI, and usage of the primary institution's credit card
Shifts in communication methods with FIs, and satisfaction with those methods
Consumers' reasons for switching primary financial institution and factors most important to them in selecting new financial institution
Relationships at 15 major financial institutions and if they are considered primary
Trust in primary FI and banks and credit unions compared to nonbanks for financial services
Expected reaction if nearest branch closed
New account openings by type of account by method, and experience with account opening
Common branch activities, frequency of visits, and interaction with branch staff
Interest in becoming aware of relevant new financial products and services and preferred methods of learning about them
Interest in mobile-based personalization when visiting a bank branch or ATM
Frequency of cross-platform issues, delays, or redundancies in information needed
Interested In This Report