North American PaymentsInsights, U.S - ATMs: No Fee for Me
Overview
Mercator Advisory Group's most recent consumer survey report, ATMs: No Fee for Me, from the 2019 Technology Survey of the bi-annual North American PaymentsInsights series, examines U.S. consumers' current use of and perspective on ATMs.
The report, which is based on an online panel survey administered to 3,006 U.S. adults in November-December 2019 presents results from questions exploring how adults in the United States use ATMs for cash withdrawals, deposits, and other transaction types. It also presents data on their opinions about paying ATM fees and methods of authenticating users at the ATM.
"In this report, we examine in detail the different ways that U.S. adults are using ATMs, how they think about them, and the ATM features and functions they consider important. Much has been written about the decline of cash, but the survey results reported here demonstrate that the ATM still has a valuable function in many people's lives," stated the author of the report, Peter Reville, director of Primary Research Services at Mercator Advisory Group, which includes the North American PaymentsInsights series.
This report in slide form is 59 pages long.
---
One of the exhibits included in this report: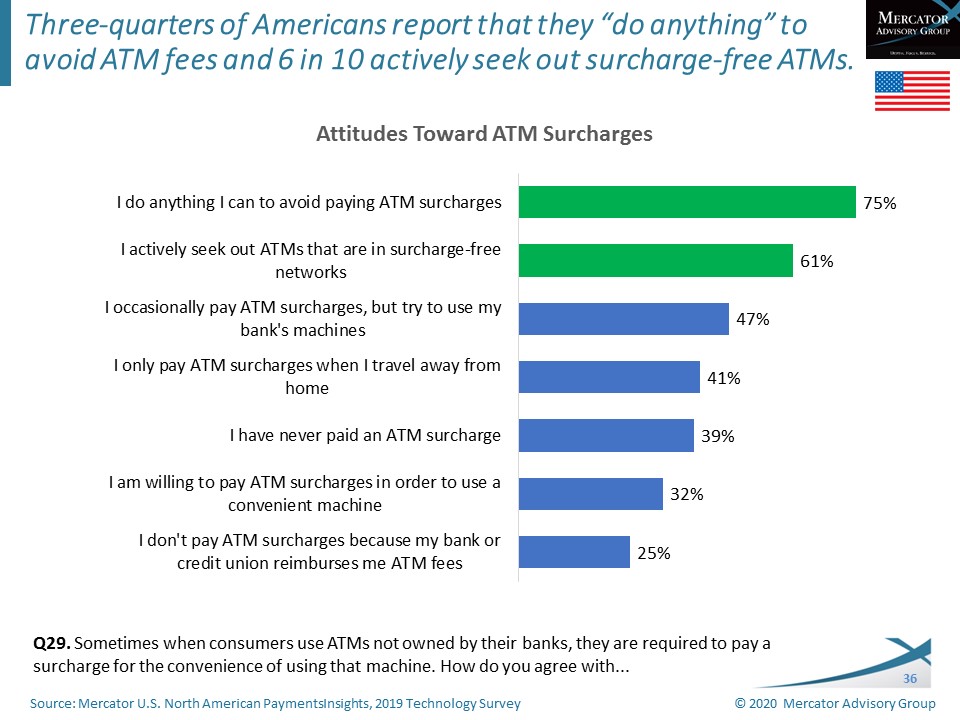 ---
Highlights of this report include:

Frequency of ATM usage
Uses of ATMs other than for deposits and withdrawals
Consumers' usage of their primary financial institutions' branch-based ATMs versus other ATMs
Attitudes toward ATM surcharges
Preferences for in-store cash back versus cash withdrawal at ATMs
Preferences for making deposits
Reasons for not making deposits at ATMs
New ways for users to authenticate themselves at the ATM
Interest in new ATM transaction types
Interested In This Report