North American PaymentsInsights, Canada - Subscription Services and Bill Pay: It's All Digital
Overview
Mercator Advisory Group's most recent consumer survey report, Subscription Services and Bill Pay: It's All Digital, from the 2019 Technology Survey of the bi-annual North American PaymentsInsights series, examines Canadian consumers' current use subscription services and methods for paying their bills.
The report, which is based on an online panel survey administered to 1,000 Canadian adults in November-December 2019 presents results from questions exploring how adults in Canada use "box of the month" clubs and online subscription services. It also explores the ways consumers pay their bills and the increasing importance of digital payments with respect to bill payment.
Currently about 1 in 6 Canadian adults subscribe to a "box of the month" club. In terms of membership categories (e.g., clothing, food, accessories), no categories stand out from the others. Roughly one-half of Canadian adults currently subscribe to an online subscription service like video streaming, music streaming, or premium apps. Of the services in the survey, video and music streaming services are the most popular.
Most Canadians are using digital methods for paying bills. Yet there is still room for an increased share of bills to be paid electronically since some consumers are still using checks and cash for at least some of their bills. For banks this will require a concerted effort to improve their bill paying capabilities to provide more value (convenience, savings, safety, etc.) to their customers.
"Recently, there has been a lot reported on subscription services and bill payments. This report provides much of the detail missing from many of the discussions on these topics. The survey and the report of findings and our analysis break the topics down to better understand the consumer behaviors regarding both online subscriptions services and electronic bill pay," stated the author of the report, Peter Reville, director of Primary Research Services at Mercator Advisory Group, which includes the North American PaymentsInsights series.
This report in slide form is 50 pages long.
 
---
One of the exhibits included in this report: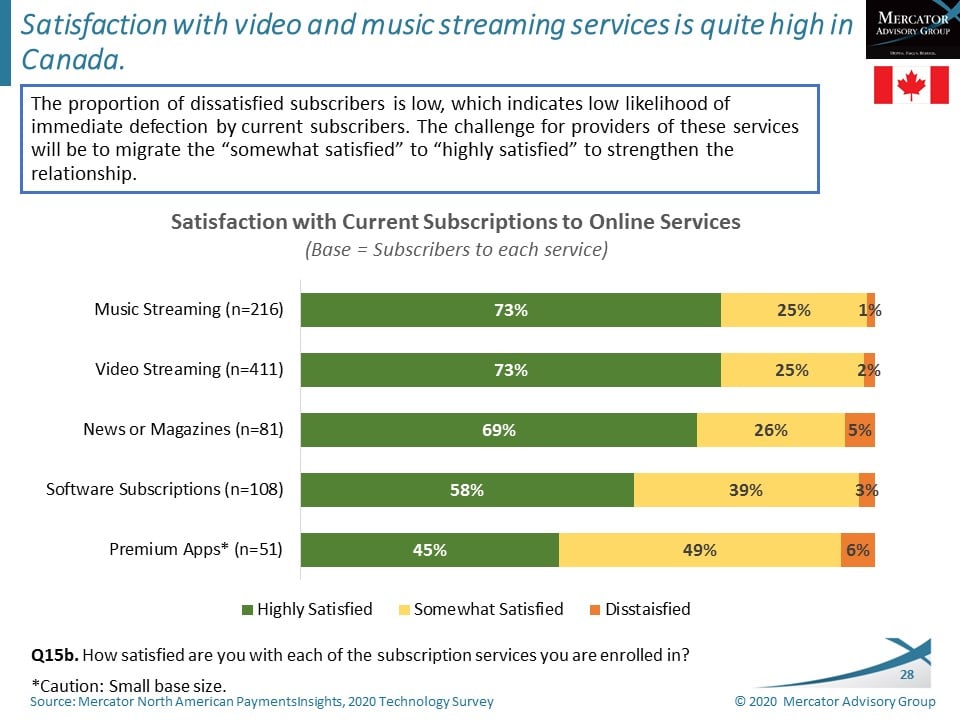 ---
Highlights of this report include:

Current and past membership in various types "box of the month" clubs and online subscription services
Satisfaction with these services
Method of payment for each of these services
Current and preferred methods used to pay bills
Reasons for preferred payment method
Payments types used to pay bills
Perceptions on bill payment and clearing times
Importance of notification of bill payment
Interested In This Report