New Ideas in Portfolio Analytics
Author(s):
Mercator Research
Overview
Boston, MA
January 2006
New Ideas in Portfolio Analytics 
NEW RESEARCH REPORT BY MERCATOR ADVISORY GROUP
In an environment of slowing portfolio growth rates, issuers need to explore ways to make their existing portfolios more profitable.  Mercator Advisory Group has covered a variety of strategies to improve portfolio returns in previous work, and in this report we delve more deeply into improving and expanding the uses of portfolio analytics across the account lifecycle. 
"Issuers are exploring all kinds of new ways to make use of portfolio analytics; whether to improve the quality of underwriting, better predict bankruptcy, detect fraud, and more effectively cross-sell or improve account retention," says Brian O'Keeffe, Director of Mercator's Credit Advisory Practice and the author of this report.  "In addition, issuers are trying their hardest to make use of data they already have that might be useful in ways they never expected before."   
The report discusses, among other subjects, the:
*  Current standard uses of analytics at every stage of the lifecycle
*  Recent and forthcoming innovations that will change these uses
*  Effects of some major industry trends on the need for and willingness to employ innovative analytic solutions
The report also includes a discussion of the burgeoning field of "alternative data" usage.  Issuers obviously maintain mountains of data on their cardholders, and a new breed of analytics seeks to use that data for new purposes, including specifically the use of transaction data analysis to feed both risk management and prediction systems, as well as cross-sell marketing programs.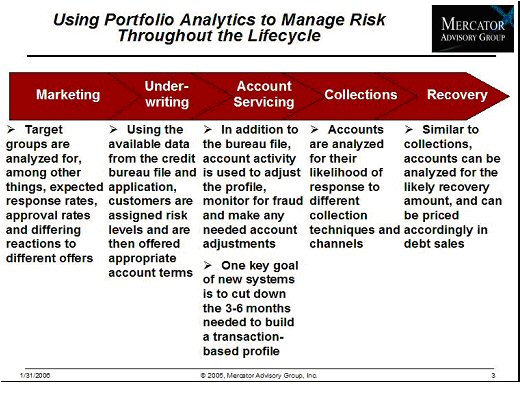 This report contains 28 pages and 8 exhibits. (Figure 2 is above)
Members of Mercator Advisory Group have access to these reports as well as the upcoming research for the year ahead, presentations, analyst access and other membership benefits. Please visit us online at www.mercatoradvisorygroup.com.
For more information call Mercator Advisory Group's main line: 781-419-1700 or send email to info@mercatoradvisorygroup.com.
---
Interested In This Report
Related content
Private-label credit cards are an essential part of the U.S. card market, but they are a product in slow decline and face several threats, including instant point-of-sale financing...
The cobranded card market is a way to generate loyalty, scale your portfolio, and service the next generation of cardholders.
The Credit Card Data Book is a two-part annual publication that covers the internal and external factors affecting the U.S. credit card market. The first part focuses on environmen...