Mobile Point-of-Sale (m-POS) Acquiring Solutions
Author(s):
Pradeep Moudgal
Overview
Boston, MA – January 14, 2014 – Mobile point-of-sale (m-POS) acquiring solutions such as Square and PayPal enable small merchants to accept card payments and other electronic payments, and they offer convenience and other benefits to consumers and larger merchants. But many questions remain to be answered for the acquiring industry in the United States and globally to determine the best way to proceed. For instance, the acquiring business continues to deal with how to transition from traditional acceptance devices to devices that accept EMV chip cards, contactless payments, Quick Response (QR) code, Cloud, Bluetooth Smart (Bluetooth low energy, or BLE), marketing offers redemption, and mobile wallets. These innovations demand rapid structural change, and industry participants have to hedge their bets on these technologies in the interim.
Mercator Advisory Group's new report on the U.S. and European m-POS Acquiring Solutions market, Mobile Point-of-Sale (m-POS) Acquiring Solutions addresses these questions and provides the reader an update on some of the key vendors in this space.
In particular, this report discusses the importance of m-POS acquiring solutions, provides the reader an understanding of the emerging technology developments in the space, pricing strategies by these providers, how financial institutions need to address this market by either building a product or partnering with a solution provider, some of the challenges of the business both in the U.S. and Europe and new product development/innovations that a few of these providers are developing to meet the growing needs of both the merchant and the consumer.
"The m-POS acquiring market and solutions continue to grow in the United States and Europe," comments Pradeep Moudgal, Director, Emerging Technologies Advisory Service at Mercator Advisory Group and author of the report. "The m-POS acquirers/providers that are opportunistic with their technologies, pricing, and user experience will have the most success in the years ahead."
This report contains 30 pages and 11 exhibits.
Companies mentioned in this report include: Square, PayPal (ebay), Groupon, Powa Technologies (mPowa), iZettle, Jusp, American Express, MasterCard, Visa, Discover, and Diners Club.
Members of Mercator Advisory Group's Emerging Technologies Advisory Service have access to these reports as well as the upcoming research for the year ahead, presentations, analyst access, and other membership benefits.
---
One of the exhibits included in this report: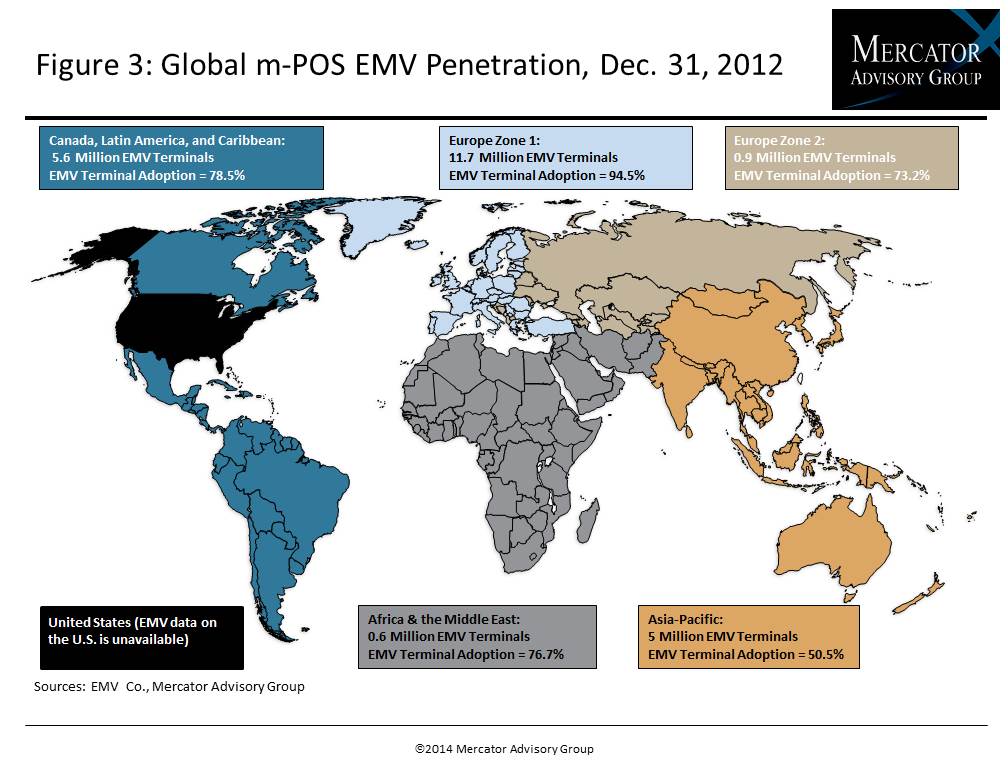 ---
Highlights of the report include:
Definition of m-POS and merchant acquiring with estimate of potential market size and illustration of form factors

 

Consideration of future direction of merchant and m-POS acquiring, with market share estimates of EMV m-POS conversion around the globe

 

Benefits of m-POS for various stakeholders, and m-POS success stories

 

Discussion of m-POS fraud prevention, and listing of card network requirements for m-POS

 

Profiles of six m-POS providers in the U.S. and Europe, including recent performance, product announcements, and pricing strategies
Learn More About This Report & Javelin