Mobile Payments Strategy in the Omnichannel Age
Overview
(With apologies to Mark Twain), the reports of the death of brick-and-mortar retail have been greatly exaggerated. These stores are not going to vanish, but the retail experience within them is about to change substantially. With the increasing proliferation of smartphones, the lines between online and in-store retail are blurring. Consumers are using their phones while in-store to look up reviews, compare prices, and even make orders online. Merchants, both online and in-store, are in a war for scarce consumer attention—the currency of the new omnichannel age.
Mercator Advisory Group's research report, Mobile Payments Strategy in the Omnichannel Age, looks at the intersection between loyalty, mobile, and payments, arguing that an integrated approach to all three is needed for merchants to succeed in building a truly omnichannel experience. Success here is the ability to capture, hold, and monetize consumer attention, irrespective of the channel it is directed toward, whether that means in the store, on the phone, or online through a desktop computer. The report analyzes how some of the new in-store sensory technologies (such as BLE, NFC, QR codes, and WiFi) will make it possible for merchants to avoid losing the customer's attention as they move between channels. It identifies the key elements of successful loyalty program design and shows that loyalty incentives can drive consumer adoption of mobile payments. Finally it looks at case studies of successful omnichannel execution and identifies vendors who can help merchants recreate similar experiences.
"Consumers are increasingly reluctant to expend valuable attention keeping track of the various loyalty programs they have chosen to participate in, let alone remember to bring their numerous plastic cards along every time they shop. Brands that understand this, such as Starbucks, have integrated loyalty and mobile payments in a way that saves time and rewards the consumer," comments Nikhil Joseph, Emerging Technologies Analyst at the Mercator Advisory Group and author of the report.
This report contains 33 pages and 17 exhibits.
Companies mentioned in this report include: Amazon, Apple, Estimote, Home Plus, inMarket, LevelUp, Macy's, Newegg, Nomi, Nordstrom, shopkick, Starbucks, Target, Tesco, Walmart
Members of Mercator Advisory Group's Emerging Technologies Advisory Service have access to this report as well as the upcoming research for the year ahead, presentations, analyst access, and other membership benefits.
---
One of the exhibits included in this report: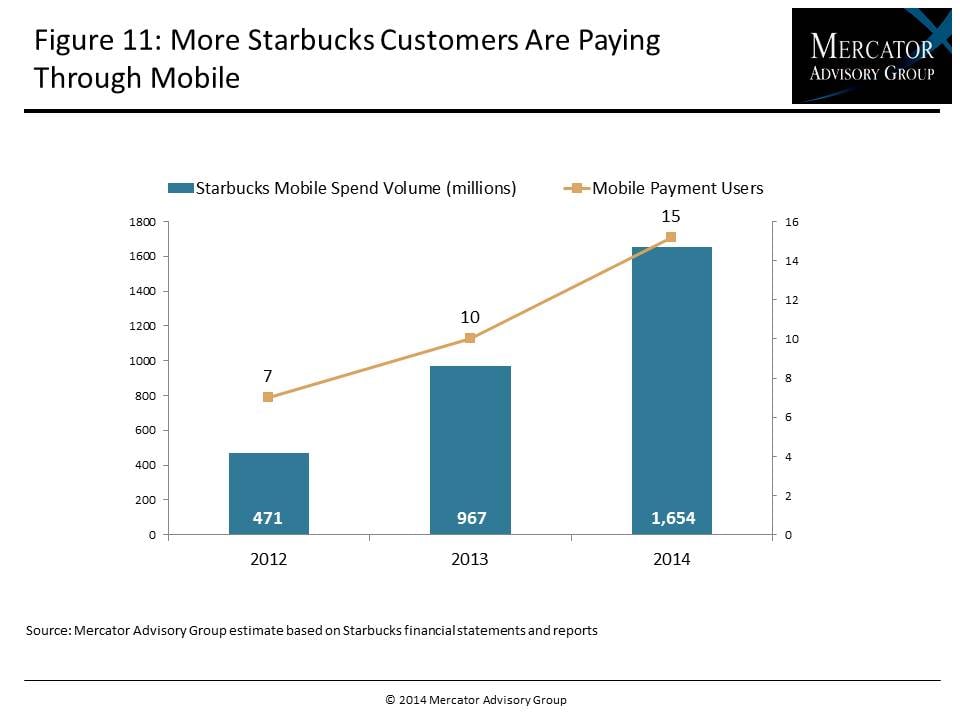 ---
Highlights of this report include:
Mercator Advisory Group's estimates of mobile payments volume through the Starbucks app and the prospects of loyalty driving mobile payments adoption

 

Analysis of data on smartphone use by consumers in-store and what that means for merchants looking to build their strengths across channels

 

Examination of the technologies with the greatest promise for building the omnichannel experience, their use cases, and their payment capabilities

 

Case studies of omnichannel execution: Tesco, Amazon, and Apple

 

Review of vendors offering services to create the omnichannel experience
Interested In This Report