Mobile Payments: Still Waiting for Broader Adoption in the U.S.
Author(s):
Karen Augustine
Overview
New research presented in the latest Insight Summary Report from Mercator Advisory Group's CustomerMonitor Survey Series, titled Mobile Payments: Still Waiting for Broader Adoption, reveals that nearly half of smartphone owners in the United States have used their mobile devices to pay for goods and services in stores or online within the previous year. However, although smartphone ownership continues to grow, reaching 84% ownership among U.S. adults in 2018, the percentage using mobile payments has declined since 2016. That could be because more recent adopters of smartphones are more likely to be older adults or have household income less than $50,000 a year, who are less likely to buy goods and services on their mobile device. While the base of mobile payers may not be growing, as users gain familiarity with mobile payments, they tend to use them more often and in more places.
This study, based on Mercator Advisory Group's CustomerMonitor Survey Series payments survey conducted using an online panel of 3,002 U.S. adults in June 2018, examines the demographic shift and changing landscape of web-enabled mobile users, consumer use of mobile devices for making payments and shopping online and in stores, use of in-app payments, related payment features including e-couponing, e-receipting, and e-loyalty as well as alerts and emerging digital platforms such as voice-activated conversational interfaces and wearables for payments.
"For mobile payments to really catch on in a much broader scale, consumers need to find real benefits from using a payment app, more than just a way to pay. The convenience factor, rewards, and more robust shopping aids can help stimulate its use. Merchant terminals are slowly converting to accept mobile payments. The apps now have to better integrate with consumers' daily routines, even social interaction to stimulate greater momentum," stated Karen Augustine, author of the report and manager of Primary Data Services at Mercator Advisory Group, which includes the CustomerMonitor Survey Series.
Retailer mobile payments apps is the most popular way to pay by mobile, as 34% of smartphone owners used them to pay in the previous year and the only method that showed even slight growth from 2017. Nearly 1 in 4 smartphone owners use universal mobile payments such as Apple Pay, Samsung Pay, or Google Pay to pay online or in stores and nearly 3 in 10 use service-oriented apps such as Uber or Fandango to make mobile payments in app for on-demand services. Interestingly, the use of these mobile payment apps has caused the sharpest decline in web browser use for mobile payments.
Mobile payment apps are beginning to improve the value and convenience of payments compared to using the web browser or even traditional cards. Retailers are offering discounts to use their mobile payment apps with special offers only available when paying by app. New features such as mobile order and pay, often a feature in many retailers' mobile payments apps, offer faster delivery with greater convenience than standing in lines at checkout, bolstering mobile payment use.
The report is 87 pages long and contains 37 exhibits.
Companies mentioned in this report include: Airbnb, Amazon, Apple, Burger King, Capital One, Chase, Cheesecake Factory, Chipotle, Cumberland Farms, CVS, Domino's, Dunkin' Donuts, ExxonMobil, Fandango, Fitbit, Garmin, Google, Gulf Oil, Lyft, McDonald's, Panera Bread, Papa John's, Pizza Hut, Samsung, Subway, Target, Uber, Walmart, and Wells Fargo.
---
One of the exhibits included in this report: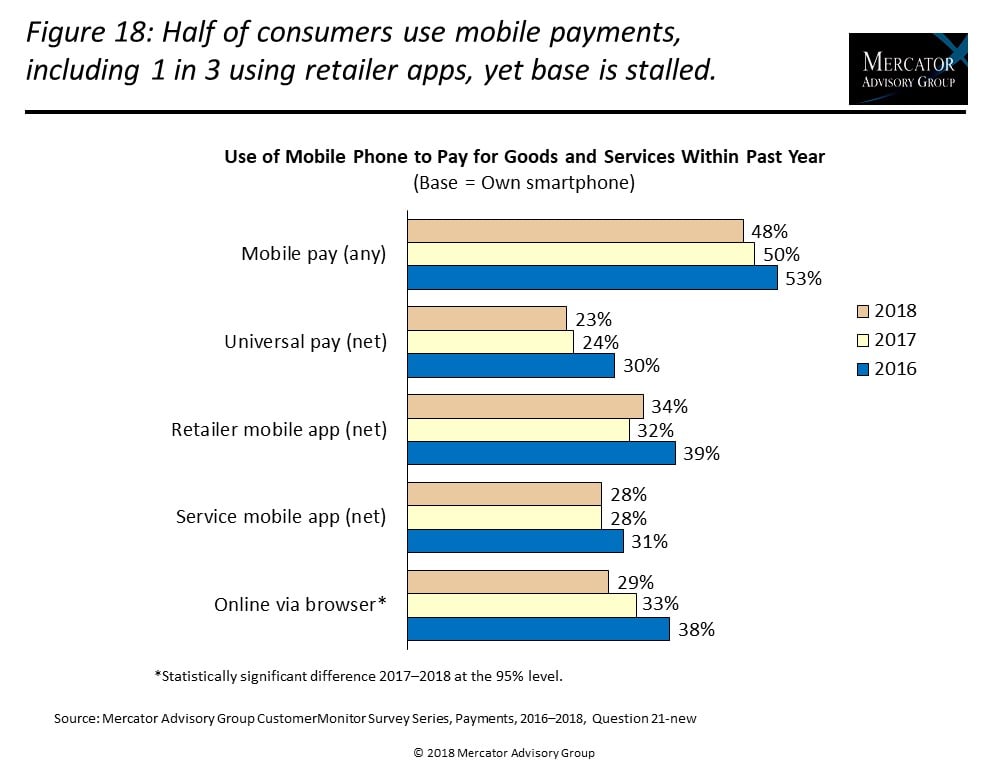 ---
Highlights of this report include:

Year-over-year trends in smartphone and tablet ownership by screen size
Year-over-year trends in use of mobile phones for shopping online and to support in-store shopping
Use of mobile payments to merchants including retailer-specific merchant-sponsored, branded mobile payment apps online and in stores
Universal mobile payments app experience: payment cards loaded in the digital wallet to fund mobile payments, preferred card, frequency of changing the preferred card in the app, links to merchant apps, types of merchants where the app is used, and satisfaction compared to use of payment cards
Use of mobile and online order ahead, types of retailers where used, frequency and reasons for use
Demographics of mobile users and mobile payment users and satisfaction with operability mobile phones and availability of service
Challenges to mobile payment adoption
Shifts in use and delivery methods for six types of financial alerts
Shifts in use and interest in e-couponing, e-receipting, and apps for coupon and receipt storage and management
Use, interest, format, and importance of features for wearable technology including payments, mobile banking, and money transfers
Interested In This Report