Overview
Boston, MA
December 2003
Mobile Payment Initiatives: Rethinking the Strategy
NEW RESEARCH REPORT BY MERCATOR ADVISORY GROUP

The cellphone is arguably THE cult object of our times, having crept into our lives and pockets as something that few of us can now live without. Since we carry this item with us so much of the time, what can be done to leverage this device for alternative uses? In this report, Mercator Advisory Group investigates the reality of m-payments in the US today and how tried and tested European models could be applied to technologies currently in place.

Nick Holland, Director of Emerging Technology Research for Mercator Advisory Group and the author of the report sees the wireless Internet being just out of reach, so suggests adopting current technologies until 3G comes along;
"The GSM phone has the capability to send, receive, store and process data, albeit in a limited fashion. But, the data requirements for an ATM or POS transaction are also relatively simple - there is potential for leveraging the attributes of the cellphone to augment existing transactions that are made?"
In Japan and Europe, there have been various attempts to exploit the characteristics of the cellphone in a number of payment scenarios. The report considers these scenarios and determines which of these would have traction in the US due to technological, geographical and cultural differences, and finds three key areas where stakeholders can maximize revenues from existing cellular network technology.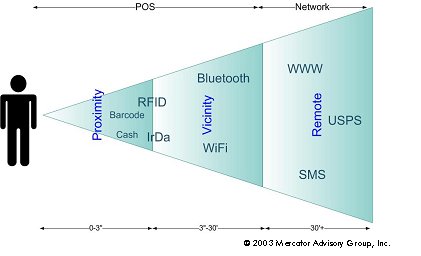 This report also considers the true application of the cellphone to current payment systems compared with rivals such as RFID, Bluetooth and good old fashioned cash and suggests scenarios where the unique characteristics of the cellphone could fit.
Holland believes that there is a place for the cellphone in payment transactions, not as a vehicle for payment, but as a vehicle for authorizing and verifying payment;
"The cellphone has to a certain extent fallen victim to its accidental similarities to current payment mechanisms such as smart cards, PIN pads and ATM terminals. By moving away from these and considering the cellphone as a means of identification, there are some interesting opportunities that are presented?"
The report is 37 pages long and contains 18 exhibits.
Members of Mercator Advisory Group have access to these reports as well as the upcoming research for the year ahead, presentations, analyst access and other membership benefits. Please visit us online at www.mercatoradvisorygroup.com.
For more information call Mercator Advisory Group's main line: 508-845-5400 or send email to info@mercatoradvisorygroup.com.
---
Interested In This Report
Related content
With investment capital tighter in 2023, there's less interest in untested, unproven fintech startups and more of an emphasis on coming out of the chute with products that are read...
Wallet-based digital ID will create a wedge between universal wallets and payment apps, as embedded finance product offerings converge on feature parity over time.
For more than a decade, fintech startups and products have captured outsized attention and investment. In many ways, these companies have set the agenda for driving consumer expect...