Mobile Momentum: The Promise and Challenge of Mobile Banking
Overview
Mobile Momentum: The Promise and
Challenge of Mobile Banking
Seventh report from Mercator Advisory Group's 2011 CustomerMonitor Survey Series probes consumer attitudes and mobile banking usage
Boston, MA -- The mobile banking revolution remains in its early stages, as customer usage of the service and its capabilities cautiously grow, Mercator Advisory Group's 2011 CustomerMonitor Survey Series finds.
Mobile Momentum: The Promise and Challenge of Mobile Banking, a new report from Mercator Advisory Group is the seventh in a series of eight consumer survey reports examining payment and banking topics and probes the evolving consumer behaviors in the new mobile banking channel.
The findings are based Mercator's CustomerMonitor Survey Series. The foundation of the series is data obtained during a national sample of 1,003 online consumer survey responses completed between October 9 and October 13, 2011. Among the topics covered by the survey are the use of mobile banking services, specific mobile banking functions, and effects on usage of other banking channels.
Findings of the research include:
How consumers use smartphones for banking and the traditional channels they still utilize
The most prevalent method of mobile banking
The shifts mobile banking is causing to consumer reliance on retail branches and preferences among mobile banking app users
The hallmarks and the greatest barriers for mobile banking
"Two key barriers to mobile banking momentum are familiar to bankers: security fears and inertia,' states Ken Paterson, VP for Research Operations at Mercator Advisory Group and the author of the report. "But customers will clearly continue to jump in to mobile banking, and the survey data suggests that those who do adopt mobile banking are likely to change their use of other channels."
One of 17 exhibits in this report: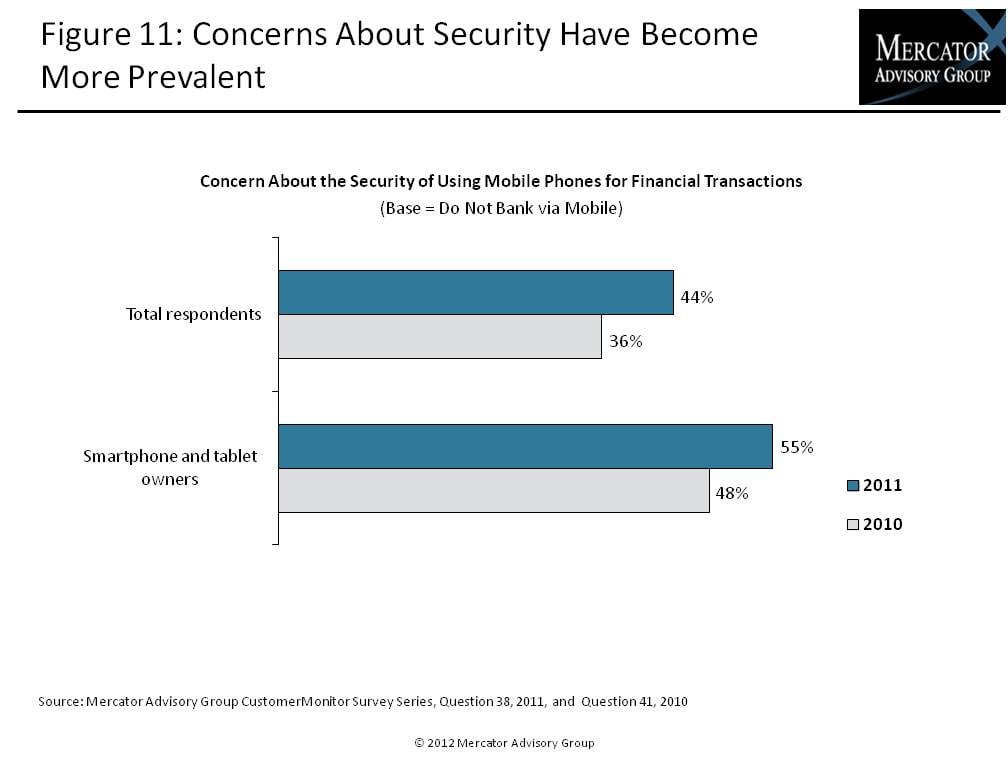 The report is 34 pages long and contains 17 exhibits.
Members of Mercator Advisory Group's CustomerMonitor Survey Series have access to this report as well as the upcoming research for the year ahead, presentations, analyst access and other membership benefits.
Please visit us online at www.mercatoradvisorygroup.com.
For more information and media inquiries, please call Mercator Advisory Group's main line: (781) 419-1700, send E-mail to info@mercatoradvisorygroup.com.
For free industry news, opinions, research, company information and more visit us at www.PaymentsJournal.com.
Follow us on Twitter @ http://twitter.com/MercatorAdvisor.
About Mercator Advisory Group
Mercator Advisory Group is the leading, independent research and advisory services firm exclusively focused on the payments and banking industries. We deliver pragmatic and timely research and advice designed to help our clients uncover the most lucrative opportunities to maximize revenue growth and contain costs. Our clients range from the world's largest payment issuers, acquirers, processors, merchants and associations to leading technology providers and investors. Mercator Advisory Group is also the publisher of the online payments and banking news and information portal PaymentsJournal.com.
---
Interested In This Report