Mobile Commerce and Remote Payments: Consumers and Merchants are getting it, but will they really Use It?
Author(s):
Mercator Research
Overview
Boston, MA
December 2008
Mobile Commerce and Remote Payments: Consumers and Merchants are getting it, but will they really Use It?
NEW RESEARCH REPORT BY MERCATOR ADVISORY GROUP
Mercator Advisory Group is pleased to announce the release of its latest report, "Mobile Commerce and Remote Payments: Consumers and Merchants are getting it, but will they Use It?"
Despite today's economic headwinds, smartphones and mobile data usage are swiftly increasing their presence in consumer's lives. Retailers, large and small, online and bricks-and-mortar, are experimenting with and enjoying positive returns from their mobile marketing and sales initiatives. Remote mobile payments, payments made using the mobile channel without payment-related POS hardware, represent a new channel for retailers to reach the always-on Gen X and Gen Y consumer.
This new report examines how leading merchants are approaching the mobile channel and how the smartphone is giving merchants the opportunity to place their store in the consumer's pocket. The report examines the remote payment opportunity and forecasts significant growth for this underappreciated channel.
The report concludes with a wide-ranging discussion of the implications of m-commerce and remote payments on the payment industry stakeholders.
Highlights from this report include:
Software only mobile commerce offerings are evolving into remote payments mechanisms for closed loop applications by a range of digital content and physical goods retailers.
Mercator forecasts smartphone based remote mobile payments to reach $389M in 2009, $1.7B in 2011, and $8.6B in 2014.
With 40 million mobile web users expected to rise 50% in 2009 and almost 75% of mobile subscribers accessing data services (principally SMS) this channel is getting wider and richer faster than anticipated.
The lock mobile network operators have held on mobile payments is weakening quickly as applications and mobile web replay a mobile version of the Internet's "smart devices, dumb pipes" model.
Remote mobile payments are an opportunity representing hundreds of millions of new annual transactions and PayPal appears to be positioning itself to take the lead in this new category.
"Smartphones have kick-started mobile commerce into gear and because of their access to the consumer, merchants have fired up their mobile storefronts. Payments are following and they are not willing to wait for NFC to arrive," comments George Peabody, Director of Mercator Advisory Group's Emerging Technologies Advisory Service. "The remote payment proposition has been largely off the radar of many in the payments industry. But merchants with an eye on customer experience management and relationship building see mobile as a direct avenue to their consumers. Innovation and opportunity will highlight the next few years as consumers download mobile malls onto their handsets and transaction volumes grow."
Companies mentioned in this report include PayPal, Visa, MasterCard, ClairMail, RIM, Apple, Google, Palm, Verizon, Sprint, AT&T, Symbian, Handango, Wal-Mart, Moosejaw, REI, The New England Patriots, Best Buy, Amazon, Papa John's, Pizza Hut, Domino's Pizza, Footlocker, Subway, Way Systems, Aircharge, Blue Bamboo, Innerfence, Clarifi, ShopSavvy, Bango, Billing Revolution, Digby, GoGoMo, Mogees, mPayy, mPoria, mShopper, Openbit, PaymentOne, Paymo, Verrus, Zong/Echovox, Zumobi.
One of the 6 Figures included in this report: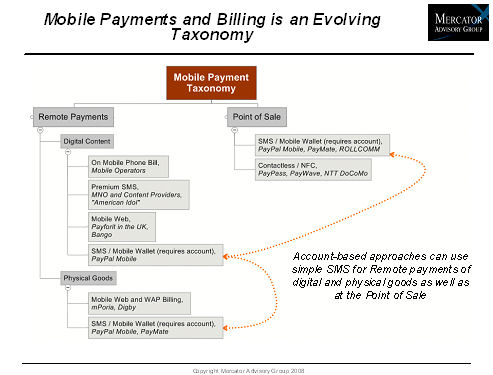 The report is 30 pages long and contains 6 exhibits and 3 tables.
Other recent reports from the Mercator Emerging Technologies Advisory Service:
Members of Mercator Advisory Group have access to this report as well as the upcoming research for the year ahead, presentations, analyst access and other membership benefits.
Please visit us online at http://www.mercatoradvisorygroup.com/.
For more information call Mercator Advisory Group's main line: 781-419-1700 or send email to info@mercatoradvisorygroup.com.
---
Learn More About This Report & Javelin