Overview
Boston, MA
November 2003
Micropayments Get Smart:
Online Debit & Chip? A Winning Combination?
NEW RESEARCH REPORT BY MERCATOR ADVISORY GROUP

The potential of cash replacement with cards has long been the small ticket Holy Grail, but prohibitive restrictions imposed by transaction charges on cards have put a stranglehold on initiatives. However, technological shifts and enforced changes as a result of the Wal-Mart settlement could open fresh opportunities for the card industry to revisit micropayment transactions.

In an new research report by Mercator Advisory Group; "Micropayments Get Smart: Online Debit and Chip? a Winning Combination?" the restructuring of the credit and debit payment landscape is considered alongside technological initiatives that could compel the payments industry to reconsider the viability of transactions of less than $10.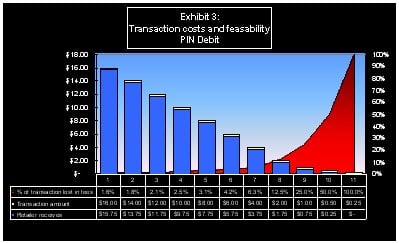 Nick Holland, the report's author, strongly believes that the adoption of smart card technology at the POS could encourage a shift away from cash payments by providing a faster and safer alternative. He is confident that the US consumer is also ready to make the leap, "As we've seen with initiatives like ExxonMobil's Speedpass, contactless payment mechanisms have clear advantages over cash at the POS. People love shopping, but hate standing in line; gratification is that bit more instant..."

Without the card fraud epidemic that other areas are experiencing, speed rather than security is the priority in the US, driving preference for contactless smart cards. However, tightening of loopholes through EMV mandates elsewhere could shift security further up the priority list. Nick predicts a drift of fraud to US shores, "With Europe locked down in 2005 and significant areas of South America and SE Asia in 2006, the US might see a rise in 'fraud tourism'; card criminals moving their operations to regions where chip and PIN is not compulsory. Even though transactions are authorized real-time in the US, magnetic stripes are simply not as secure"
"Micropayments Get Smart: Online Debit and Chip? a Winning Combination?" examines the feasibility issues with current card models for micropayments, smart cards 101, 'carrots' and 'sticks' compelling the adoption of chip technology, current pilots in cards and other form factors as well as e-commerce models for micropayments that could be open the Point-of-Sale environment up to small value card transactions.
This report contains 41 pages and 4 exhibits.
Members of Mercator Advisory Group have access to these reports as well as the upcoming research for the year ahead, presentations, analyst access and other membership benefits. Please visit us online at www.mercatoradvisorygroup.com.
For more information call Mercator Advisory Group's main line: 508-845-5400 or send email to info@mercatoradvisorygroup.com.
---
Learn More About This Report & Javelin