The Mexican Payment Card Market
Overview
Mexico, a rapidly emerging market and the 14th largest global economy, is worthy of discussion regarding global payments markets. After a decade of lackluster growth, the second largest market in Latin America has shown strength for two consecutive years, during a time when many major global markets are still hurting from the ongoing economic recession. The country appears ready for fresh direction as the new government is determined to reform the country's financial systems to drive economic development.
"The Mexican market has been hiding in the shadow of other major economies," Terry Xie, director of Mercator Advisory Group's International Advisory Service and principal analyst on the report, comments. "People are accustomed to keeping Mexico low on the list of top international markets, and they overlook many of its advantages. But there is a good chance that forthcoming changes in the market will generate a market opportunity not to be missed over the next decade."
Mercator Advisory Group's latest report, The Mexican Payment Card Market, overviews Mexico's economic development and banking industry landscape and the overall payment market, including the payment system infrastructure, overall payment behaviors, and the consumer credit market. The report also reviews the development of credit and debit card markets, card acceptance and interchange regulations, and the Mexican online payment market.
The report is 28 pages long and contains 15 exhibits.
Companies and services mentioned in this report include: American Express, Banamex, Banca Mifel, Banco Azteca, Banco Bradesco, Banco Santander, Banco Nacional de Mexico, Banco Wal-Mart, BanCoppel, Banorte-Ixe, Banregio, BBVA Bancomer, Buro de Credito, Circulo de Credito, Citigroup, Dun & Bradstreet, E-Global, Fair Isaac (FICO), HSBC, MasterCard, Monex, PayPal, PROSA (CARNET), Scotiabank, Soriana, TransUnion, VeriFone Systems, and Visa.
Members of Mercator Advisory International Advisory Service have access to this report as well as the upcoming research for the year ahead, presentations, analyst access and other membership benefits.
---
One of the exhibits included in this report: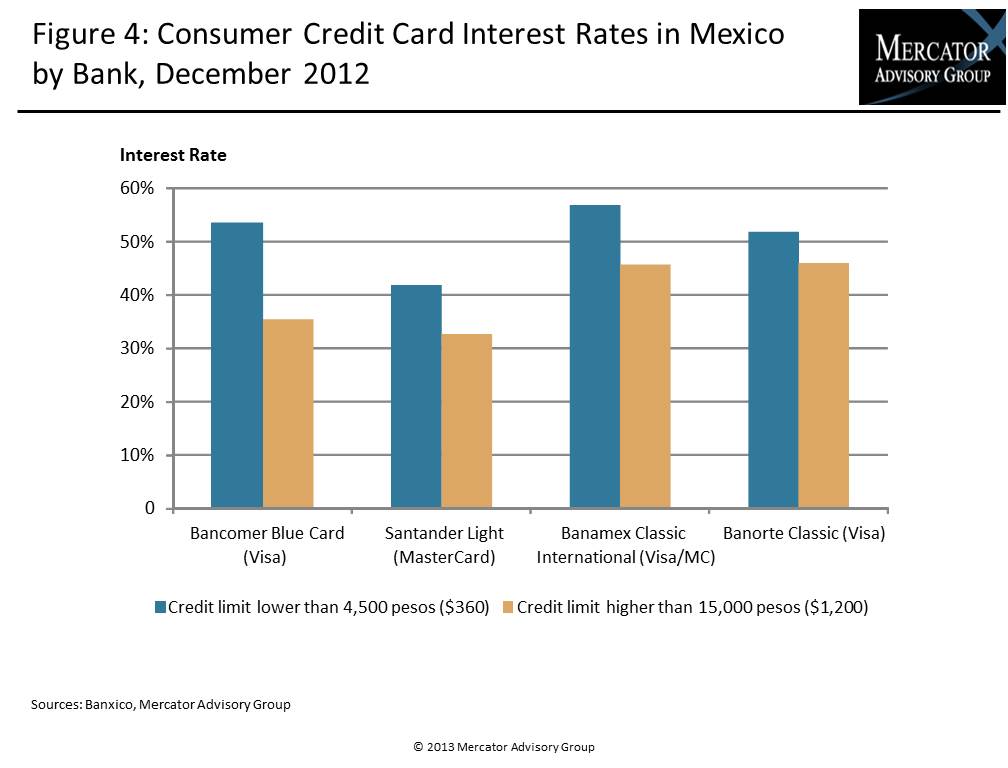 ---
Highlights of the research include:
An overview of Mexico's macroeconomic development
Review of the Mexican banking industry, consumer credit industry, and overall payment system
The development of credit card, debit card, and online payments markets
Leading players in the Mexican payments market
Synopsis of the federal government's efforts to reform and regulate the banking and payments market
Interested In This Report