Overview
The market was buzzing with optimism in 2012 when Mercator Advisory Group last addressed the topic of merchant-funded rewards for credit card holders. Venture capital investment was abundant, and vendors of card-linked offer solutions were confident that their technology would quickly transform retailers' promotional strategies and credit card issuers' reward programs.
This year's market review finds that merchant-funded reward programs have not delivered the results many financial institutions had expected. The last two years have indeed been a learning experience for all parties involved in this emerging industry.
Mercator Advisory Group's research report, Merchant-Funded Rewards: Issuers Regroup After Disappointment, reviews legacy models and emerging technology solutions for card-linked merchant-funded reward programs, diagnoses the causes of the industry's underwhelming performance, and explains how financial institutions can still get value from these programs.
"Payments and commerce are becoming more intertwined every day," comments Michael Misasi, senior analyst at Mercator Advisory Group and author of the report. "Card-linked offer programs combine elements of payments, digital advertising, rewards, and loyalty. Cross-industry collaboration will be crucial for financial institutions and payment services providers to realize the opportunity inherent in this emerging business."
This report contains 21 pages and 4 exhibits.
Companies mentioned in this report include: Affinity Solutions, Ally Bank, American Express, Bank of America, Capital One, CardLinx, Cardlytics, Card Spring, Cartera Commerce, Coupons.com, Discover, Edo Interactive, Fifth Third, First Data, FreeMonee, Linkable Networks, Living Social, Lloyds, MasterCard, PNC, Regions, Truaxis, Twitter
Members of Mercator Advisory Group's Credit Advisory Service and Debit Advisory Service have access to this report as well as the upcoming research for the year ahead, presentations, analyst access, and other membership benefits.
---
One of the exhibits included in this report: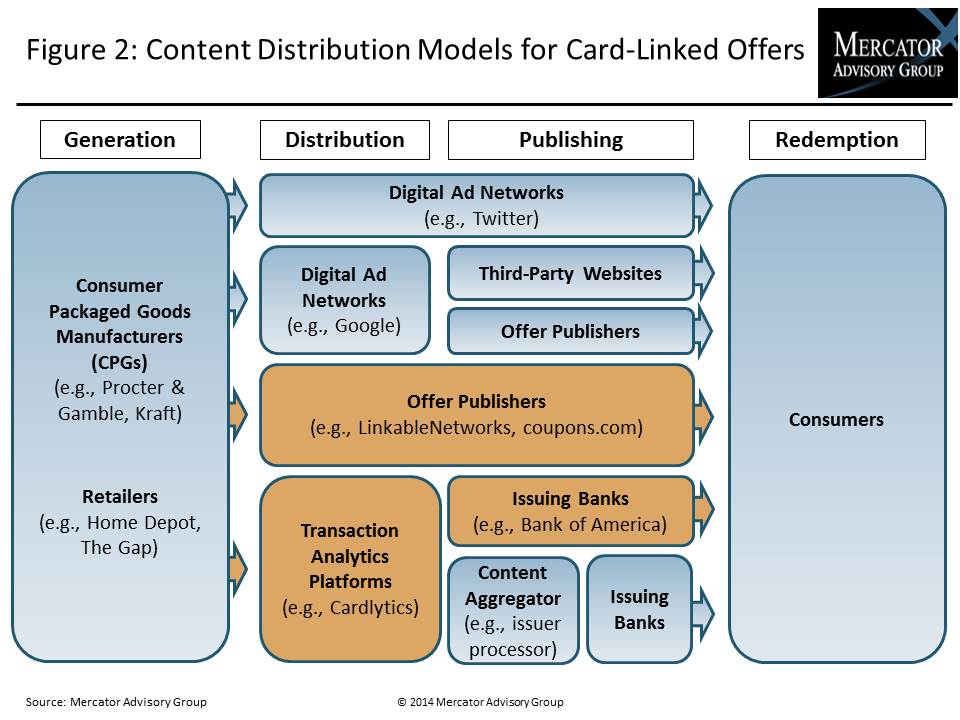 ---
Highlights of this research report include:

A comparison of several issuers' merchant-funded reward programs

 

A review of the card-linked offer vendor landscape

 

An analysis of how new players might upset the transaction-driven offer model

 

Estimated and projected U.S. consumer credit volume driven by card-linked offers
Interested In This Report