Overview
Mercator Advisory Group's latest Primary Data report, The Merchant Experience, is based on the company's new consumer survey, Customer Merchant Experience Survey. The online survey of 3,002 U.S. adult consumers, which was conducted in February 2018, explores consumers' merchant experiences as they shop in-store, online, and via mixed channels. The survey was designed with the goal of defining and highlighting consumer expectations for optimal experiences with merchants. Three content areas will be explored in a series of three reports:
The Merchant Experience
Payments, ATMs and Prepaid: How Payments Align with Experience
Shopping Behavior, Channel Usage, and Loyalty: How Behavior Aligns with Experience
Ken Paterson, VP, Special Projects, Mercator Advisory Group, the author of this report comments: "One outcome for merchants from the revolution in e-commerce and multichannel shopping/order fulfillment has been an increased focus on customer experience. Once the province of specialized online commerce developers, customer experience is now a strategic concern that must be considered across in-store, mobile, and blended channel delivery, as well as traditional e-commerce."
This report is has 55 pages (in slide format) with 31 exhibits.
Companies mentioned are: Amazon, Walmart, Target, Kohl's, eBay, Home Depot, and other major retailer brands.
---
One of the exhibits included in this report: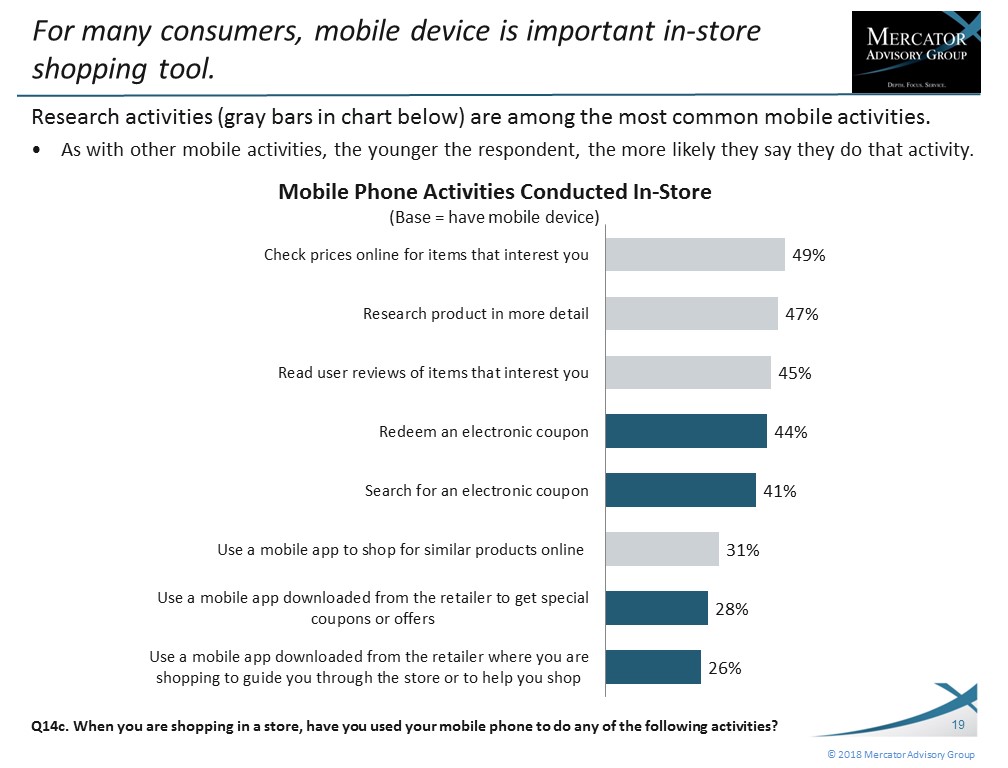 ---
Among the findings highlighted in The Merchant Experience:
While the rapid growth in e-/m-commerce sales has captured strong sales growth, consumer shopping behavior is still often store-centric, underlining the importance of in-person experiences in the store environment as well as online.
Shopping behavior is relatively fluid, with purchasing channel churn relatively common, and nearly equal percentages of shoppers surveyed saying they are using online channels or in-store more often for purchases.
The most pervasive behavioral change is consumers' doing more online research prior to purchasing via any channel.
Consumers' highest-rated merchant experiences focus on transactional basics rather than aesthetics, amenities, or social experiences.
A five-segment model developed based on statistically predictive customer merchant experiences (out of 74 experience types measured) highlights the most influential shopping/merchant experiences affecting shopper perceptions and how they are reflected in shopping behaviors.
Topics explored in this report include:
Most important experiences by in-store, digital, and "doing business" attribute categories (identifying shopper priorities). Where payments issues rank compared with other merchant experiences.
Poor experiences limiting completion of online purchases (barriers to digital channel)
Leading overall, store, and digital brands (channel leaders)
Association of brands with top experience attributes (brand positioning)
Shopper segmentation: how demographics, merchant verticals, channels, and shopping behaviors define experience the merchant experience segments (deriving Mercator Shopper Segments)
Strategic implications for merchants and their payments partners
Interested In This Report
Related content
Even as interest in cash slides there is still a place for in-store ATMs, with more than half of consumers using one in the past year.
Mercator Advisory Group's most recent consumer survey report from its annual Buyer PaymentsInsights series, examines U.S. consumers' current shopping habits for goods and services ...
Mercator Advisory Group's most recent consumer survey report from our annual Buyer PaymentsInsights series examines significant consumer buying habits.