Overview
Merchant acquiring is an increasingly visible component of the U.S. financial services industry. It is a pivotal driver of electronic payments in e-commerce and at the point of sale. Technology advances, changing consumer buying habits, and more demanding retailer needs are bringing about new business approaches for merchant acquirers. The payments landscape is being transformed by a new cast of industry players providing emerging services such as e-commerce gateways and value-added services such as fraud management systems. Mergers and acquisitions have altered the market share position of some of the top merchant acquirers, and more market share changes are expected to occur.
Mercator Advisory Group's research report, Merchant Acquiring's Ecosystem: Evolving Beyond Transactions examines the current state of merchant acquiring in the U.S. market and provides a set of strategic recommendations for market participants.
"Size and scale in the payments transaction world are no longer the be-all, end-all of merchant acquiring. Instead, agile merchant services delivery and tech-savvy solutions have become differentiating competitive advantages," comments Raymond Pucci, Associate Director of Research Services at Mercator Advisory Group and author of the report.
This research report contains 29 pages and 12 exhibits.
Companies mentioned in this report include: Adyen, Airbnb, Amazon, Apple, Bank of America, BlueSnap, Booker, Braintree, Capital One, Celect, Chase Commerce Solutions, Citi, CyberSource, Discover, Domino's, Elavon, First Data, Forter, Global Payments, Heartland, Identity Mind, Ingenico, MasterCard, NoFraud, NuData Security, Paymentwall, PayPal, PNC, Riskified, Samsung, Sift Science, Simility, Square, Stripe, SunTrust, ThreatMetrix, TransFirst, TSYS, 2Checkout, Vantiv, Vesta, Visa, Uber, Wells Fargo, Worldpay, and Zooz.
---
One of the exhibits included in this report: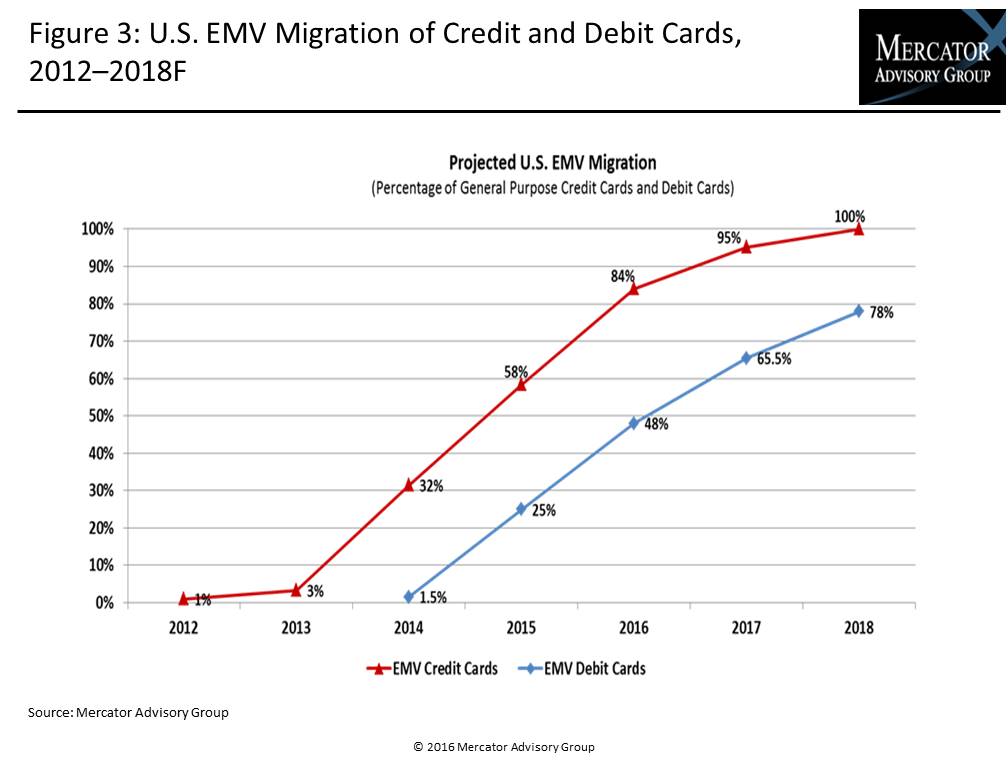 ---
Highlights of this research report include:
An overview of the current state of U.S. merchant acquiring market

 

A review of the leading U.S. merchant acquirers and key factors influencing their businesses

 

Estimates of market share positions with payment transactions volumes, for pre-and post-merger scenarios

 

Analysis of merchants' challenges and opportunities such as the impact of e-commerce, omnichannel, EMV transition, and security issues

 

An exploration of emerging participants within the U.S. payments infrastructure

 

Strategic recommendations for merchant acquirers and the threats and opportunities facing them
Interested In This Report
Related content
The cobranded card market is a way to generate loyalty, scale your portfolio, and service the next generation of cardholders.
The Credit Card Data Book is a two-part annual publication that covers the internal and external factors affecting the U.S. credit card market. The first part focuses on environmen...
The U.S. credit market continued its path toward stabilization in 2022 but faced several hurdles, including rising interest rates, strained household budgets, and a highly competit...