Mercator Advisory Group Payments Industry M&A Report - Q4 2005
Author(s):
Mercator Research
Overview
Boston, MA
January 2006
Payments Industry M&A Report - Q4, 2005
NEW RESEARCH REPORT BY MERCATOR ADVISORY GROUP

Mergers and acquisitions continued at full speed during the fourth quarter of 2005, making 2005 a landmark year for the payments industry.  Highlights of this quarter included:
*  The merger of the world's two largest smart card manufacturers, Gemplus and Axalto
*  U.S. third-party card processors continued international expansion efforts
*  Pay By Touch Solutions serial acquisitions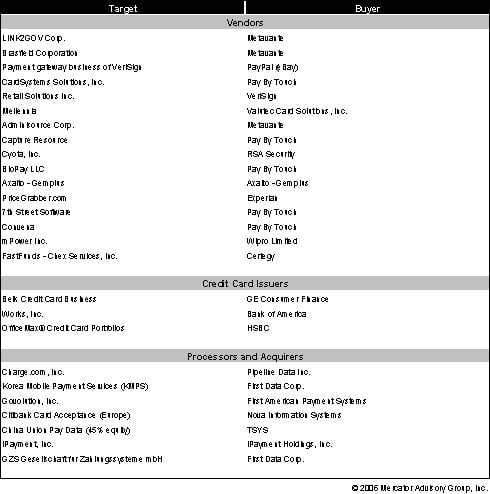 The Payments Industry M&A Report - Q4 2005 provides comments and analysis on major deals announced within the fourth quarter of 2005.  It also includes summary information on the payments industry related M&A deals, contact person(s) related to each deal, and an M&A activity table that summarizes the highlights of each deal.  

The report contains 45 pages and 3 exhibits.
Members of Mercator Advisory Group have access to this report as well as the upcoming research for the year ahead, presentations, analyst access and other membership benefits.  Please visit us online at www.mercatoradvisorygroup.com.

For more information call Mercator Advisory Group's main line: 781-419-1700 or send email to info@mercatoradvisorygroup.com.
---
Interested In This Report