Mapping the United States of Prepaid: How Governments Use Prepaid Cards to Disburse Benefits
Overview
Mapping the United States of Prepaid: How Governments Use Prepaid Cards to Disburse Benefits
Boston, MA -- Since 1996, the Federal Government has had a Congressional mandate to stop using checks for distributing benefits. At the time the law was passed prepaid cards were a new payments technology that had barely arrived on the scene. Fast forward 15 years, and today prepaid is one of the leading ways that U.S. government agencies, including those at the state and local level, use to distribute funds to citizens.
Mercator's new report, Mapping the United States of Prepaid: How Governments Use Prepaid Cards to Disburse Benefits, covers the various programs in use for disbursing government benefits and describes some of the challenges facing the industry in going after government business. Programs ranging from nutrition assistance to Social Security to the Navy payroll are covered. While these programs face many of the operational benefits and concerns as other types of prepaid cards, they are also subject to political scrutiny and agendas.
Still, government agencies benefit by getting out of the business of printing checks, and so the use of prepaid cards by governments is likely to grow in the near future.
"The answer to why governments use prepaid cards has two parts: the drawbacks of paper payments and the benefits of prepaid cards," Ben Jackson, senior analyst at Mercator Advisory Group and author of the report says. "The three main factors affecting both sides are costs, convenience, and security. Prepaid cards win on all counts."
Highlights of this report include:
A timeline of the U.S. Government's efforts to eliminate paper checks and leverage prepaid cards .
State and local government progress in eliminating checks and moving to electronic payments.

Governments programs that have used prepaid cards, and other examples of government use for prepaid.

Pressures and political dynamics affecting government programs using prepaid cards for funding.

Overview of vendor opportunities to sell prepaid to government agencies and the programs most likely to garner interest.
One of the 10 exhibits in this report: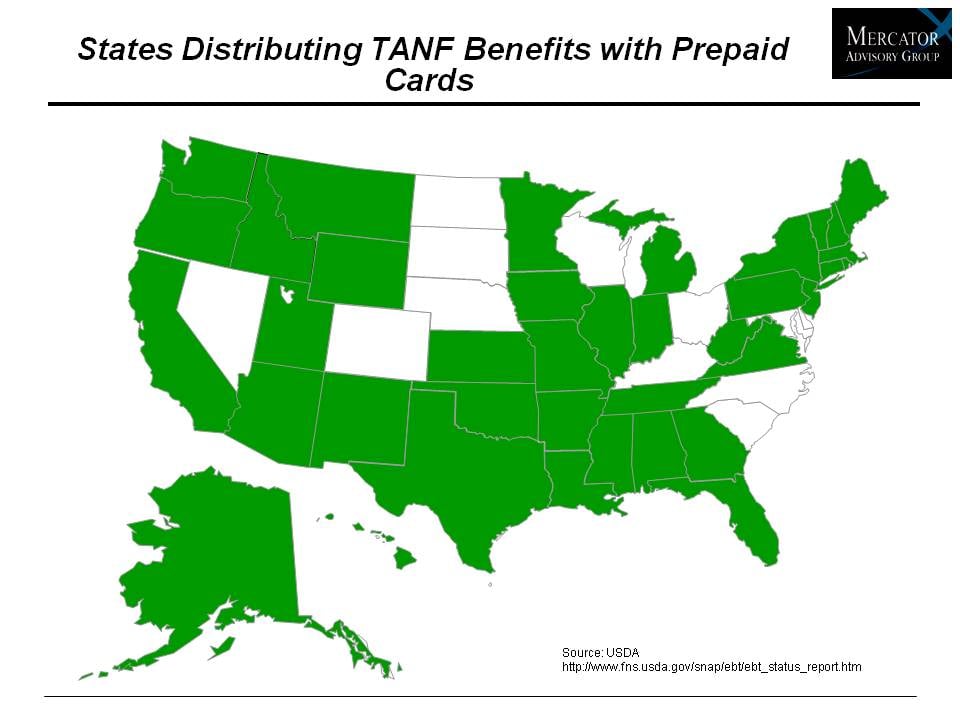 This report is 30 pages long and contains 10 exhibits.
Companies mentioned in this report include: Bonneville Bank, Comerica, Cubic Transportation Systems Inc., Green Dot Corp., Illinois National Bank, JPMorgan Chase & Co., MasterCard, National Consumer Law Center, Total System Services Inc. (TSYS), US Bancorp and Visa.
Members of Mercator Advisory Group have access to this report as well as the upcoming research for the year ahead, presentations, analyst access and other membership benefits.
Please visit us online at www.mercatoradvisorygroup.com.
For more information and media inquiries, please call Mercator Advisory Group's main line: (781) 419-1700, send E-mail to info@mercatoradvisorygroup.com.
For free industry news, opinions, research, company information and more visit us at www.PaymentsJournal.com.
Follow us on Twitter @ http://twitter.com/MercatorAdvisor.
About Mercator Advisory Group
Mercator Advisory Group is the leading, independent research and advisory services firm exclusively focused on the payments and banking industries. We deliver pragmatic and timely research and advice designed to help our clients uncover the most lucrative opportunities to maximize revenue growth and contain costs. Our clients range from the world's largest payment issuers, acquirers, processors, merchants and associations to leading technology providers and investors. Mercator Advisory Group is also the publisher of the online payments and banking news and information portal PaymentsJournal.com.
---
Learn More About This Report & Javelin