Managing Gift Card Operational Complexity and Enabling a Mobile Channel Platform
Overview
Boston, MA – March 6, 2014 – In new research, Managing Gift Card Operational Complexity and Enabling a Mobile Channel Platform, Mercator Advisory Group discusses how to avoid the bottlenecks that will delay mobile deployment for many merchant organizations and provides a map for the development of a mobile channel platform. Preparing a mobile channel platform requires forethought and planning, and this report will assist merchants in that process.
Merchants have a huge opportunity to deploy their mobile apps directly into the hands of consumers through partners. An airline with a mobile app can embed apps from other merchants located in the airport gate area. A restaurant, an electronics store, a coffee shop, or any merchant from a wide range of categories, all represent categories the consumer may be interested in while preparing to leave on a flight. The level of integration can be as simple as enabling a location service within the gate area or more complex, from an incentive offer for a visit, to an offer to download the full mobile gift card payment solution. This capability was described by Mercator Advisory Group in its session at the ATM, Debit & Prepaid conference held in October 2013 in Phoenix.
"Merchant gift card program managers tend to be significantly understaffed relative to the dollar volume flowing through multiple channels and through multiple third-party partners, which all need special settlement arrangements and to be monitored and managed properly," stated Tim Sloane, the Director of the Mercator Advisory Group Prepaid Service and author of this report. "Third-party distribution partners, e-commerce partners, virtual card partners, business-to-business (B2B) partners, and new mobile app technology partners all have different goals, different reporting needs, different settlement reporting times and datasets, so it's no wonder that gift card program managers find it difficult to implement appropriate governance over an operation that can account for up to 10% or more of a merchant's cash flow."
Process maps are provided in the report that can be adapted by merchant issuers to document existing resources and identify areas that require improvement. They include:
In-Store Gift Card Activation and Reload

In Store Gift Card Redemption and Reload

B2B and Third-Party Distribution Channels

E-Commerce and Virtual Card Channel

Mobile Channel Platform
This Research Report is 31 pages long and has 14 exhibits.
Members of Mercator Advisory Group's Prepaid Advisory Group have access to this report as well as the upcoming research for the year ahead, presentations, analyst access and other membership benefits.
---
One of the exhibits included in this report: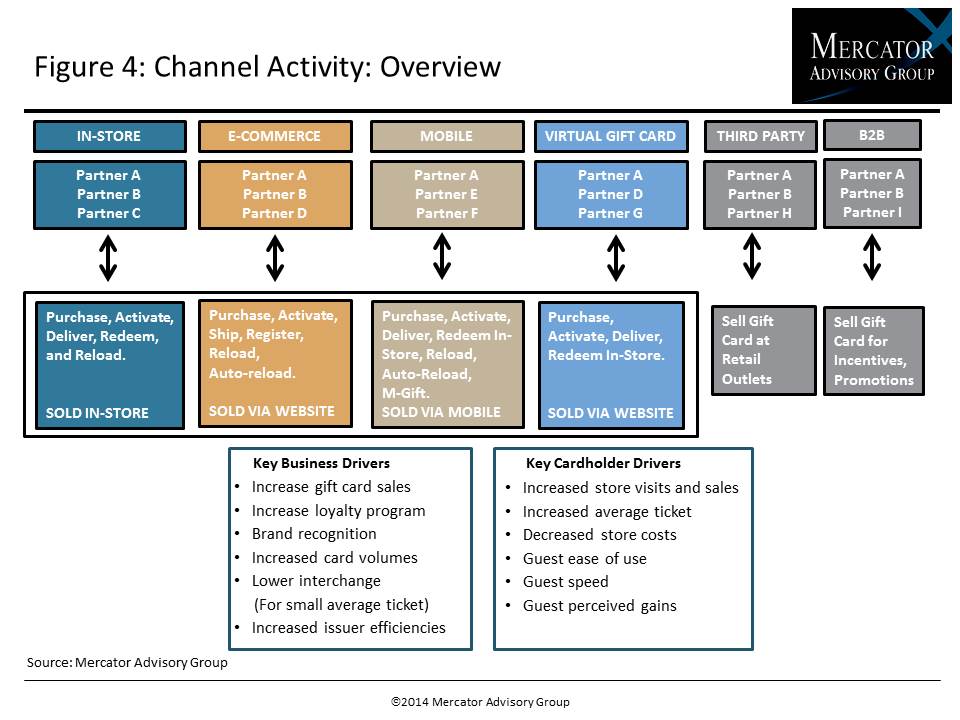 ---
Highlights of this Research Report include:
A review of third-party channel activity that creates complexity within the merchant's gift card operations

Process maps that can be adapted by merchants to identify opportunities for simplification and where activities are currently properly governed

A process for merchants to follow to quantify the opportunity for mobile channel platform so that investments in building the platform are aligned with the size of the opportunity 

A process map that identifies how a mobile channel platform is implemented on top of the existing gift card platform
Learn More About This Report & Javelin